Chef Ripert Wins No. 1 Restaurant in the World Title, Talks About Close Friend Anthony Bourdain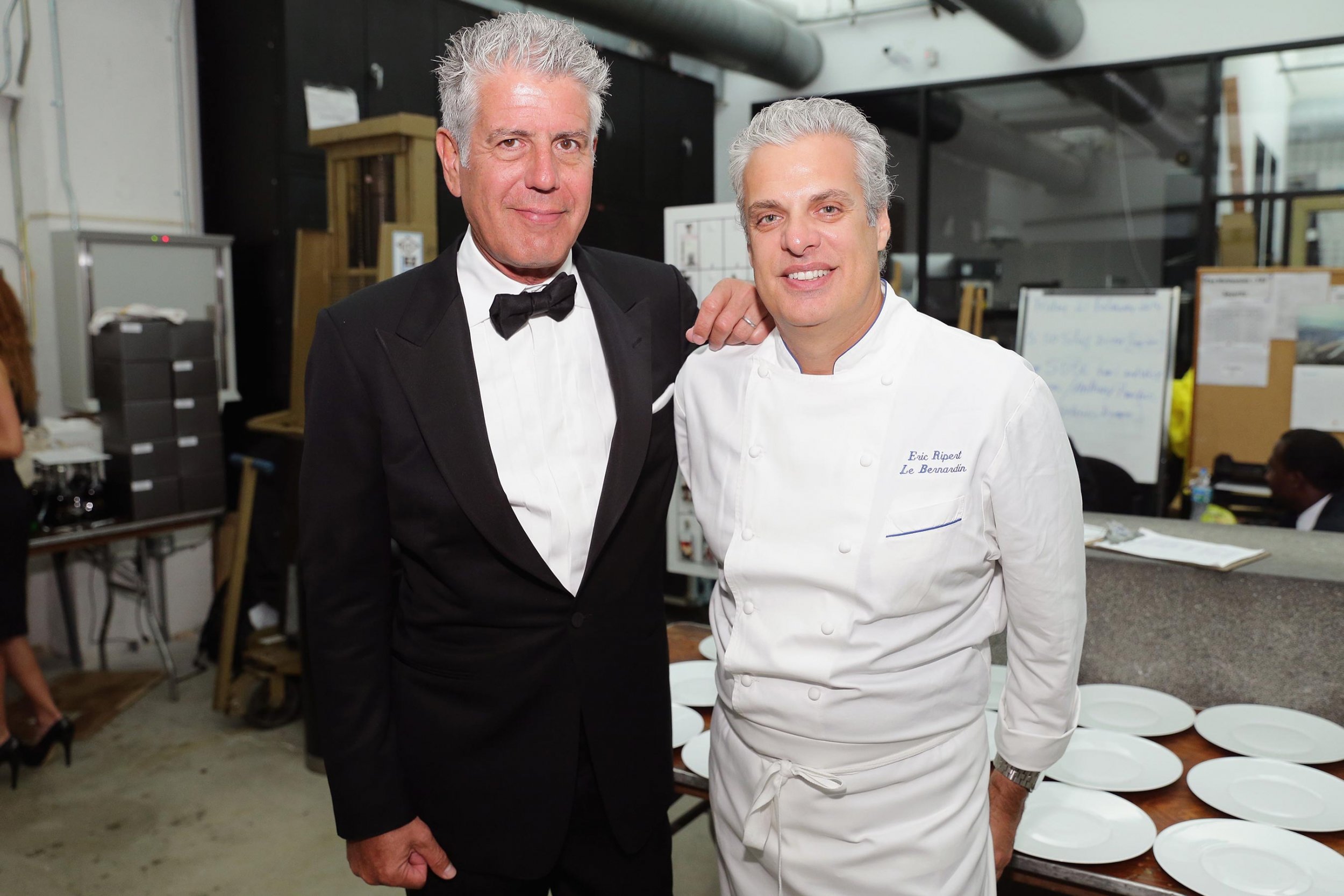 Hanging with famed late American chef Anthony Bourdain boosted good friend Eric Ripert's profile. But now Le Liste has crowned Ripert's Le Bernardin restaurant the No. 1 restaurant in the world.
It's an honor Bourdain and Ripert probably would have celebrated together. Ripert co-owns Le Bernardin, a French seafood restaurant in Midtown Manhattan.
Ripert recently revealed that he and Bourdain were in the middle of filming an episode of Bourdain's "Parts Unknown" in Alsace, France when Bourdain died.
However, the last episode Bourdain filmed before unexpectedly taking his own life on June 8, will not air, CNN reported.
After receiving three Michelin stars for 14 consecutive years, Le Bernandi beat out at least 1,000 other restaurants in the Le Liste rankings. The Michelin Guide, which was founded by the Michelin brothers of automobile tire fame in 1920, is a top honor chefs of the finest restaurants seek.
A photo of the two friends riding a tandem bicycle in the French countryside reveals a seemingly happy time. Bourdain was found dead in his hotel room two days later.
In an interview with People Magazine, Ripert said Bourdain had a "curious personality." Ripert also called him a dear friend, an exceptional human being, inspiring, generous and "one of the great storytellers of our time who connected with so many."
Ripert said he had an awful lot of fun traveling the word with Bourdain.
"We had 20 years of friendship on television and off television because I was invited on the show many times and we were traveling and it was always tremendous fun," Ripert told "CBS This Morning."
Ripert said they sold out Good vs. Evil shows on their nationwide tour and they played pranks on one another. But Bourdain left his culinary assessment for other projects and never criticized Ripert's food.
He said he admired Bourdain's philosophy of avoiding touristy hotel restaurants and, instead, roaming the streets for genuine culture and food – wherever he filmed "Parts Unknown."
Ripert said Bourdain was "very respectful of cultures and he wanted to share with the public his discoveries. The idea was do not be scared of traveling and do not be scared of going to other countries and do not stay at the resort, do not stay at the hotel and eat the normal menu.
"Just go out, go in the street and engage with people. Try the food and learn the culture from that experience and I think he did really well in breaking walls, right, in between us and other countries that we sometimes are a bit scared or nervous to visit and that was really a great part of his legacy," Ripert said.