'Chef's Table BBQ': All You Need to Know About the 4 Featured Chefs
Chef's Table: BBQ has come to Netflix to fill the void that food fans have now they cannot visit their favorite restaurants. For Chef's Table's seventh season, the food documentary show is highlighting how barbecue has become a truly global food type, from the "barbies" to Sydney, Australia to the legendary Whole Hog cooking of Charleston, South Carolina.
The four chefs featured in Chef's Table BBQ
Tootsie Tomanetz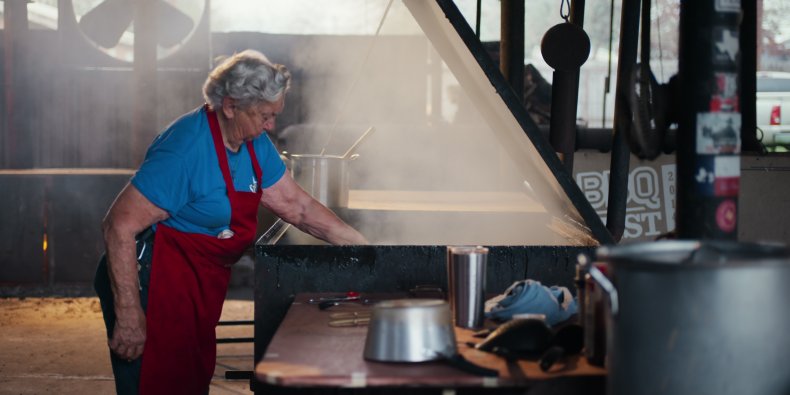 Newsweek subscription offers >
Norma Frances "Tootsie" Tomanetz is the 85-year-old powerhouse pitmaster who works at Snow's BBQ, once named the best barbecue place in Texas by Texas Monthly.
Tomanetz originally worked alongside husband Edward, alongside who she learned how to butcher and barbecue. After he had a stroke, she was forced to sell their Lexington restaurant and has been working at Snow's since 2003.
Though the last few years have not been easy for the chef, who has had to deal with the death of both her husband and their son Hershey (both of whom she worked with), she remains working as one of Texas' leading pitmasters.
Speaking in the documentary about her culinary secrets, she said: "At Snow's, we have no secrets. I mean, our seasoning is salt and pepper. I can't tell you how hot my pits are because I feel 'em with my hands. I don't have a gauge there. I guess if I'd put a gauge on, I'd learn to read it and not my hand, but it's just something I do. I guess it's just an instinct."
Newsweek subscription offers >
Lennox Hastie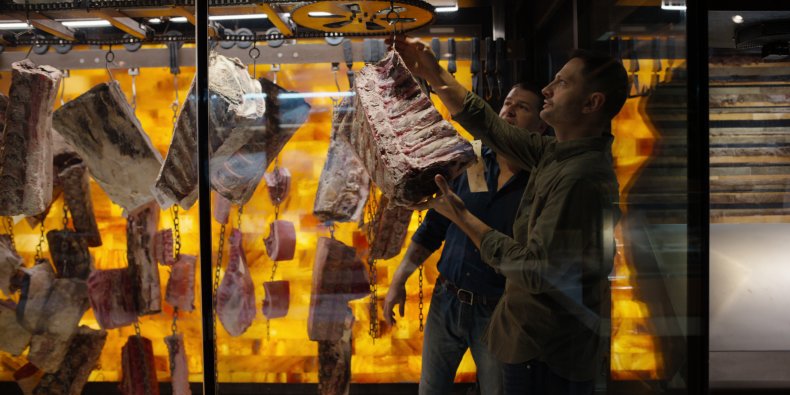 Lennox Hastie works at Firedoor, an acclaimed eatery in Sydney, Australia, and the chef has become known for cooking everything with fire, from big slabs of meat to delicate ingredients like caviar.
The chef was born in England (in an old house full of fireplaces), he started working in high-end kitchens at the age of 15, and was soon working in restaurants in the U.K. with multiple Michelin stars. He then worked in France and Spain, where he learned everything he needed to know about cooking with fire. Moving to Australia, he won Chef of the Year for his innovations at Firedoor.
"It really changes the game when you move towards live fire cooking and cooking with wood because it's not just the heat but the flavor resource as well," the chef told News.com.au. "Cooking with fire is primitive, sure, but it's how we all began and it should not be considered anything lesser...If anything, the reverse is true."
Rodney Scott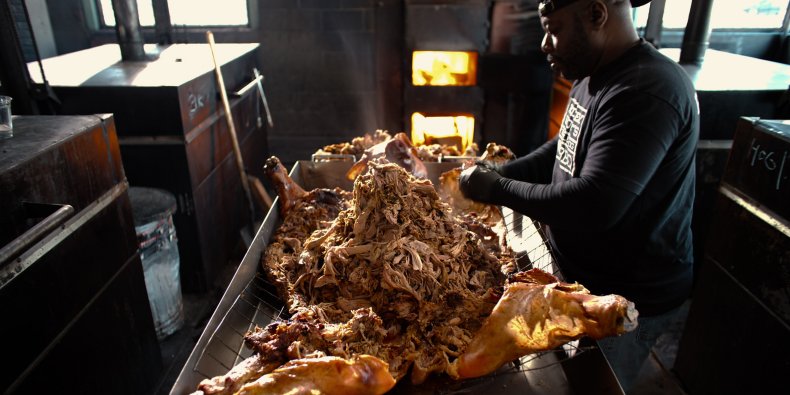 Chef Rodney Scott is behind Charleston, South Carolina's Rodney Scott's BBQ, where he cooks entire pigs using a "Whole Hog" process he has been perfecting since he started working with barbecue shortly after leaving high school. This cooking is done inside a gigantic hanger, where the staff are often seen chopping down local trees to use to feed the fires.
His cooking saw him named Best Chef, Southeast at the prestigious James Beard awards in 2018.
After working in his family's restaurant, Scott took over operations in the early 2010s, and quickly started winning awards. After he won Chef of the Year from Eater Charleston, he said: "I respect chefs as the people who put in a lot of detailed ingredients, designs, and appearances—where I'm the pit guy who likes to cook it up, make it look decent, and eat it. Chefs are in their kitchens creating art, so to be named Chef of the Year, I was in awe."
Rosalia Chay Chuc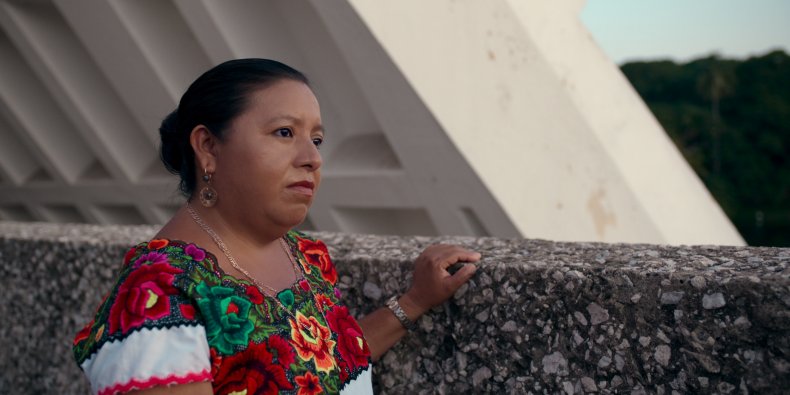 Working in Yaxunah, Mexico, Rosalia Chay Chuc takes inspiration from the rich local history of the area, using some techniques that have been in practice since the times of the Mayans centuries ago.
"If we don't rescue the Mayan tradition, everything we believe in will be lost," the chef says at the beginning of her episode of Chef's Table BBQ. Her specialty is cochinita pibil, a pork tacos dish whose recipe can be traced as far back as 400 CE that is cooked underground overnight and made from a historic breed of wild boar that is marinated and wrapped in banana leaves.
If the chef feels familiar to Netflix viewers, that is because her skills were previously featured in the streamer's Ugly Delicious.
Chef's Table BBQ is streaming now on Netflix.
'Chef's Table BBQ': All You Need to Know About the 4 Featured Chefs | Culture