Manhattan Bomber, Inspired by 'Brother bin Laden,' Found Guilty and Faces Life in Prison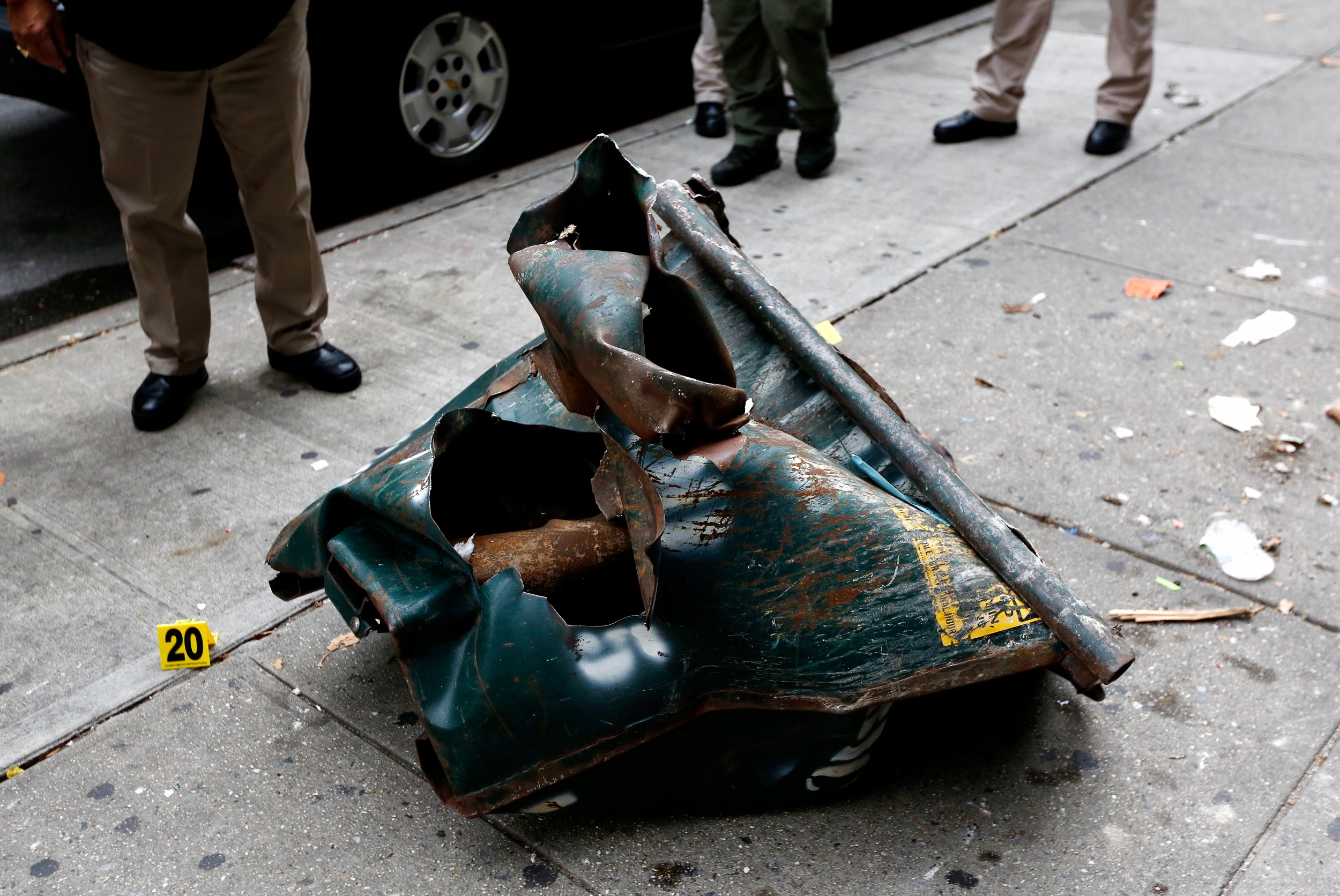 The man who injured 30 people when he detonated bombs in Manhattan and New Jersey last year was found guilty Monday morning after a two-week trial in federal court.
Ahmad Khan Rahimi, who is known as "the Chelsea Bomber," brought two improvised explosive devices to Manhattan from New Jersey on September 17, 2016, and planted one of the bombs on West 23rd Street and the other on West 27th Street in the Chelsea neighborhood, court papers state.
The 23rd Street bomb appeared to be a pressure cooker that Rahimi placed in a garbage container, and the explosion injured people in a 650-foot-wide zone.
"The injuries included, among other things, lacerations to the face, abdomen, legs, and arms caused by flying glass, metal shrapnel and fragmentation embedded in skin and bone, and various head injuries," federal prosecutors said a year ago when Rahimi was indicted.
Rahimi was inspired by the Islamic State militant group (ISIS) and Al-Qaeda, acting U.S. Attorney Joon Kim said Monday.
"On September 17, 2016, Ahmad Khan Rahimi attacked our country and our way of life," Kim said in a statement. "As a result, he now faces a mandatory sentence of life in prison. Today's verdict is a victory for New York City, a victory for America in its fight against terror and a victory for all who believe in the cause of justice."
Rahimi defense attorney Sabrina Shroff basically conceded that his client planted the bomb on 23rd Street, but in her closing argument she reportedly told jurors he had not intended for the 27th Street bomb to explode. A not guilty verdict on charges related to the 27th Street bomb would have meant the possibility of avoiding life in prison, but the jury found Rahimi guilty on all counts.
Another bomb that Rahimi planted, near a charity road race in New Jersey, also exploded, and a bomb he planted near a New Jersey train station was found and defused by a robot, according to court papers.
Rahimi was captured two days after the Chelsea bombing by police in Linden, New Jersey. He fired multiple shots at police before he was shot and arrested.
When he was arrested, a handwritten journal was found that contained positive references to the Al-Qaeda leader Osama bin Laden; to Anwar al-Awlaki, a former senior leader of Al-Qaeda in the Arabian Peninsula; and to Nidal Hasan, who shot and killed 13 people in Foot Hood, Texas, in 2009.
Written in the journal, among other things, were "laudatory references to 'Brother Osama Bin Laden'...[and] 'Inshallah [God willing] the sounds of the bombs will be heard in the streets. Gun shots to your police. Death to your OPPRESSION,'" states a criminal complaint filed against Rahimi.
While some federal investigations and prosecutions of attack suspects have been criticized for encouraging and aiding the suspects in their planning—as in the Human Rights Watch report "Illusions of Justice"—the evidence against Rahimi was substantial. It included his journal, his fingerprints found on at least one bomb and videos that captured his path through New York City.
He faces mandatory life in prison when he is sentenced on January 18, prosecutors said Monday.