Chelsea Clinton Hits Back at Fake Photo of Hillary Clinton In Blackface: 'Looks Nothing Like My Parents'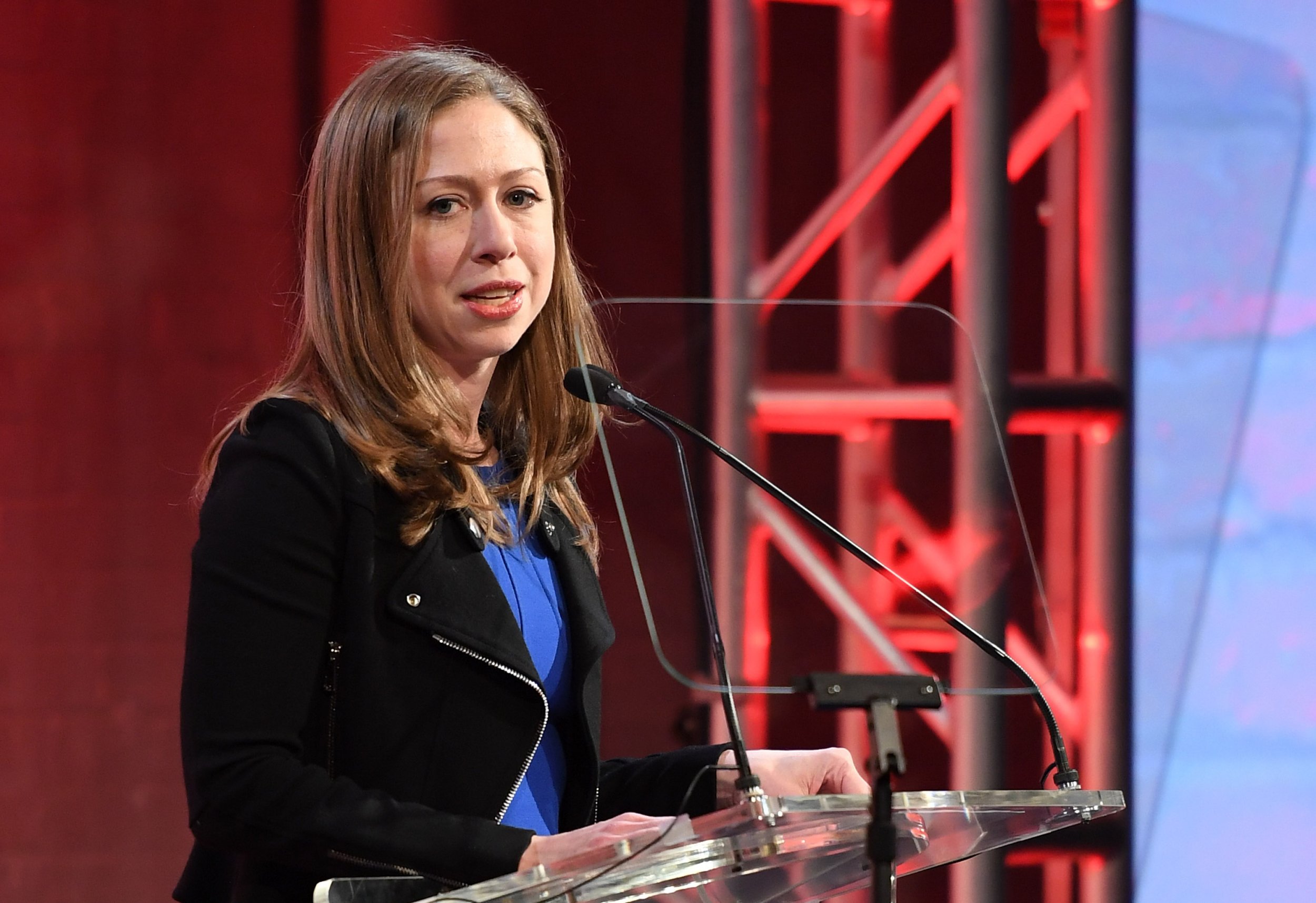 Chelsea Clinton hit back at the "rightwing internet" after it was accused of spreading a fake photo it claimed showed former presidential candidate Hillary Clinton in blackface, standing beside her husband, former President Bill Clinton.
Sharing a news story about the image, Chelsea Clinton said the photo looked "nothing like my parents," noting that "the woman's eyes aren't even blue."
"Blackface is never acceptable," the younger Clinton said. "It's not complicated."
Clinton, a mother of two children, said it was up to "fellow white parents" to "teach our kids about the racist history of minstrelsy and blackface."
To help, the former first daughter shared a link to a page on the Smithsonian's National Museum of African American History and Culture's website discussing blackface and "birth of an American stereotype."
According to the Smithsonian, which cites historian Dale Cockrell, minstrelsy was "invented" by poor and working-class whites who felt "squeezed politically, economically and socially from the top, but also from the bottom" as a way of expressing the oppression they felt as members of the majority "but outside for the white norm."
Whatever its origins, the Smithsonian said that minstrelsy and any "comedic performances of 'blackness' by whites in exagerrated costumes and make-up cannot be separated fully from the racial derision and stereotyping at its core.
"By distorting the features and culture of African Americans—including their looks, language, dance, deportment and character—white Americans were able to codify whiteness across class and geopolitical lines as its antithesis," the Smithsonian said.
The earliest minstrel shows were performed in the 1830s in New York by white performers who blackened their faces with burned cork or shoe polish, according to the museum.
They also wore tattered clothing in an apparent bid to mimick "enslaved Africans on Southern plantations.
"These performances characterized blacks as lazy, ignorant, superstitious, hypersexual, and prone to thievery and cowardice," the Smithsonian said.
While blackface performances grew in popularity between the end of the Civil War and the turn of the 20th century, the museum noted that "white racial animus grew following Emancipation when antebellum stereotypes collided with actual African Americans and their demands for full citizenship, including the right to vote.
"The influence of minstrelsy and racial stereotyping on American society cannot be overstated," the museum said. And, it noted, the use of blackface as a way to "codify" blackness "as caricature persists through mass media and in public performances today.
"In addition to the increased popularity of 'black' Halloween costumes, colleges and universities across the country continue to battle against student and professor blackface performances," the Smithsonian said.
In recent days, a number of politicians have found themselves embroiled in scandals over the decision to wear blackface at some point in their lives.
Two Virginia officials, Governor Ralph Northam and Attorney General Mark Herring, both Democrats, sparked outrage after it came to light that they had worn blackface decades ago.
And this week, Republican Florida State Representative Anthony Sabatini rejected calls to resign after an old high school photo of him in blackface resurfaced, showing Sabatini, then 16, with a blackened face and wearing gold jerewlry, sunglasses and a New York Yankees hat.
While all three politicians have faced significant backlash, including calls to resign, a recent survey from The Economist/YouGov that asked respondents whether it was "acceptable" for a white person to wear blackface make-up yielded worrying results.
The poll found that almost a third of those who voted for President Donald Trump in 2016 believed blackface was acceptable, though the majority, 43 percent, said they believed it was wrong, while 26 percent said they were not sure.
The results among Republicans in general mirrored those of Trump supporters, with 29 percent saying they believed blackface was acceptable and 44 percent saying it was not.
Among Democrats, 88 percent said that a white person wearing blackface make-up was not acceptable, while 6 percent said it was and 14 percent said they were not sure.
Overall, the poll, which surveyed 1,500 U.S. adults from February 2 through February 9, found that the majority of Americans, or 56 percent, did not believe blackface was acceptable, while 16 percent said it was and 26 percent said they were not sure.