Chelsea Clinton Hits Out at Sessions' 'Indecency' Over 'Joke' About Family Separation
Former first daughter Chelsea Clinton has hit out at Attorney General Jeff Sessions' "indecency" after he made a joke about the Trump administration's family separation policy. Sessions cracked the gag while speaking to a room full of lawyers at an event held by a conservative criminal justice organization on Tuesday.
Responding to criticism of the "zero tolerance" policy that has seen as many as 2,300 immigrant families separated at the U.S.-Mexico border since it launched it May, Sessions quipped that "lunatic fringe" Democrats who live in gated communities would be "too happy to have you arrested and separated from your family" if you "try to scale the fence" surrounding their homes.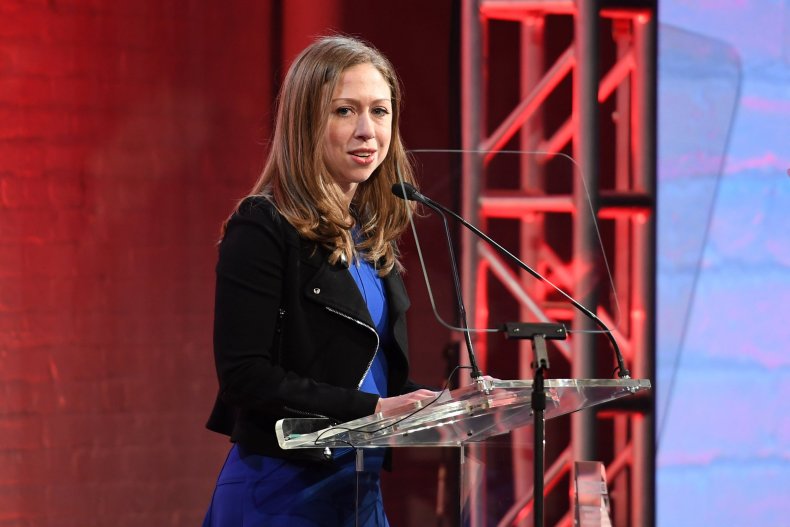 "The rhetoric we hear from the other side on this issue—as on so many others—has become radicalized," Sessions said during his speech. "We hear views on television today that are on the lunatic fringe, frankly. And what is perhaps more galling is the hypocrisy."
"These same people live in gated communities, many of them, and are featured at events where you have to have an ID to even come in and hear them speak," Sessions said, before adding: "And if you try to scale their fence, believe me, they'll be even too happy to have you arrested and separated from your children," the attorney general joked.
The quip, which was included in Sessions' planned remarks, was met with laughter and applause from the crowd at the Criminal Justice Legal Foundation event.
Clinton, however, was quick to condemn the comment and the audience's approval as a show of "indecency" and "incivility."
"You want to know what indecency and incivility sound like?" Clinton wrote on Twitter. "People laughing and applauding at the "joke" about forcibly separating parents from their children," the former first daughter wrote, sharing video of Sessions' speech.
Clinton was far from alone in criticizing the attorney general's comments. The Leadership Conference on Civil and Human Rights, which identifies itself as the oldest and largest civil rights coalition in the U.S., called the joke "appalling."
Walter Shaub, the former director of the U.S. Office of Government Ethics, also condemned the attorney general's speech, writing on Twitter that Sessions "just ripped the mask off and showed us what he really is."
Sessions argued during his speech that President Donald Trump "has been quite sensible" in his stance on immigration, touting the fact that the U.S. leader signed an executive order last Wednesday rescinding his administration's policy of separating families at the border.
The order came after weeks of widespread condemnation of the "zero tolerance" policy, which the U.N. condemned as a violation of children's rights.
As of Tuesday, as many as 2,047 children still had yet to be reunited with their parents, the Department of Health and Human Services confirmed to CBS News.
"How did the open borders crowd response?" Sessions said. "No. Now they don't want them held or deported at all. Does that surprise you?"
"When they win, they make demands. And when they lose, they make demands," the attorney general lamented, adding: "I think there's a lesson in that."
Sessions vowed that the Trump administration would be "resolute" in enforcing its immigration laws, telling his audience: "This is the Trump era. We are enforcing laws again. We know whose side we're on: we're on the side of police and we're on the side of the American people."
"The radical open border crowd should declare whose side they are on," the attorney general added.