Chelsea Clinton has opened the door to a future career in politics. The daughter of former U.S. President Bill Clinton and 2016 Democratic presidential candidate Hillary Clinton told the Edinburgh International Book Festival that politics was a "definite no now" but a "definite maybe" in the future.
She also spoke out against President Donald Trump. "At the federal level, as much as I abhor so much of what President Trump is doing, I have a great amount of gratitude for what my congresswoman and my senators are doing to try to stop him at every point," Clinton said, according to The Guardian.
"But if that were to change, if my city councillor were to retire, if my congresswoman were to retire, my senators, and I thought that I could make a positive impact, then I think I would really have to ask my answer to that question. For me, it's a definite no now but it's a definite maybe in the future, because who knows what the future is going to bring?"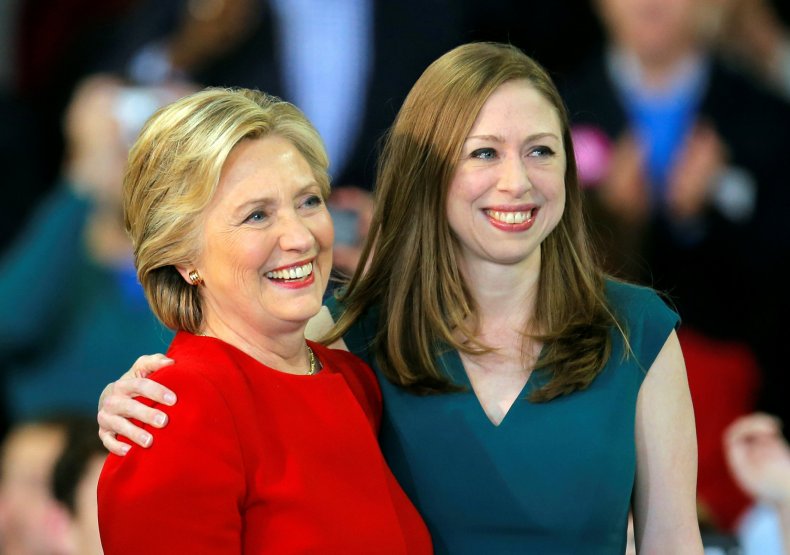 Clinton was in Edinburgh to promote her new book, Start Now! You Can Make a Difference, which is aimed at 7- to 10-year olds. It is scheduled for release on October 2.
Clinton told Entertainment Weekly in May that the book's inspiration came from people asking whether she would write something for a young audience.
"I hope that the kids who read it both learn more about what helps us and our world to be healthy and are inspired to stand up for what they believe is right," Clinton said. "I've always said that you're never too young to make a difference, and I hope this book will show young readers that it's true."
At the festival on Monday, Clinton said there needed to be "more stories centered on women and told by women about women who have persisted. Still today the majority of children's content, whether in picture books or cartoons, is centered on boys. This means most girls are defined by their relationship to the male characters—someone's sister or friend. They aren't the hero of the story."
Clinton also fielded questions about her mother's failed presidential campaign. "She just has continued to persist forward in trying to have a positive impact in politics and outside politics in the way that I have seen her do my entire life," she said.
"Of course, it's not the way I wish she would be doing that, because I think she would've been a uniquely extraordinary president, but I'm not remotely surprised that she hasn't pulled the covers over her head because that's just not who my mom is.
"I'm outraged every day by something our president has done or said or left undone or neglected, or who he has recently bullied on Twitter or television."