Chelsea Clinton's Wedding: A Good Girl Grows Up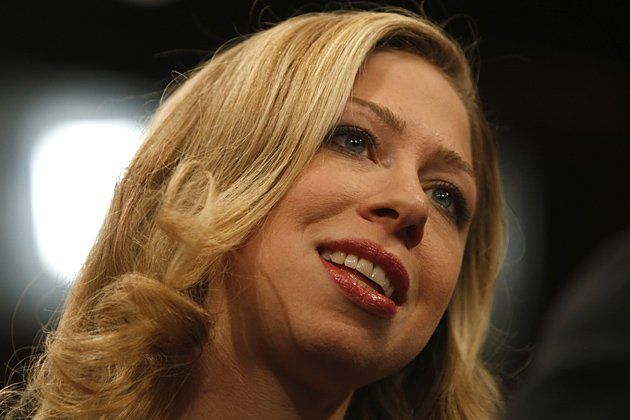 There's a storm brewing in the sleepy Hudson Valley town of Rhinebeck, N.Y. What was once a friendly little hamlet is turning into something straight out of Hitchcock's The Birds. Fortunately (we think?), Rhinebeck's skies are populated not with violent gulls but rather with little birdies, the sort that whisper secrets sweetly and swiftly. "A little birdie told me that the dress is Vera, not Oscar." "A little birdie told me Oprah's coming." "A little birdie told me the whole thing costs $3 million!" Rhinebeck's aviary plague has become so intense that the FAA has announced it will be enforcing a temporary no-fly zone over the town for 12 hours on Saturday afternoon and evening.
Chelsea Clinton's wedding has turned into a media circus of the biggest and brashest variety, as speculation about the details—which remain, for the most part, shrouded in secrecy—has turned into a small cottage industry. On the surface, Chelsea's nuptials might look like any other overhyped celebrity wedding: the eye of a swirling hurricane of gossip and glitz. But somewhere underneath the photographers' arrests and the guest-list brouhaha—somewhere closer to the "Congratulations!" poster in the window of a Rhinebeck restaurant—lies something that is rarely found in the world of American celebrity: genuine interest in and affection for the bride.
Chelsea Clinton is, perhaps, the first American since Shirley Temple who has been a household name since childhood but hasn't washed up à la Lindsay Lohan or temporarily gone loco like Drew Barrymore. When Chelsea moved to the White House, she was an awkward 12-year-old with frizzy hair and braces. Take it from someone who's been there: that's a really tough spot to be in, even if you're not in the public eye. The next eight years were hardly a cakewalk for the first daughter. She had to watch her parents deal with Paula Jones and Whitewater, and her reward was getting to see Ken Starr air her father's dirty laundry (or, more literally, Monica's) in front of the whole world.
But somehow, despite all the mess and the drama, America got to watch Chelsea transform from an ugly-duckling tween into a mature, stylish swan with an impressive educational pedigree and a successful career. Perhaps because of her parents' obsessive efforts to keep her out of the spotlight, or maybe because of her tough genes (say what you will about Hillary, the woman's made of steel), Chelsea has made it. She has degrees from Stanford, Oxford, and Columbia. She worked for a hedge fund and serves on the board of the School of American Ballet. And now she's getting married to Marc Mezvinsky, a successful (and actually kind of cute) investment banker who has been her friend since the two were teenagers. Chelsea could easily have crashed and burned—but, we realize with relief, there is hope left for her, and for us. Maybe craziness isn't such an inevitability in American life after all.
Chelsea Clinton's wedding is not a fairy tale, because her life hasn't been sugar-coated. The most enduring image Americans have of her is also the most melancholy: a college freshman clutching both her parents' hands on the lawn of the White House, literally holding them together as their marriage teeters on the verge of falling apart. But Chelsea's nuptials can still be a happy ending, if not a happily ever after. Here's hoping that the wedding will give us a new, more joyful picture of Chelsea, and that somewhere in the midst of the media frenzy, we'll find a moment to be happy for her, and with her.