Chelsea Handler's 'Childless Woman' Sketch Is Making People Lose It
Chelsea Handler has divided the internet thanks to her skit about enjoying life without children.
The stand-in host for The Daily Show, 47, recorded the comedy video for the Comedy Central show joking she could "go to my fav spot in Paris for a croissant," because she didn't have kids to look after.
Called "A Day in the Life of a Childless Woman," the video follows Handler on her daily routine as she narrates her comically exaggerated habits.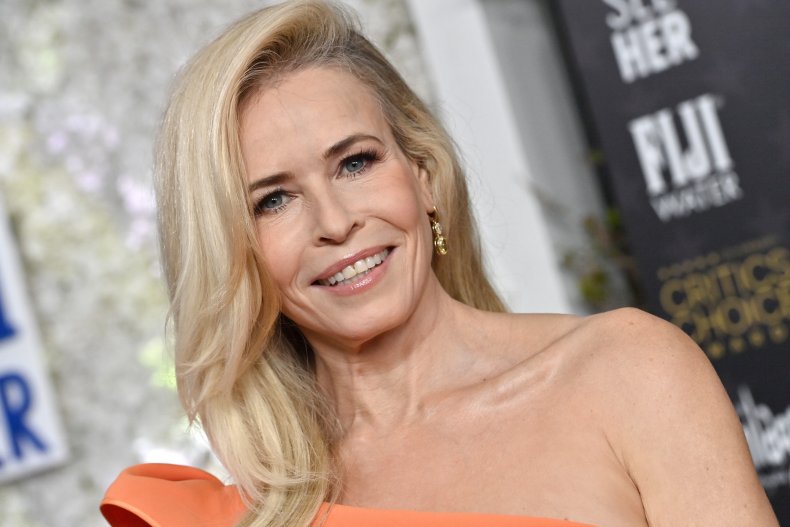 "I wake up at 6 a.m., I remember that I have no kids to take to school, so I take an edible, masturbate and go back to sleep," she starts. "I wake up at 12:30 p.m. and get ready for a busy day of doing whatever the f*** I feel like."
Handler continues: "I put on my most impractical and stylish shoes since I won't be chasing a child around the grocery store."
Then, during her joke about popping to Paris for a croissant, she says, "I do a meditation sesh on the plane, since I have no screaming kids, allowing me all the time in the world to become enlightened. The weightlessness of my existence has granted me super-human powers."
Handler then says she "teleports back home" to get ready for a night out "with whatever hot guy" she met on dating app Raya that day and the text on her phone reads, "Wanna f*** tonight?"
She continues by saying she scaled Mt Everest for exercise and invents a time machine to go back in history to "kill Hitler."
"It's amazing what you can do when you have this much free time," she concludes, before adding, "And that's a day in the life of a childless woman."
Posted to social media on February 10, the video has gone viral with over 6.7 million views, after Fox News pundit Tucker Carlson invited right-wing radio host Jesse Kelly on his show to discuss the video.
Kelly began by saying "feminists like Chelsea Handler" have been "lied to by their society forever that you can be a girlboss, and you can do anything a man can do, which everyone who's ever seen a woman back up a vehicle knows that's not true."
His rant continued as Carlson listened silently: "And [their] womb resembles a dried-up tumbleweed blowing down an old western town, and your Valentine's date for the tenth year in a row is a 10-year-old copy of Magic Mike and a half-full bottle of Xanax, and you're trying to pretend like you're happy, but you're not happy."
Some other conservative thinkers agreed, while plenty of other people defended Handler's skit.
The Blaze's Sara Gonzales tweeted: "This self-serving, hedonistic, narcissistic woman will wonder when she's 70 why she didn't make better choices when nobody wants her and she eventually dies alone."
While conservative commentator Elijah Schaffer added: "It's supposed to be funny but it feels more like a cope. So sad when a woman doesn't have children to call her own. Lonely life."
But others who loved the video were delighted in the outrage Handler had cause online.
"Imagine being this triggered because someone chose not to have kids. Not everyone wants to have kids. If more people recognized that we wouldn't have so many traumatized adults. Some people just aren't built for parenthood so it's best those types don't have children," tweeted one fan.
And another agreed: "I'm laughing my a** off at the desperate, self-loathing parents who are so upset at this joke video, showing to the world that they regret their choice. Parents I know, happy parents, think this is hilarious. Jesus, people. Some of us want kids, some of us don't. Also? Sarcasm!"