Chelsea Manning, Leaker of Classified Information, Tweets From Prison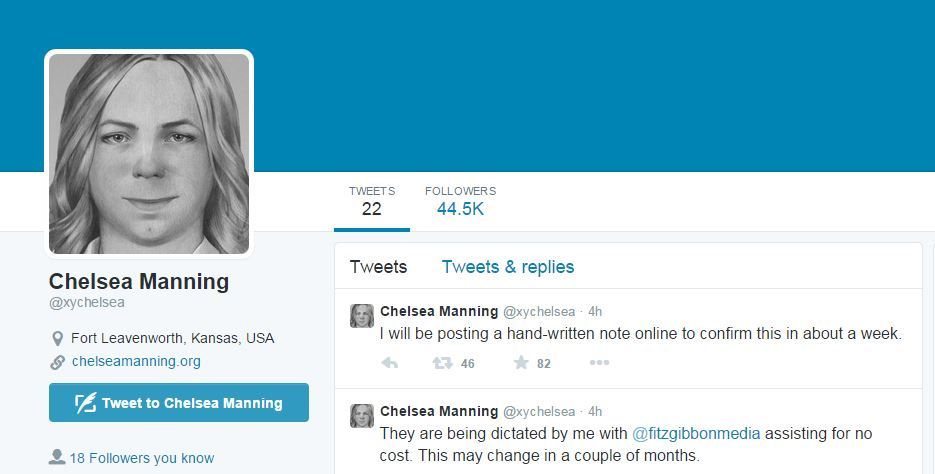 U.S. soldier Chelsea Manning, despite having no Internet access while being locked up in a maximum-security military prison in Kansas after leaking secret government information, is sending out tweets.
With the help of Fitzgibbon Media, a self-described global, progressive communications firm, Manning created the Twitter account @xychelsea--the xy a reference to being transgender. The handle was her first choice, a Fitzgibbons employee confirmed to Newsweek.
On April 3, Manning tweeted for the first time: She did so by dictating her thoughts over the phone. She already has about 44,500 followers.
Manning was court-martialed in 2013 under the Espionage Act after she released a trove of classified documents, including diplomatic cables and military reports, to Wikileaks, an open-information organization. She was subsequently sentenced to 35 years in prison, minus time already served.
While in prison, Manning is allowed a limited number daily phone calls to a pre-approved list of people, some of whom are employees at Fitzgibbon Media. When Manning calls the firm, she lets her contact know what she wishes to tweet. The Fitzgibbon employee will also read any messages that came in to her account since their last conversation and jot down Manning's responses, which will be tweeted later.
Manning said via Twitter that she plans to tweet as frequently as possible, though the process of doing so is complicated. On some days she may sacrifice updating Twitter and use her designated phone calls to speak with her lawyer, or other people on her contact list.
Manning has received a flood of questions about the authenticity of her account and the prison's social media policy since last week, prompting her to write a letter addressing her followers' concerns, a Fitzgibbons employee confirms.
While communicating via Twitter is an impressive feat, Manning's recent string of tweets was not her first contact with the public--she has been contributing editorials to The Guardian since her sentence began.