Activist Chelsea Manning was released from prison Thursday, one day after she reportedly attempted to take her own life while in custody.
Manning was imprisoned on contempt of court charges for refusing to testify in a federal grand jury investigation of Wikileaks and its founder Julian Assange. District Judge Anthony Trenga ruled Thursday that Manning should be released because her testimony is "no longer needed," although he denied a motion to dismiss $256,000 in fines, levied against Manning while she was in custody.
"The Court finds that Ms. Manning's testimony before the Grand Jury is no longer needed, in light of which her detention no longer serves any coercive purpose," wrote Trenga in the decision. "The court further finds that enforcement of the accrued, conditional fines would not be punitive but rather necessary to the coercive purpose of the Court's civil contempt order."
On Wednesday, Manning was admitted to a hospital after attempting suicide at the federal detention center in Alexandria, Virginia, where she had been held since May. Before being released, she had been expected to take part in a court hearing on Friday, which was canceled with Trenga's ruling.
"She remains unwavering in her refusal to participate in a secret grand jury process that she sees as highly susceptible to abuse," lawyers for Manning told Newsweek in a statement Wednesday. "Ms. Manning has previously indicated that she will not betray her principles, even at risk of grave harm to herself."
Manning sent over 700,000 classified files to Wikileaks in 2010 while working as an Army intelligence analyst. She was court-martialed on multiple charges and convicted in 2013, resulting in a prison sentence of 35 years. However, she was released in 2017 after her sentence was commuted by former President Barack Obama.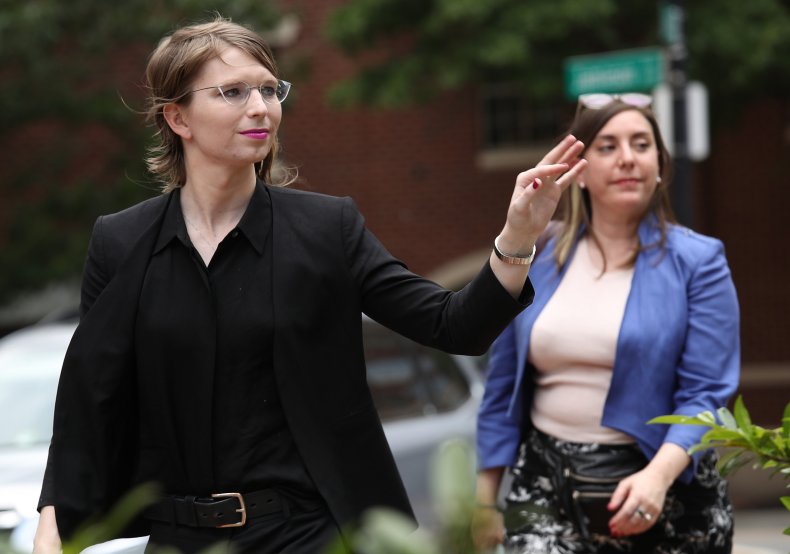 U.S. officials are attempting to extradite Assange from the United Kingdom, where he is currently being held in prison. He faces multiple charges of espionage for his role in obtaining and distributing leaked classified materials, including those provided by Manning.
In a February letter included with a petition for her release, Manning complained to Trenga that she had been imprisoned for political reasons, comparing her actions to those of associates of President Donald Trump during the impeachment proceedings, according to The Washington Post.
"The Attorney General was in contempt of a congressional subpoena but faced no consequences," Manning wrote in the letter.
"The President has been instructing his associates not to comply with grand jury subpoenas and witness subpoenas for at least two years, and has even fired people for their compliance with subpoenas," the letter continued. "It is clear that the rules are different for different people."
Newsweek reached out to Manning's lawyers for comments about her release but did not receive a response in time for publication.