Chelsea Remember Ray Wilkins: Somber Stamford Bridge Sheds a Tear For 'Blue Blood' Hero Butch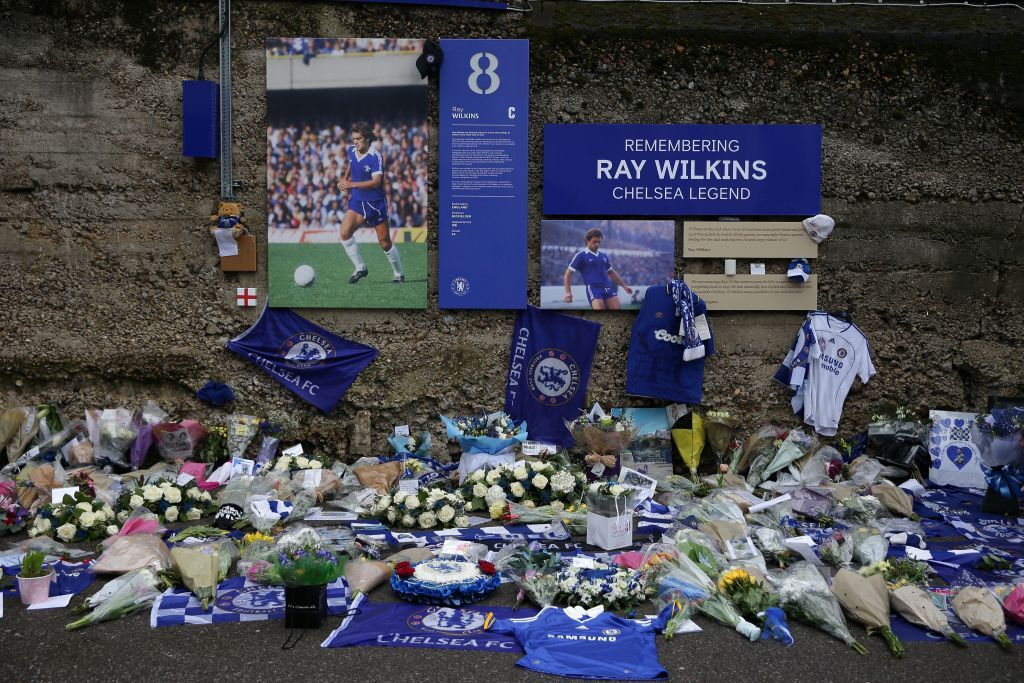 The rain fell harder and harder but still the crowd continued to grow. They came in their droves to the front entrance of Stamford Bridge, to pay their respects, to tell their stories and to remember one of their heroes.
Ray Wilkins' death on Wednesday touched many football fans, from Manchester to Milan, Paris to Queens Park Rangers. But possibly none more so than those at Chelsea, the club Wilkins, a boyhood fan, joined in 1966 at the age of 10, captained at 18, and made 198 appearances for prior to returning as a coach.
Here, he was adored. That was clear through the giant blue banner stretched across the Matthew Harding stand prior to kick-off that read: "Ray 'Butch' Wilkins. One of our own."
It was clear through the black jerseys the players wore in their warm-up with the number eight, Wilkins' number, on the back. It was clear through the tribute on the front of the match-day programme, through the chanting of his name, through the applause both before and in the eighth minute of the game. But, mostly, it was clear through the emotion of the fans in the hours leading up to the visit of West Ham on Sunday.
Chelsea set up a memorial wall at the front of Stamford Bridge, with photographs of Wilkins during his heyday along with a written profile. "Ray Wilkins was Chelsea's jewel in a time when things to cherish were hard to find," it read.
A blue velvet rope fenced off the area, with security guards keeping order. There was little need for them, though. The mood was somber, quiet. Few words were spoken and those that were whispered. Fathers told their sons and daughters of Wilkins' legacy, how he was a lynchpin in the era of Ron Harris and Peter Bonetti.
"He only scored spectacular goals," one man told his son. Wilkins, the man they had seen analyzing their heroes on Sky Sports in recent years, had brought such joy to their parents' youth.
One woman made her way through the crowd as the drizzle grew stronger. She lay a carnation and clasped her hands together in prayer. Her arrangement joined dozens of others, along with jerseys, scarves, flags, teddies, sepia photographs and a flickering candle.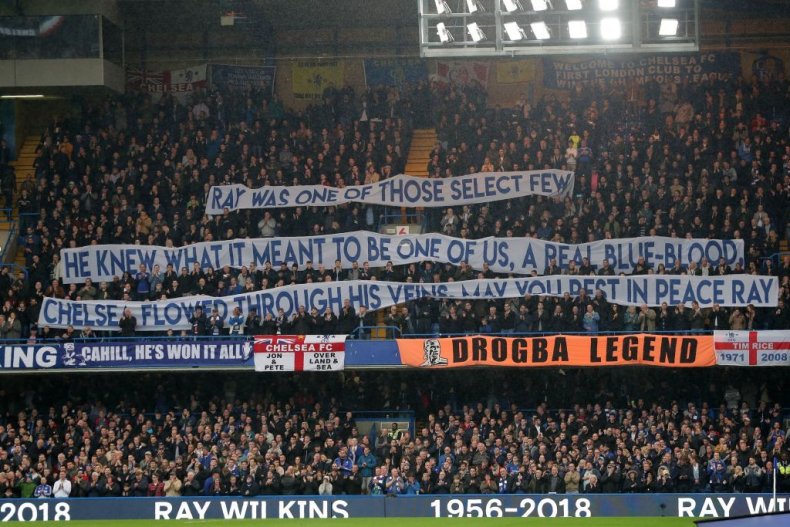 Some carried messages. "You brought so many happy moments to our lives and left us with a treasure trove of memories too beautiful to forget," read one.
Above it, a hand-written banner reminded younger fans of his history at the club. "Before John Terry there was Ray 'Butch' Wilkins—Captain, Leader, Legend," it read. Terry had been here three days earlier. He had paid his respects and left his captain's armband on one of the photographs of Wilkins.
Alongside the memorial wall, Chelsea set up a tent with a book of condolences. A queue began to form three hours before kick-off and only grew longer as the match neared, fans and well-wishers not put off as the rain fell harder.
Soon, there was little room to pose for photographs. They were five deep, waiting their turn to pay their respects, to say goodbye to Butch. Most fought back the tears, many failed.
They knew this was a day Wilkins would have been looking forward to. A London derby against West Ham, a day to kick-start the revival. Instead, Chelsea could only muster a draw.
Wilkins' beloved Blues head into another summer of transition, another summer of discontent. This time, they face it without those stalwarts of recent years. There is no Terry now. No Frank Lampard or Didier Drogba. And, to the sadness of all at Stamford Bridge, no Ray Wilkins. They will miss him here.