Dele Alli Double Ends Tottenham's Curse of Stamford Bridge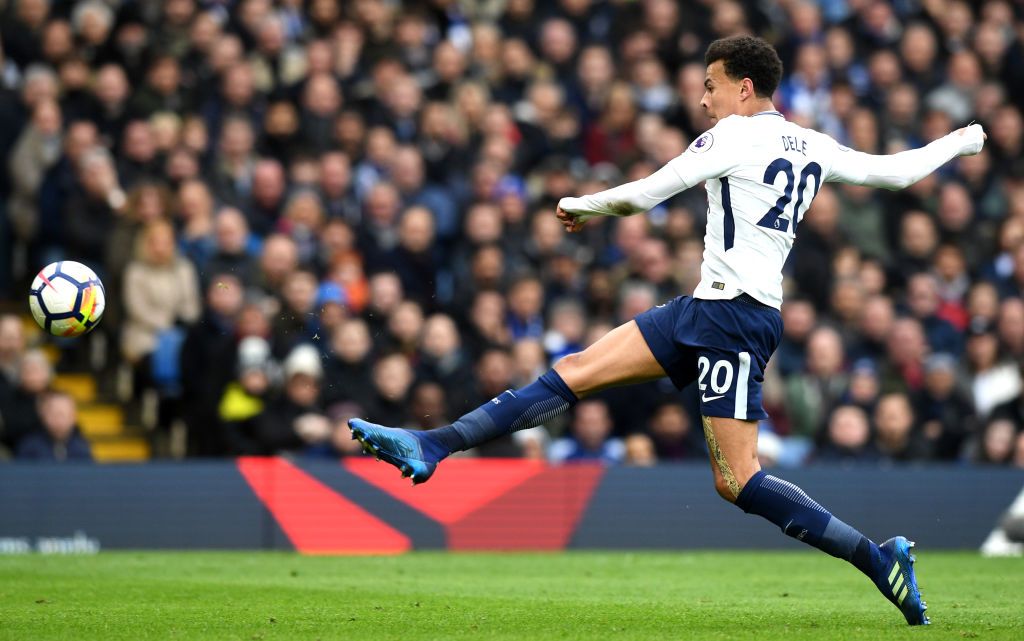 Those old cliches can finally, finally be forgotten. Over 28 long years, every time Tottenham travelled across London to Stamford Bridge, they heard them again and again. Margaret Thatcher was in power the last time they won here, they were told; Nelson Mandela was still incarcerated. Not any longer: Tottenham held on and they beat Chelsea at Stamford Bridge.
Dele Alli takes much of the praise as his two goals in four minutes in the second half secured the win. After grabbing his second to put up Spurs 3-1, he peeled away toward the 3,000 visiting fans in the corner of Stamford Bridge. They burst with relief in unison, drumming onto the advertising hoardings. That record had haunted them for so long, but not any longer.
That will have pleased Mauricio Pochettino but far greater satisfaction will be seeing the Premier League table that leaves Chelsea fifth and now eight points behind Tottenham. Eight points with seven games to go is a mighty gap, and one that looks insurmountable for Antonio Conte and Chelsea.
This summer now offers another transition period at Stamford Bridge, but with a twist. Yes, another manager looks destined for the exit but all the old guard are gone. No John Terry for a new coach to lean on this time. Frank Lampard, Petr Cech and Didier Drogba are long gone. And, most importantly, no Champions League.
Without that, Chelsea will struggle to attract Europe's best during the summer transfer window, and even more worrying will be what the future holds for Eden Hazard. With Real Madrid constantly lurking and Chelsea, likely, competing in Europe's second tier competition, it may finally spell the end of his time at the club. That could be a seminal moment at Stamford Bridge.
For Spurs and their fans, it was a time for celebration when the final whistle blew. They waited a long time for this. "There's only one team in London," they sung. Their achievement was made all the more greater as they did it, for the most part, without Harry Kane. The striker came off the bench late on in the game after returning from injury but by then the game was already won.
The old narrative, the curse of Stamford Bridge, had appeared set to continue in the first-half as it was Chelsea who took the lead after a howler of a mistake by the Tottenham goalkeeper Hugo Lloris that allowed Alvaro Morata to nod in from close range.
Here was maybe an explanation of why Lloris' name is rarely mentioned among those at the very elite of goalkeeping. Manuel Neuer, David de Gea, Thibaut Courtois, Jan Oblak, yes, but rarely Lloris. He has long impressed in England, been a servant to Tottenham, but he let them down at Stamford Bridge when it mattered.
Chelsea had threatened on the counter-attack early on, with the pace and power of Willian and Hazard on either wing, without really troubling the Tottenham defense. But on the half-hour mark, Antonio Rudiger, Chelsea's summer signing who is increasingly impressing in Conte's back three, picked up the ball and hit a cross-field pass to the marauding Victor Moses. He delivered a dangerous cross but Lloris' attempt to come and flap at thin air was the fatal moment for Spurs.
Morata was left free to nod in from close range and grab his first league goal of 2018 and dampen hopes Tottenham had of ending that dreaded record.
The Frenchman's despair will have been alleviated by some degree, though, as the two teams ended up going in at half-time level, thanks to a long-range effort from Christian Eriksen. It brought a stunned silence to the majority of Stamford Bridge, bar the raucous corner holding the away fans. He had picked up the ball 25 yards out and unleashed his shot that appeared to have a little dip and some swerve to fly past Willy Caballero in the Chelsea goal.
Was it a wonder-strike or a strike that left Conte wondering how Caballero didn't get behind it? The Argentine goalkeeper, like his counterpart, failed to get even a finger to the ball. His finger, though, may have been pointed at the Chelsea midfield which failed to close Eriksen down or put any form of pressure onto the Dane.
That will have been the least of Conte's concerns as he settled down for his Easter Sunday evening, as this game was taken away from Chelsea in a chaotic four minutes that saw Alli score twice amid some dreadful defending.
First, a long ball from back to front undid Chelsea, as Alli snuck in between Andreas Christiansen and Cesar Azpilicueta, controlled the ball and cooly finished past Caballero. The Spurs fans behind the goal were given reason to believe, and then it became a reality.
Son Heung-Min raced into the Chelsea box and was halted by Caballero, but then both Christiansen and Azpilicueta failed to clear their lines. Alli pounced, calmly slotting into the open net and even then, with 24 minutes still to play, there was a scattering of home fans disappearing out the exits.
Chelsea never truly threatened to get back into the game. There was no sniff of a repeat of 'The Battle of Stamford Bridge' in 2016. Conte and his team now have little hope left and their season relies upon the FA Cup, a competition that could see them come up against Tottenham at Wembley in the final.
Tottenham would now relish that prospect. They have rid themselves of one of their most painful psychological problems, as well as improving their away record against their top-six rivals. Thatcher and Mandela will, of course, no longer be associated with Spurs and Stamford Bridge.