'Chemical Hearts': Release Date, Cast, Trailer and How to Watch
Chemical Hearts follows the entertainment rule that eventually every member of the Riverdale cast must be part of a romantic drama movie. After KJ Apa made I Still Believe and Charles Melton released The Sun is Also a Star, Betty Cooper actor Lili Reinhart has filmed Chemical Hearts, the latest movie original coming to Amazon Prime Video.
Reinhart leads the cast alongside Euphoria's Austin Abrams as two high school kids who find love when they edit the student newspaper together. The plot of the movie, which will be released in August, is based on Krystal Sutherland's book of the same name. Amazon released a trailer for the movie at the end of July which gave fans their first glimpse of the film.
When is Chemical Hearts out on Amazon Prime Video?
The release date for Chemical Hearts is Friday, August 21, when the 93-minute movie will be streaming. The film is expected to be out at midnight PDT. When it comes to your time zone will depend on your time difference from the west coast of America, which is currently seven hours behind GMT/UTC.
How to watch Chemical Hearts online
The movie is a global Amazon Prime Video exclusive, meaning the streamer is the only place to watch the Lili Reinhart movie online.
New subscribers to Amazon Prime Video are able to get a 30-day free trial, meaning they can watch Chemical Hearts for nothing. After that time, the streaming service costs $8.99 a month just for Prime Video, or for $12.99 as part of Prime, which costs $119 is bought annually.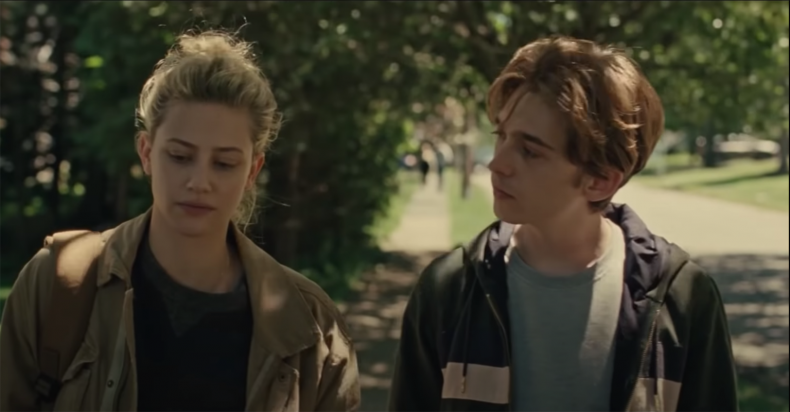 Who is in the cast of Chemical Hearts?
Leading the cast is The Walking Dead's Austin Abrams as aspiring journalist Henry Page, while Riverdale and Hustlers star Lili Reinhart is his new love interest Grace Town.
Joining them in the movie is For All Mankind's Sarah Jones as Suds, the sister of Henry and The Punisher's Kara Young as Henry's neighbor Lo. Also starring in the film are Coral Peña, C.J. Hoff, and Shannon Walsh.
What will happen in Chemical Hearts?
The logline for the movie reads: "A high school transfer student finds a new passion when she begins to work on the school's newspaper."
The film is based on the book by Krystal Sutherland. The synopsis for this gives fans a further glimpse of what to expect. "Henry Page has never been in love," the synopsis begins, "he fancies himself a hopeless romantic, but the slo-mo, heart palpitating, can't-eat-can't-sleep kind of love that he's been hoping for just hasn't been in the cards for him-at least not yet. Instead, he's been happy to focus on his grades, on getting into a semi-decent college and finally becoming editor of his school newspaper. Then Grace Town walks into his first period class on the third Tuesday of senior year and he knows everything's about to change.
"Grace isn't who Henry pictured as his dream girl-she walks with a cane, wears oversized boys' clothes, and rarely seems to shower. But when Grace and Henry are both chosen to edit the school paper, he quickly finds himself falling for her. It's obvious there's something broken about Grace, but it seems to make her even more beautiful to Henry, and he wants nothing more than to help her put the pieces back together again. And yet, this isn't your average story of boy meets girl."
In the trailer for Chemical Hearts, fans get a hint about what this "something broken" might be. She reveals that she had been involved in a car accident that has left her walking with a cane.
Chemical Hearts is released on Friday, August 21 on Amazon Prime Video.