Chemical Plant Explosion Launches Metal Plate Into Air Killing Man Two Miles Away
An explosion at a chemical factory in the independent Spanish region of Catalonia was so powerful that it flung a one-ton steel plate two miles, where it crashed into an apartment building, killing one resident.
The BBC reported that the explosion happened on Tuesday at the IQOXE plant in Tarragona. The facility was used to produce ethylene oxide, an extremely flammable organic compound that is used as a surface disinfectant in hospitals, as well as in the production of cosmetics, lubricants, paint thinners and other products. The plant also produced propylene oxide, which is very flammable as well.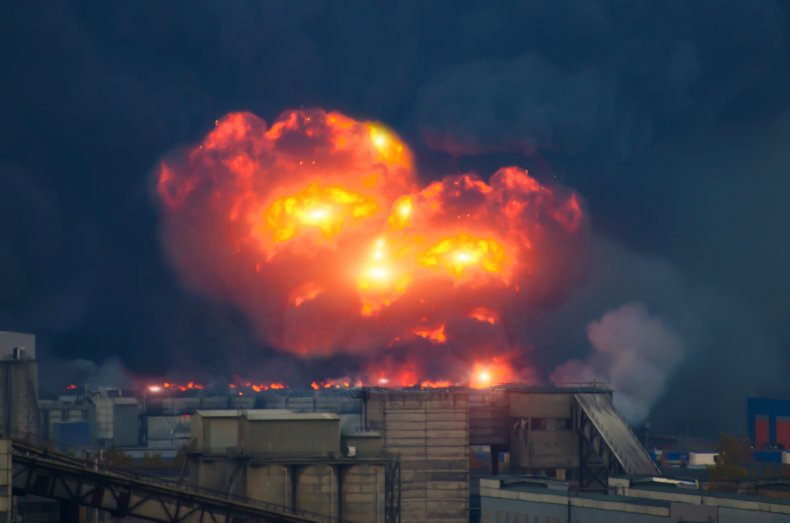 The factory was one of several facilities in the La Canonja Petrochemical Park. The first explosion happened at approximately 6:40 p.m, and it was followed by a second blast that is believed to be at an electrical transformer. After the explosion, a massive fire broke out, which firefighters worked through the night to douse.
El Pais reported that the man, who has been identified only as "Sergio," was crushed when the steel plate flew into the apartment above his, causing the structure to collapse on him.
Firefighters said that the plate was in all probability a reactor lid from the plant.
Residents of the Plaça García Lorca housing estate that was hit told reporters that they saw a ball of fire arc across the sky from the exploding plant before it hit the building.
A search team discovered the body of a second victim, a senior staffer at the plant, early Wednesday morning. Several other victims were hospitalized with severe burns.
After the explosion, municipal authorities in seven adjoining areas issued a warning to residents to remain inside, but chemical contamination protocols were not activated. Rail service was also cancelled, and roads were closed on Tuesday until the danger was cleared.
According to the BBC, Catalan president Quim Torra visited the scene while the fire was being contained. He told reporters, "Now we can send a message of calm and confidence to people. There is no toxicity, and therefore people can carry on with their lives as normal."
In 2004, a similar explosion at an ethylene oxide plant operated by Sterigenics in Ontario, California. A chamber containing 100 pounds of the gas detonated, launching a two-ton metal door 75 feet and injuring four workers.
An even larger explosion occurred at the Olin Mathieson Chemical Corp. plant in Brandenburg, Kentucky in 1962. UPI reported the blast injured at least 30 employees and shattered windows in homes and stores three miles away.