Chemical Reaction at Buffalo Wild Wings Kills One, Sends 10 to Hospital
One person is dead and at least 10 others were taken to hospital after chemicals contained within cleaning products at a Buffalo Wild Wings restaurant in Massachusetts reacted together, releasing noxious fumes.
Staff in the sports bar, located on South Avenue in Burlington, were mixing the products in the kitchen area when the fumes started to be let off.
The reaction was so strong, however, that customers in the dining areas soon started breathing in the chemicals. They told reporters of the confusion that followed.
"One of the things that went through my mind is we're sitting there and what are we supposed to do?" one customer told WHDH Boston.
"Is everything OK? Should we even be breathing this air?"
Another customer spoke of the panic that followed.
"We're just sitting there and then all of a sudden we start smelling the whatever it was, ammonia or whatever it smelled like, and all of a sudden he inside of my nose starts burning," he said.
"We see the employees, like the waitstaff, everybody just flee."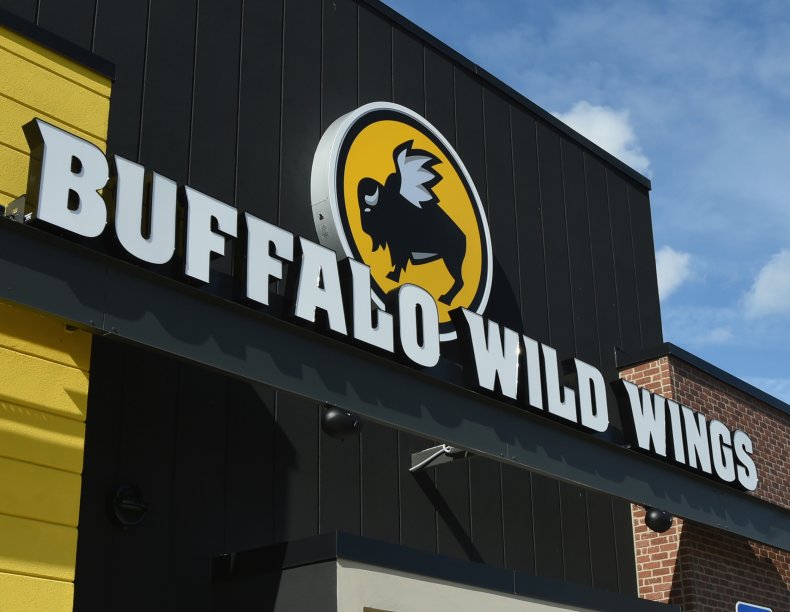 Interim Burlington Fire Chief Michael Patterson told a press conference after the incident that emergency crews arrived at the restaurant shortly after 5:30 p.m. local time after a number of 911 calls were made.
First responders found a male employee outside the restaurant suffering with nausea after inhaling the fumes, Patterson said.
He tried to get the chemical out of the building after another employee who had mixed the substances had fallen ill, Patterson added.
The man, who was not identified, was then taken to Lahey Hospital, where he was later pronounced dead.
Ten others transported themselves to Lahey and other nearby hospitals where they continued to receive treatment, Patterson said. Their condition was stable, he added.
Only two were said to be customers and the remainder were members of staff.
After emergency crews were called and the restaurant was evacuated, hazardous materials teams in grade-two suits were called upon to investigate the scene.
They identified the noxious chemical as sodium hypochlorite—a household bleach compound that has been used since the 18th century.
Although the compound remains in widespread use, it is among the most dangerous compounds as it rapidly releases chlorine and can mix easily with other chemicals to create toxic fumes.
Patterson said Burlington Fire Department continues to investigate, however, he added that the restaurant was safe for re-entry as the fumes had cleared into the air.
The Occupational Safety and Health Administration under the Department of Labor has been notified, but has yet to publicly comment. Newsweek has contacted the department to provide an update.
A Buffalo Wild Wings spokesperson said they are assisting local officials with their investigations.
"We are shocked and saddened to learn of this tragic accident at our franchisee-owned sports bar and are working closely with our franchisee and the authorities while they conduct an investigation," the spokesperson said.