Cheney, Kinzinger Pile on Cruz in Fight Over Soul of GOP: 'Posturing for Secessionist Vote'
Reps. Liz Cheney and Adam Kinzinger sparred with fellow Republican Sen. Ted Cruz over the soul of the GOP amid the ongoing supposed civil war between congressional loyalists of former President Donald Trump and those seeking to reclaim the party from his divisive leadership.
After their votes to impeach Trump over the January 6 Capitol riot, Cheney and Kinzinger have become party pariahs, fighting a steep uphill battle for the future of the GOP.
Appointed by House Speaker Nancy Pelosi to the select committee investigating the insurrection from 10 months ago, both Cheney and Kinzinger have drawn sharp rebuke from members and voters of their own party.
Cruz, a close ally of Trump, suggested in a Saturday tweet that Cheney should join the Democratic Party, sparking a heated intraparty tussle online.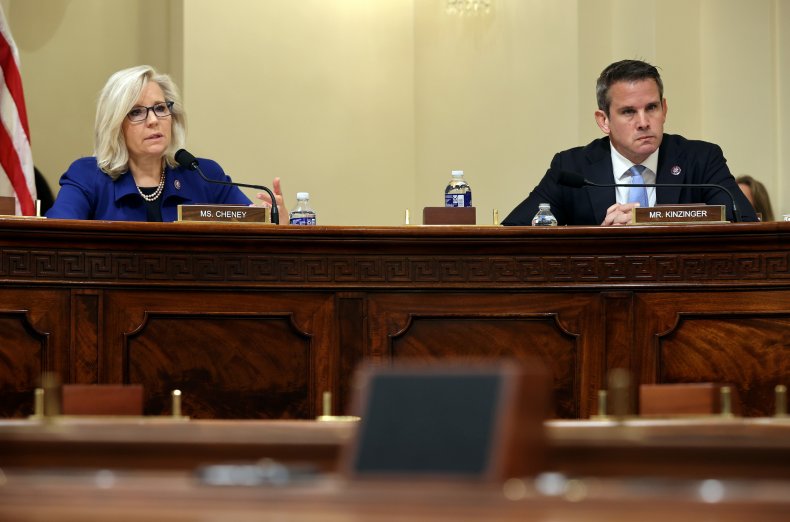 "Yes. It's called the Democratic primary," the Texas Republican senator wrote, responding to a CNN video about a possible Cheney 2024 presidential campaign.
Cheney fired back at Cruz with her own tweet: "I know you're posturing for the secessionist vote, Ted. But my party, the Republican party, saved the Union. You swore an oath to the Constitution. Act like it."
Kinzinger supported Cheney, tweeting: "Damn son Liz brought the heat on you!"
Cruz later replied: "These two need to hurry up and get their bottom-rated @msnbc show. @AdamKinzinger @RepLizCheney."
As most other anti-Trump Republicans have maintained a low profile, the Wyoming congresswoman and Illinois congressman have frequently criticized the GOP for its ties to the twice-impeached former president. Both lawmakers faced internal backlash from fellow congressional and local Republicans, voters and constituents in their home states for breaking with the party.
Cheney was ousted as the No. 3 Republican in the House in May for her fiery public criticisms of Trump over his alleged role in inciting the Capitol riot and false claims of a stolen election.
"There has never been a greater betrayal by a President of the United States of his office and his oath to the Constitution," she said as she voted for Trump's impeachment earlier this year.
Eleven members of Kinzinger's family called him a member of the "devil's army" in a letter following his vote to impeach Trump.
"Oh my, what a disappointment you are to us and to God! It is now most embarrassing to us that we are related to you," they wrote, according to a copy of the letter obtained by The New York Times.
Newsweek reached out to Cruz's office for comment.