Cher Reflects On Her 3 Miscarriages, Says Republicans Will 'Kill Women'
Cher has opened up about her experience with miscarriages for the first time, telling fans that she suffered three, with the first one occurring when she was just 18 years old.
The pop icon took to Twitter on Monday night to reflect on the miscarriages which happened during her marriage to Sonny Bono. "When I was young I had 3 miscarriages.1st at 18.I was alone in our house.son came home & I was sobbing,& rocking on our floor," she tweeted.
The 76-year-old singer said one of her miscarriages resulted in her being rushed to the hospital as she hit out at lawmakers who support the recent repeal of Roe v. Wade, questioning what would have happened to her now if she found herself in the same situation.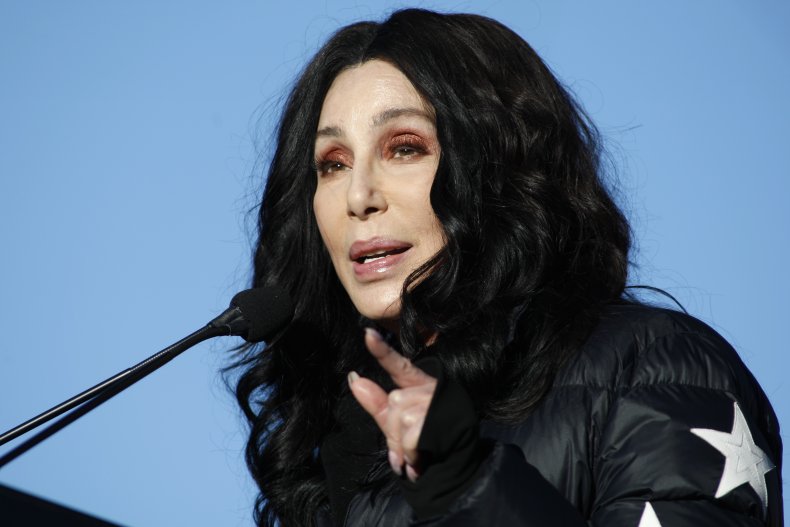 "when I got 2 dr I was screaming in pain.couldn't even stop in elevator.dr sent me straight 2 hospital,& in2 operating rm.WHAT WOULD HAPPEN 2 ME TODAY" she wrote.
Cher also revealed she never thought she would share her experience with miscarriages after a fan commented that they "never knew."
In a second tweet, the "Believe" hitmaker lashed out at Republicans who have mostly publicly cheered the rollback of abortion legislation.
"These Insane republicans will kill our WOMEN 4 POLITICS‼️" she wrote. "MOTHERS,SISTERS AUNTS,COUSINS,BEST FRIENDS...NO WOMAN IS SAFE IN AMERICA."
Despite miscarriage being a natural occurrence in many pregnancies—about 30 percent of pregnancies end in miscarriage—there are now concerns that people having miscarriages will be treated as criminals as medications needed to safely pass miscarriages are considered abortifacients. There is also the question of whether health care providers in states with more restrictive abortion laws can provide dilation and curettage (D&C) procedures to women experiencing miscarriages to remove remaining tissue from the uterus.
It was reported late last month that a woman in Missouri was refused the medicine she needed for her miscarriage by a Walgreens pharmacist two days before Roe v. Wade was overturned on June 24.
The Roe decision could see abortion bans in roughly half of the states in the U.S. Thirteen states, mainly in the South and Midwest, already have trigger laws on the books that ban abortion if Roe was overturned.
In other states, there will be battles over dormant abortion bans that were enacted before Roe was decided in 1973 or new laws that strictly limit when abortions can be performed. Following the overturning of Roe v. Wade, health care providers in some states can be fined or even face jail time for providing abortions in states where it's now illegal.
Cher's comments come amid a number of strong reactions by celebrities to the Supreme Court overturning Roe v. Wade with Kim Kardashian, Katy Perry, Jessica Chastain and more expressing their anger. The traumatic abortion experiences of Brigitte Bardot and the late Debbie Reynolds were also highlighted on social media earlier this month.