Chernobyl Fears Return as Russia Makes Ominous Warning
Russia has said Ukraine is planning a "provocation" linked to the Chernobyl nuclear power plant involving the United States and European countries.
Moscow said Kyiv was looking to accuse Russia of violating the Convention on Nuclear Safety during what Moscow calls the "special military operation" in Ukraine.
Russian forces seized the Chernobyl plant on February 24 and then left in April although concerns remained about how fighting from both sides could affect the closed facility, which in 1986 was the scene of the world's worst atomic disaster. Hostilities around the Zaporizhzhia nuclear power plant, which is Europe's largest, also raised fears.
A statement on the Russian Ministry of Defense (MOD) Telegram channel on Tuesday said that Kyiv wanted to present "hard evidence" to the United Nations General Assembly on February 22, that "significant areas of Ukraine" had been irradiated due to the actions of Russian troops at Chernobyl and in the "exclusion zone" between February and April.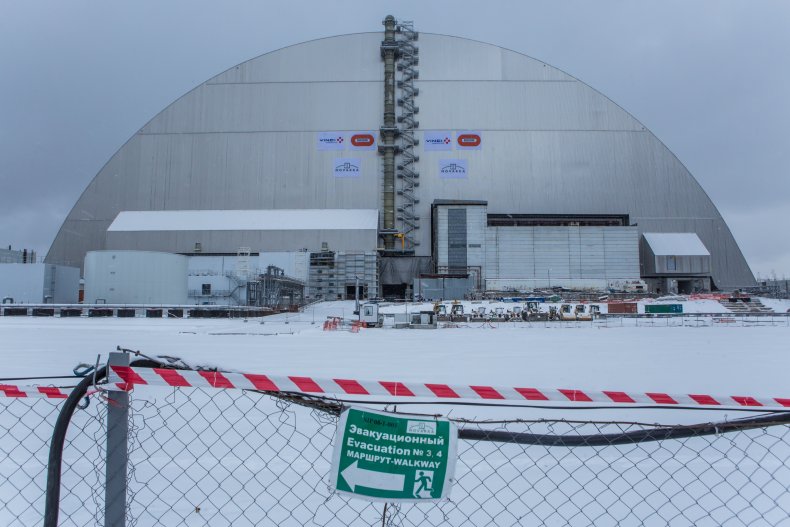 Russia said the alleged plan involved the Norwegian Radiation and Nuclear Safety Authority being tasked to back up the claims that people living in the north and northwest of Kyiv had been exposed to high levels of radiation.
In the statement, Russia outlined an elaborate information campaign that would also include faked documents from Ukrainian officials and "fabricated interviews" with Chernobyl station workers, and anecdotes of Russian troops looting radioactive materials and equipment.
This "large-scale provocation is primarily intended to create negative atmosphere and impose political pressure on those state leaders who oppose Western sanctions against Russia," the statement said.
This was aimed at pushing U.N. members to back Ukraine's "Peace Formula" and another initiative "to illegally seize Russian assets abroad" and establish an international tribunal.
Moscow also said Kyiv had asked the European Union's Emergency Response Coordination Centre to send Ukraine special protective clothing, civilian gas masks, chemical reconnaissance devices, dosimeters and radiation antidotes.
The statement made by the Joint Coordination Headquarters of Russian Federation for Humanitarian Response in Ukraine and shared by the Russian MOD was reported by the state news agency TASS and Kremlin-friendly newspaper Izvestiya.
Since the start of Vladimir Putin's invasion of Ukraine on February 24, 2022, Moscow has repeatedly accused Ukraine without evidence of plotting provocations to pin blame on the actions of Russian troops. One example was the evidence that Russian troops had carried out war crimes in Bucha, in the Kyiv region, which were denied by Russian officials who said they were staged.
Newsweek reached out to the Norwegian Radiation and Nuclear Safety Authority and the Ukrainian foreign ministry for comment.