The Cherry-Picked, Inaccurate Claims Made by Trump's Defense Team to Refute Impeachment Articles
As President Donald Trump's legal team rounded out its second day of defense in the Senate impeachment trial Monday, several cherry-picked pieces of information were used to best suit their case, while omitting key elements far less supportive of the narrative that the president's Ukraine dealings were appropriate.
Despite a damning claim from former National Security Adviser John Bolton that Trump told him the hold on foreign military aid to Ukraine would remain in effect until the country publicly announced investigations into the Bidens, which undercut previous claims by Trump and others, the revelation went largely ignored by the president's defense team. It also failed to sway Republicans toward backing Democrats' calls for Bolton and others to be subpoenaed for testimony.
Here are a few of the claims made by Trump's lawyers that failed to paint the entire picture.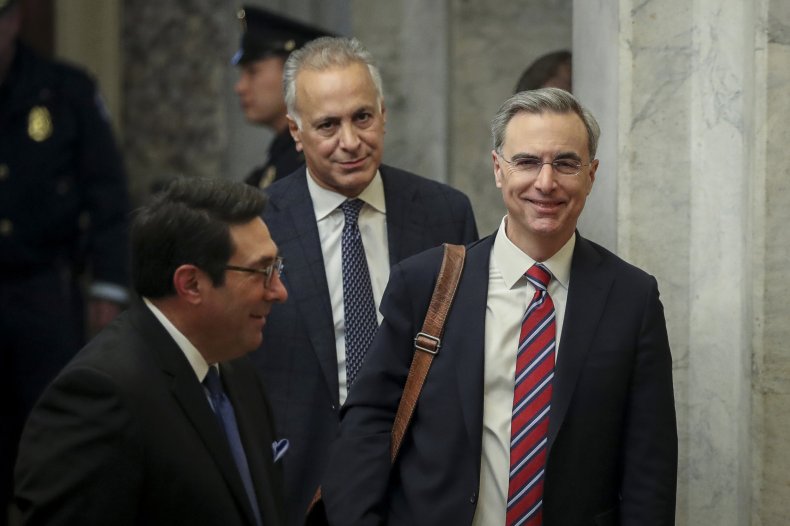 "No linkage" between withheld aid and investigations? That's not what Bolton says
There could not have been a connection between withholding nearly $400 million in military aid to Ukraine and pushing for political probes that would benefit Trump's re-election chances, Deputy White House counsel Michael Purpura argued.
"Anyone who spoke with the president," Purpura said, "made clear that there was no linkage between security assistance or a meeting on the July 25 call. The Ukrainians said there was no quid pro quo and they felt no pressure."
The White House attorneys and Republicans have said the allegations against Trump lack firsthand evidence from people who have spoken directly to him about Ukraine. While several current and former administration officials testified to House impeachment investigators last year that they became aware of an alleged scheme by Trump and those around him, such as his personal attorney Rudy Giuliani, to have Ukraine investigate the Bidens, Trump's defenders highlight they never heard such directive from Trump directly.
Bolton, whose top position allowed him ample time to hear directly from Trump, has thrown a wrench into that argument. He said the president made clear the withheld aid was tied directly to Ukraine announcing investigations into the Bidens and Burisma, the Ukrainian energy company where Joe Biden's son, Hunter, used to hold a board position. That's according to a manuscript outline of his forthcoming book obtained by The New York Times.
Acting White House Chief of Staff Mick Mulvaney confirmed in a press conference in October that the aid and investigations were linked and told people to "get over it." Mulvaney refused to testify to the House inquiry and is one of several witnesses Democrats have demanded the Senate subpoena to testify during the trial.
U.S. Ambassador to the European Union Gordon Sondland also testified to the House last year that he'd come to understand the aid was conditioned on investigations into the Bidens and that he relayed that information to a top aide to Ukrainian President Volodymyr Zelenskiy. However, Sondland said he'd come to that conclusion by adding "two plus two" and was not explicitly told so by Trump.
David Holmes, a U.S. diplomat in Ukraine, testified that he overheard a phone call between Sondland and Trump on July 26, the day after Trump's infamous July 25 call with Zelenskiy. Holmes said Sondland told him that Trump does not give a "[expletive] about Ukraine" and that he's more interested in "big stuff like the Biden investigation."
Evidence suggests Ukraine was aware of the hold on aid, despite claims saying otherwise
During brief opening remarks on Saturday from Trump's defense team, Purpura claimed that "Zelenskiy and high-ranking Ukrainian officials did not even know—did not even know the security assistance was paused until the end of August," when a Politico story broke the news.
This argument, if true, would mean Ukraine did not feel pressured when asked to investigate the Bidens because they were unaware foreign assistance was involved.
But the evidence refuting this timeline went ignored.
A former top Ukraine official told The New York Times they were aware of the freeze on aid in July, similar to what Pentagon official Laura Cooper said in her testimony to the House.
Aid flowed without Bidens probe, but Ukraine was prepared to make announcement
Trump's defenders have noted that the military aid was eventually released to Ukraine on September 11 without the announcement of investigations into the Bidens and Burisma.
But the release only came after the freeze was made public, when an anonymous whistleblower came forward about Trump's July 25 phone call and House Democrats launched an investigation.
Top U.S. diplomat in Ukraine Bill Taylor testified to the House that Zelenskiy was prepared to announce the investigations desired by Trump in an interview with CNN later in September.
Did Zelenskiy actually receive the meeting he wanted?
Trump's lawyers argued that Zelenskiy eventually received his desired meeting with Trump thanks to a discussion in September at the United Nations General Assembly gathering in New York.
However, Zelenskiy never received an Oval Office meeting at the White House, which was promised in the wake of him taking office after vowing to root out corruption in the eastern European nation. Witnesses who testified in the House's impeachment inquiry described the wanted meeting as something that would have publicly showed the United States' support for Ukraine and was vital for the country, which continues to fend off Russian aggression.
Sondland told the House last year that such a meeting was a "quid pro quo" and would not occur until the investigations into the Bidens and the conspiracy theory that Ukraine was involved in 2016 U.S. election meddling were announced.
Did the House deny Trump due process?
Republicans and Trump's attorneys have hammered Democrats for allegedly denying the president due process throughout the House's impeachment inquiry.
However, Trump declined House Democrats' invitations to participate in the inquiry. The Judiciary Committee invited the White House to have representatives attend hearings with witnesses so they could ask questions and participate, in addition to suggesting their own witnesses.
Trump declined, claiming he did not want to legitimize an illegitimate probe.
Is a crime needed to be impeached?
Trump's attorneys repeated the Republican talking point that a crime is needed in order to oust a president from office, such as the allegations levied against former President Richard Nixon and Bill Clinton.
"The nation's most recent experience, the Clinton impeachment—even though severely and roundly criticized—charged crimes," said Trump defense attorney Kenneth Starr, who was the former independent counsel who investigated Clinton.
Robert Ray, also a Trump attorney, said the impeachment articles "do not even allege crimes" and amount to "legislative tyranny."
"That course, if sustained, cheapens the impeachment process and, thus, is an American tragedy all its own," he continued. "For our purposes here, what is required that crimes be alleged and that those crimes be of the type that in particular are so serious that they subvert our system of government and would justify overturning a popular election."
However, the Constitution does not require a statutory crime to have occurred, a point Democrats highlighted in their arguments last week by repeatedly airing past remarks made by various Trump allies.