Cheryl Hole Feared She Was 'A Failure' After Her 'Drag Race UK Vs The World' Elimination
RuPaul's Drag Race UK Vs The World is the highest level any of the queens from previous shows can aim for, meaning the pressure is on for them to represent their respective countries and succeed.
This immense pressure can lead to the queens from the show struggling with their mental health afterwards, particularly if they don't make it to the top.
Cheryl Hole, who was eliminated on the show's second episode, told Newsweek she feared she was "a failure" following her exit because she was worried she had "let everyone down."
The Essex drag queen admitted that, in order to combat this feeling, she often had to remind herself that RuPaul, rightly, selected her as the best of the best for a reason.
"Just hearing Ru say how much they believe in me and know that I'm a star, I just go, 'Oh, okay. Okay, right this is real,' Cheryl explained.
"And I need to remind myself because I had a lot of down moments post this season because I did feel like I let everybody down, and I did feel like a failure but I did the best I could.
"And I have to go, 'You were asked back for a reason. Ru wanted you back for a reason. So never forget that and keep pushing and striving to be your best self.'"
Despite the struggle she faced in the initial aftermath of the show, since the episode has aired Cheryl has received huge support from fans.
"I am so overwhelmed with all the love right now. Like, we've had a long time to sit on this and you get caught up in your thoughts that you forget it's all good. It's fine.
"That is the nature of the game, like it's not lipsync for your life otherwise I'd be making it to the final!"
Of her stint on the show, she added: "I had a great time I got to showcase me at my best, not the sewing, but just me being my true self. Having fun, lifting the energy, and just keeping smiling."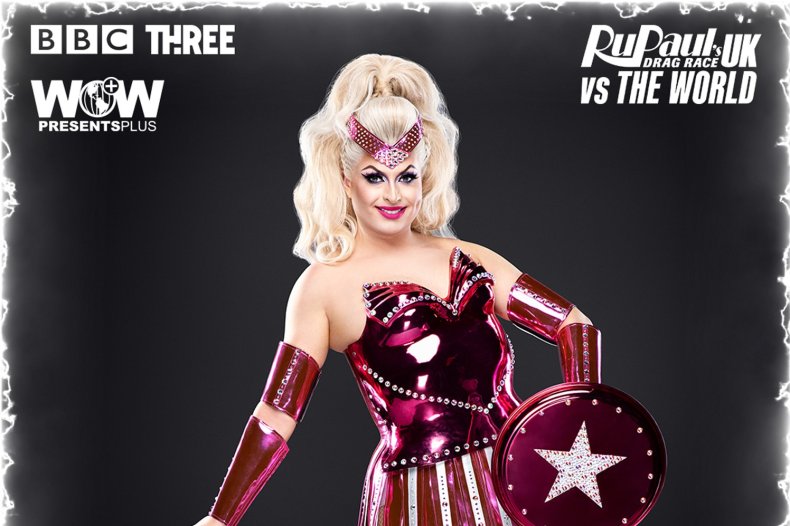 On Her and Blue Hydrangea's Touching Moment
During the second episode, Cheryl and fellow RuPaul's Drag Race UK Season 1 queen Blu Hydrangea had a moving discussion about the Irish queen's gender journey and how she sees herself.
Blu spoke openly in the Werkroom about her own gender, explaining it was a constantly shifting notion in her mind and that she was still figuring out how she viewed herself.
Since the episode aired Blu had shared her pronouns publicly, saying she uses he/they pronouns out of drag, and she/they pronouns in drag.
Cheryl said she felt "honoured" to share the moment with Blu, explaining: "I was so honoured to be a part of this journey with Blu. She is my ride or die, she is my best friend in this competition and beyond this competition as well.
"We were just calling each other at 1 a.m. yesterday after the episode just to catch up with each other and see how we were.
"Honestly, she said it herself she had only had this conversation with her boyfriend and it was still very new and fresh, and gender and identity is so personal that you have to take baby steps.
"There is no expiration date on there. She's still discovering herself to this day, and I'm just here for her no matter what."
In defence of Baga Chipz
One of the biggest moments of the episode was the way in which Baga Chipz dealt with taking part in a sewing challenge.
The queens were tasked with making a garment from scratch that RuPaul would wear as part of that week's Ball, and in the episode Baga was seen complaining about the challenge, sleeping while RuPaul was in the room, and even getting Pangina Heals to help her with the dress she'd made.
Cheryl was quick to defend her fellow queen when asked about the manner in which Baga reacted to the challenge, saying that everyone got help of some kind.
She explained "We all got help. Like, there's no denying the Janey [Jacké] got advice and help from Mo [Hart] to change the fabric, and then she ended up having the winning garment.
"I had help from Jimbo threading my machine and had advice from Blu, we all got help and advice, it was just that Baga was a bit more vocal that she had some support in making her garment.
"The difference between me and Baga is she she will go, 'I don't want to do this, I don't want to do this.' But I don't want to do it either.
"It's just you've got to sit down and go, 'Hey, we're not going to get a hall pass to next week, we've got to produce something.'
"So I kept my head down my eyes and thumb pulsing on the sewing machine and just got to business. And unfortunately, it was crap."
On Jujubee Getting Another Shot
Cheryl was put in the bottom alongside Jujubee, with Janey and Jimbo going head-to-head in a lipsync to determine who was the winner of that week's challenge and who would be going home.
Janey won the lipsync and revealed she had chosen Cheryl to go home instead of Jujubee, giving the veteran queen another chance to make it to the top.
RuPaul's Drag Race UK Vs The World marks Jujubee's fourth time on the show, having appeared on Season 2 of the original series, and two seasons of RuPaul's Drag Race All Stars already.
While she felt that Janey made the wrong choice by sending her home, Cheryl said she knew Jujubee was there for a good reason.
"She keeps coming back because Ru wants to see her absolutely excel and do her best," Cheryl reflected. "She is an incredible artist. She is such a talent, and to be on this stage with her was such an honour.
"And to be able to call her friend is even more because she's got such a heart of gold. Yes, she's quick witted, and she's a shady little b***h, but she is a true queen.
"Yeah, I had to go, but I get to see Jujube on my TV another week, which is great."
RuPaul's Drag Race UK Versus The World airs on WOW Presents Plus on Tuesdays at 4 p.m. ET/ 1 p.m. PT.