Chess Champion Garry Kasparov is Russia's Great Red Hope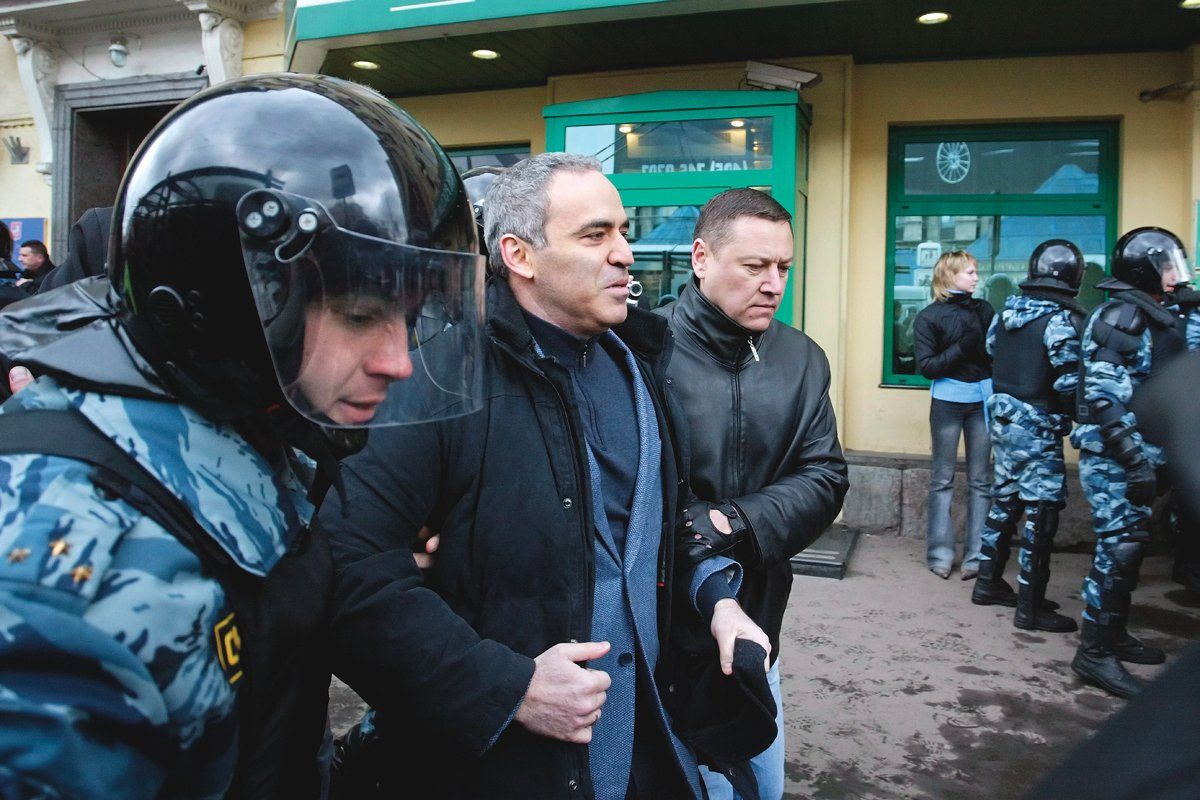 A dozen middle-aged men sit around a U-shaped conference table in a converted apartment in central Moscow. It is April 2012. Bloggers, magazine editors, activist academics, and one world champion of chess, they are the men behind the scenes of the Russian protest movement (there are women, too, but this evening they happen to be absent). They do not look nearly as young, feisty, and hipsterish as the world's media have painted them; they look tired and dispirited and lost. This is because they have no idea what happens next. Vladimir Putin is about to be inaugurated as Russia's president again, after winning an election widely regarded in Russia as rigged entirely in his favor, and the prospect of another six years of President Putin—perhaps even 12—has put a chill on the protest movement and, it seems, on the country as a whole. Three different groups within the protest movement have scheduled three different protests, and no one in the room has any idea whether any of the tens of thousands of people who took part in the winter's protests will come out again.
"The Facebook events are barely getting any hits," says a magazine editor.
"Back in the winter, we were riding a wave, and this is different," says another.
"If we are going to cancel any of these protests, we need to make the decision today," says a blogger.
This is when they all look at the chess champion. Wearing a sport coat and American-style trousers, Garry Kasparov looks like a businessman who has come home from work and fallen asleep at the dinner table. Or perhaps like a chess player who has closed his eyes while he contemplates his next move. He lifts his eyelids and takes a straw poll. None of the protests are canceled, which says more about the men's indecision than about their intransigence.
"We are engaged in a psychological duel right now," Kasparov will tell me after the meeting. "The regime wants to show that the huge protests in the winter were a fluke, and we need to show that things will never be the same again. We are not going to be able to get rid of Putin right now, but at this point it's only a matter of time."
How much time? A couple of years at least, claims Kasparov. How will it happen? There is no telling—nor, he insists, is it important. "What seemed like a monolith begins to crumble—and then it's gone."
I first heard him say that seven long years ago, in May 2005, soon after he announced that he was leaving professional chess to devote himself to politics. He formed an organization called the United Civil Front, and took to the road hoping to start a chapter in each region.
It seemed like a brilliant move at the time. A year into Putin's second term as president, Russia seemed, briefly, on the brink of change. Putin's administration had badly bungled pension reform, and people responded by coming out to protest by the thousands. Opinion polls showed his popularity slipping for the first time since he came to power. It seemed reasonable to assume his luck would run out: oil prices could not stay at $50 a barrel forever, and once they started slipping, Russians would wake up to the restrictions Putin had placed on their freedoms by monopolizing the media and effectively abolishing most elections. Then there would be a revolution. The only thing missing from this scenario was a man to lead the revolution. This is where Kasparov would step in.
As the top-ranked chess player of all time (even though he has not played a tournament for more than eight years, he still retains the honor), Kasparov was officially in possession of the best brain in Russia. He was famous. He was universally loved and respected. He also had the money to fund his own campaign for leader of the revolution. He was, in other words, perfect.
For Kasparov, it was the beginning of an entirely new life. He had been a professional chess player since the age of 12, and he had spent his life in chess fighting the establishment: first the Soviet chess establishment, which did not fancy having a Jewish-Armenian upstart from Baku unseat a loyal Communist ethnic Russian as the world champion, and later, the World Chess Federation, from which he split in a controversy over corruption in 1993 and with which he never fully reconciled. "They just did not want to let him play," his mother, Klara Kasparova, told me bitterly at the time.
Kasparova, now 75, has been the coauthor of his chess career (and his books); his caretaker (he had been a sickly child); home-schooling teacher (regular schooling was not only incompatible with his travel schedule but did not suit his temperament, believed Klara, who worked out an individualized program for her son); and his auxiliary coach. Garry's father had died when the boy was 7, plunging Klara into a stupor from which, she told me, she emerged only upon the realization that her then-9-year-old son was a genius. From this point on he was her life's project. But in politics, she told me seven years ago, he would be on his own.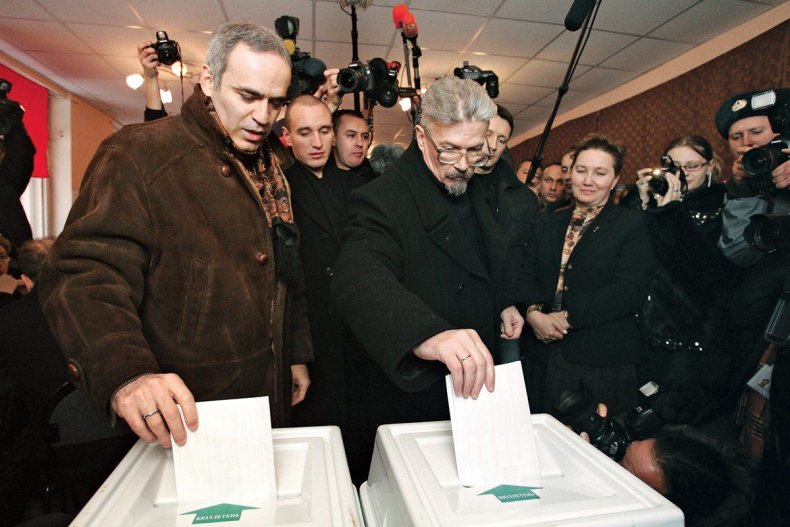 Garry and Klara Kasparov were living together at the time, in an arrangement that also included Garry's second wife and their 8-year-old son: the family occupied a set of conjoined apartments on the fourth floor of a 1960s apartment building in Moscow's priciest neighborhood. At the same time that Kasparov launched his political career, he also decided to divorce to be with a young St. Petersburg college graduate named Darya. Rather than move into the family nest, Darya and Garry would split their time between their two cities.
Opposition politics in Russia is dangerous business: some of the highest-profile political murders had not yet occurred, but enough people had been killed for Kasparov to hire bodyguards before he set out on his campaign. The eight men he engaged thought they had seen it all: they had worked for oil tycoon Mikhail Khodorkovsky and had been present at his arrest. They knew to constantly maintain formation around Kasparov whenever he moved on foot; they knew to watch over all food preparation and swap water bottles from their bags for those on restaurant tables. Yet they were completely unprepared for what would happen to Kasparov when he went on the road in southern Russia in the summer of 2005.
When Kasparov arrived in Vladikavkaz, the capital of North Ossetia, the House of Metallurgists—a public building with a large hall where he was supposed to speak—was cordoned off. About 30 children were crouching on the pavement in front of it, drawing with chalk as part of what was clearly a hastily organized drawing contest. Children's music was coming through the speakers set up in front of the building. Still, about 60 people milled around waiting for Kasparov to show. When he began to speak, the music was cranked up. Kasparov talked about spending on health care and social services. A small rock came flying through the air, just grazing Kasparov's head, and then several eggs, at least two of which hit Kasparov. Someone from the crowd ran after the teenagers who had thrown the eggs and stones—and saw them getting into a police car that sped away.
Later I overheard two distressed bodyguards discussing the incident. "I could only see the eggs flying, not the kid throwing them," said one. The other agreed: the kids had been too short to notice.
Similar incidents plagued Kasparov throughout the week-long trip. In Beslan, also in North Ossetia, he had eggs and ketchup thrown at him in an incident that could easily have led to trampling. His chartered plane was grounded after a couple of days in the region, and his group was reduced to traveling by hired van. Everywhere he went, public halls that had been reserved by Kasparov were closed: managers explained that a pipe had burst or the stage curtain had fallen, or simply cited unspecified "repairs." Kasparov was reduced to speaking to clumps of people on sidewalks as his anxious bodyguards tried to rush him off. At least twice, hired local drivers purposefully took Kasparov to the wrong destination while a crowd waited for him elsewhere. In one city, only one person showed up for a scheduled supper with local entrepreneurs: as it turned out, all the other guests had received threatening phone calls and the only woman who came had lost her cellphone. In another city a television interview was canceled twice and finally recorded, but the interviewer did not blink an eye when Kasparov's bodyguard's cellphone went off during the taping: he had no intention of ever airing the interview. By the time the group got to Stavropol, its final destination, it could not get any hotel rooms (the original reservations had been annulled) or even enter a restaurant.
The national media wrote that Kasparov had been heckled when he tried to speak to local residents in southern Russia and that they had even thrown eggs and tomatoes at him. North Ossetian President Taymuraz Mamsurov was interviewed by the government daily Rossiyskaya Gazeta and said, "I believe Garry Kasparov has fallen victim to his own ambitions and mistakes. He is a great chess player and we are used to seeing him surrounded by thousands of fans. I'd rather not see him with a side dish of eggs and tomatoes, surrounded by just 30 or 40 people." The message was clear: If Kasparov wanted to stay safe, he would need to give up politics and go back to chess.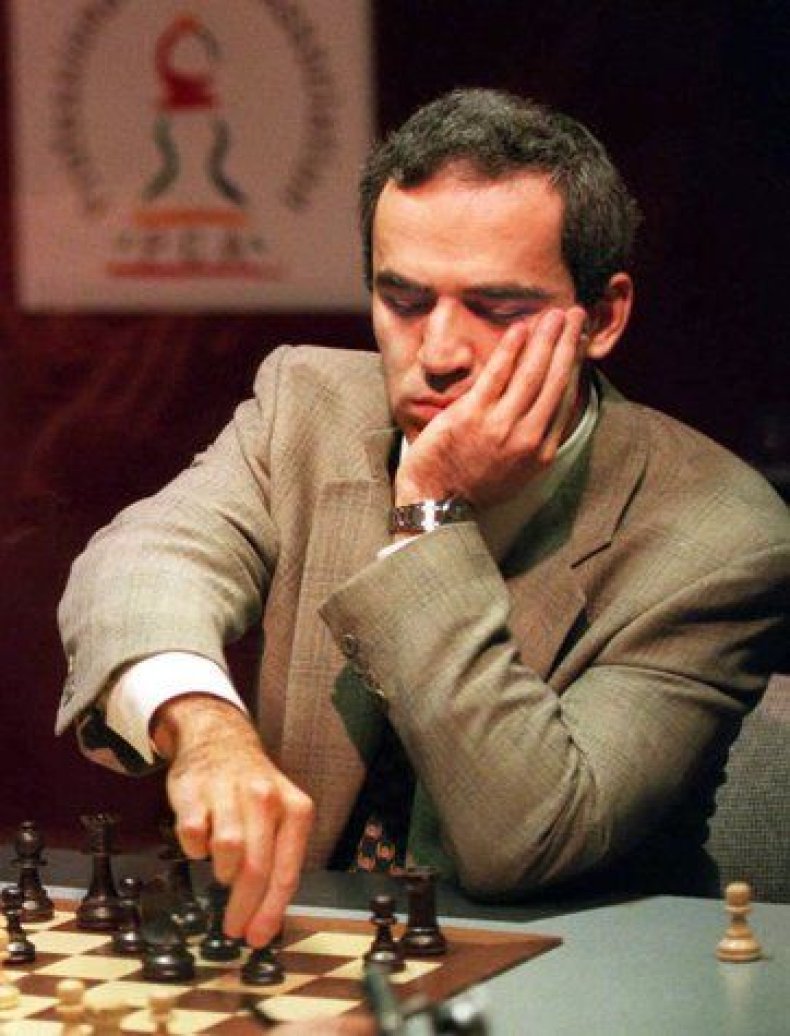 I asked him at the time why he didn't just leave the country—as he had considered doing. He told me that Moscow was his home and his son's home—and added that, as a matter of principle, his son went to a regular public school near their apartment building.
A year later, when Darya was pregnant, he decided, he says, "that there is no way to place bodyguards at the maternity ward." Kasparov's daughter Aida was born in New York, where he bought an apartment on the Upper West Side. Darya spends most of her time there, working on the Kasparov Chess Foundation, a nonprofit that advances an ambitious program of bringing chess to public- school students in grades K-12. More than 3,600 U.S. schools, mostly in the tristate area, are already participating; in the past few years foundations have opened in the European Union, South Africa, and other countries—but not in Russia. "No one needs it in Russia," Kasparov says bitterly. "We have the pipeline, why would we need chess?"
For the price of oil has kept going up, far past levels most people could have imagined seven years ago. The protests that gave Kasparov hope seven years ago dried up as Putin neared the end of his second term. Some of Kasparov's allies believed that Dmitry Medvedev, elected president in 2008 after being nominated by Putin, would bring change, restoring democracy at least to some extent; Kasparov argued it was absurd to expect change from a Putin protégé. Other supporters left the country or simply sank into despair; in any case, outside funding for Kasparov's political activities dried up. He was left paying for the office, a staff of about five people, a website (www.kasparov.ru) with an editorial staff of about a dozen people, and his security staff—which, he says, is one of his largest political expenses. "It's not like there is any price competition on that market," he laughs. "It's not like I can replace them with other guards. And I can't lay them off when I'm out of the country, either."
Meanwhile, he has to leave the country to make money. His main sources of income, aside from his books, are lectures (his fees start at $50,000) and simultaneous games. He has not had a paying gig in Russia since 2007. A few foreign speaking engagements have been canceled too: these are multinationals that pulled their invitations at the behest of their Moscow branches (Kasparov refuses to name the companies). Kasparov says that last year he spent 300 hours in the air.
The plan to strike out on his own, separating his political career from his mother, did not work out. Klara Kasparova, says her son, "runs the opposition mess hall"—there are few people opposed to Putin, on any side of the political spectrum, who have not taken many meals at the very large oval polished-wood table, covered with a starched white tablecloth, in the apartment block Kasparov shares with his mother.
Seven years after entering politics, though, Kasparov objects to the use of that word. "When you say politics," he argues, "you conjure a whole bunch of associations: elections, campaigning, debates, fundraising. None of this exists in Russia! We are still fighting not for election victories but for having elections at all."
It was the drive to have elections that finally brought tens and hundreds of thousands of protesters into the streets of Moscow and other cities last winter. To the extent that efforts in different cities were coordinated, this was done on the basis of the network created by Kasparov over the last seven years. Organizing meetings take place in the office space he rents. "I have not worked in vain all these years," he tells me. "From the very beginning, when I was creating the United Civil Front, I was saying, 'We will be neither right nor left, we will be united in our opposition to the regime.' At the time it seemed absurd, and now it seems natural." The agenda adopted by the protest movement—put aside political differences, depose the regime, rebuild democratic institutions, and only then debate political issues—is very much the agenda proposed by Kasparov seven years ago. Not only that, but Kasparov predicted the protest movement with uncanny accuracy in an interview a Polish journalist recorded with him a year ago. Yet even now, Kasparov is far from being a popular public figure in Russia: he has been so profoundly marginalized in the last seven years that he was heckled by part of the crowd even when he addressed the protesters at an opposition rally last winter.
"Being ahead of your time in politics looks even less rewarding than being ahead of your time in art or music," I suggest. "Being ahead of your time in any area is awful," he says.
I suggest, also, that he seems tired.
"You have no idea how exhausting it is," Kasparov admits.
So I ask him again why he doesn't just leave the country—now that his daughter is growing up in New York and even his name recognition has moved abroad.
"Oh, I am still recognized here," he responds. "But it does feel different abroad. I feel it as soon as I leave the country. There is no danger. And I feel a change in the level of respect. I am received by high-placed officials, including heads of state. Whereas here even the lowest-level bureaucrat shuts his door in my face."
"The easiest thing to do would be to step aside, especially since the process of change has already been set in motion and I can't influence it all that much, objectively speaking. But I think I should do what I can to make a difference. And also, I don't mean to be pompous, but I want to see the dawn of freedom."