Black Grandmaster Pontus Carlsson Is Speaking Out About Racism in Chess
Chess Grandmaster Pontus Carlsson of the Swedish National Team is speaking out about the pervasive racism he's experienced as a black European, including at international chess tournaments, forcing a reckoning in the predominantly white world of chess.
In a recent interview with Peter Doggers of Chess.com, the grandmaster described harassment, racial slurs and false accusations leveled against him. A dual-citizen of Sweden and Colombia (he was born in the latter country, but left at the age of 1), Carlsson has endured accusations of drug dealing and apparent racial profiling at multiple border crossings while traveling for chess tournaments.
But while Carlsson describes experiencing less racism in the chess community than in day-to-day life, calling chess "a vacation from the real world," his shocking descriptions of racist harassment while competing in international tournaments have already galvanized the chess world, prompting both racist backlash and productive dialogue on a subject many would rather avoid.
Competing since the age of 5, Carlsson experienced prejudice early in his career when competitors at the local level began wearing t-shirts with the slogan "100 percent Swedish," mocking him for his multinational heritage and ethnicity. But that was just the beginning of the aggression that Carlsson has experienced in competition environments more typically associated with quiet concentration than racist jeers. In response, Carlsson has become one of the chess world's most prominent voices in support of the worldwide protests sparked by the May 25 police killing of George Floyd.
"I've been given a banana. People have called me monkey in most countries of Europe. Of course, some countries are worse than others, but you can get this everywhere in Europe, absolutely everywhere," Carlsson told Newsweek over the phone recently. "That's why people are so angry right now. We don't know where, apart from Africa, we can escape it. We're not seen as equal anywhere, and that's why you have this outrage now. They don't care if they die anymore, because they don't want to live like this anymore."
In an interview with Newsweek, Carlsson compared his experiences at chess tournaments to racial abuse hurled at black soccer players, describing racism as not just a problem of personal prejudices, but also unacceptable working conditions forced on black people throughout the world.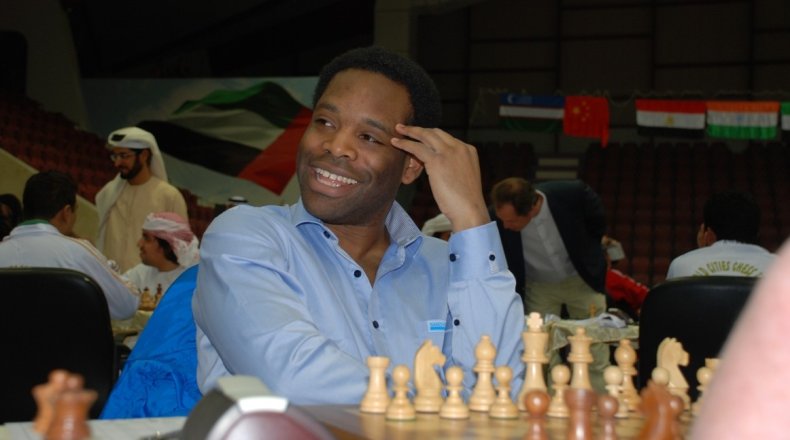 "People are tired of it," Carlsson said. "It would never be accepted if it was the other way around, because it's not normal. If you had someone throwing garlic at you at your office all the time and people were insulting you, calling you a white boy and telling you to get out of here, and then you get arrested, would you accept it? So why should we accept it?"
Citing recent inquiries into their racial discrimination policies, the International Chess Federation (FIDE), which tracks the ratings used to award titles like grandmaster, released a statement on Saturday condemning racism "in the strongest possible terms."
"We believe there is something truly beautiful about chess: it makes us focus on what we have in common as human beings, rather than in what makes us different," the FIDE statement reads, while stating that no complaints of racial discrimination have been filed at FIDE events under the organization's current administration.
"When you play a game of chess with someone, it is like if you could see his/her thoughts. You get into your opponent's brain, and you establish some kind of communication, even if both players don't have a language in common," the FIDE statement continues, before it ends with FIDE's Latin motto "gens una sumus," which translates to "we are one people."
It's a sentiment echoed by Carlsson, who said he can "rest mentally when I play chess" and described the international spirit of play at chess tournaments. But the grandmaster also cautioned against piecemeal actions that merely quiet, rather than curtail, expressions of prejudice. Citing symbolic gestures from soccer organizations and the NFL, Carlsson emphasized the importance of structural changes if anti-racist actions are to accomplish anything beyond mollifying complaints.
"You need to change the composition in the boardrooms. You need to change the labor markets," Carlsson said. "Also, in the United States you have very racist institutions and you need to clean those out. We have those in Europe as well. We will never confess it, but we have it. When you have this kind of institutional racism, it will go on forever. You have to clean it out. It's dangerous if you have racist cops in your country. It destroys the whole society."
It's not just words; Carlsson has also taken action in his local chess scene. In 2017, he left his chess club in the town of Eksjö after the club's manager sent out an email announcing upcoming matches against a rival chess club. In it, the manager cited Agatha Christie's best-selling mystery novel And Then There Were None for motivation, but opted for the book's original 1939 title, which features a racial slur for black people.
"If you're so stupid to send off something with this kind of stuff in it, that means something is wrong with you and your values," Carlsson said.
After reporting the email, the Swedish Chess Federation hosted a "special seminar" at the annual Congress that year. They also passed a modification to their rulebook statutes.
"The committee made an investigation and answered that this is totally against the values of the Swedish Federation," Federation Vice President and Chairman of the Competition and Rule Committee Håkan Jalling told Newsweek in response to emailed questions. "We have had no more incidents after this one, but if we will get information we will take immediate action."
Newsweek has requested additional clarification on the changes to the Federation's bylaws, but did not hear back in time for publication.
Carlsson described the response as a "good action"—particularly the changed statute, which he said "sends a strong message that this is something we don't accept in the world of chess"—but was adamant that paper measures were insufficient unless they are enforced.
"Seminars, statute changes of course can have an effect, but you need to have punishment for insults and incidents and so on," Carlsson said. "The Federation should make an example and punish such behavior, because otherwise you basically send the signal that it's okay."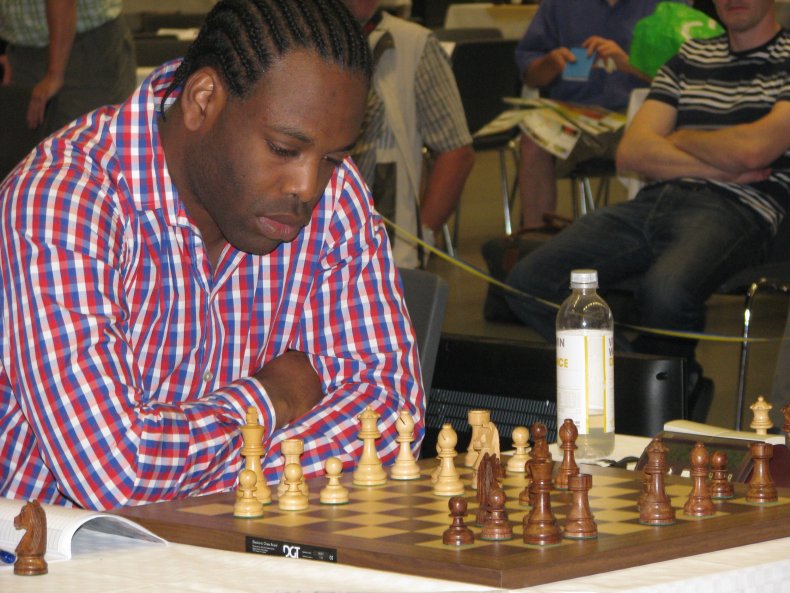 While Carlsson has been vocal about his experiences with racism since at least 2016, when he described the racial climate in Sweden to Colombian magazine Semana, his ability to speak up and be heard is enabled in part by his grandmaster status and public platform, which dates back to a television event that brought Carlsson to international prominence at the age of 20.
In November 2003, World Chess Champion Garry Kasparov faced off in a four-game match against the X3D Fritz chess program, ultimately ending in a draw. It was one of humanity's last stands against the machines; by 2009, even a chess engine running on a mobile phone became capable of grandmaster-level victories. But the 2003 face-off ignited a wave of interest in chess, prompting the biggest Nordic sports channel—broadcast to Finland, Denmark, Norway and Sweden—to air a rapid chess match, in which players get 10 minutes on the clock and an extra 10 seconds for a completed move.
For the special match broadcast, the network pitted Swedish champion Evgenij Agrest against a young player named Pontus Carlsson, who hadn't yet achieved International Master status, but had recently won, for the second time, the Swedish Tusenmannaschacket—the world's largest rapid chess tournament, featuring close to a thousand contestants. (Carlsson would go on to become that tournament's only three-time victor.) By eventually promoting his final pawn into a queen, Agrest cornered Carlsson, claiming a narrow victory.
Carlsson made a rapid ascent in the chess rankings in the years after, becoming an International Master in 2005 and securing his grandmaster status after winning the 2007 Ciutat de Sóller tournament in Spain. Although the International Chess Federation recognizes more than 1,700 grandmasters worldwide (approximately 15 percent of whom are from Russia), only three, including Carlsson, are black.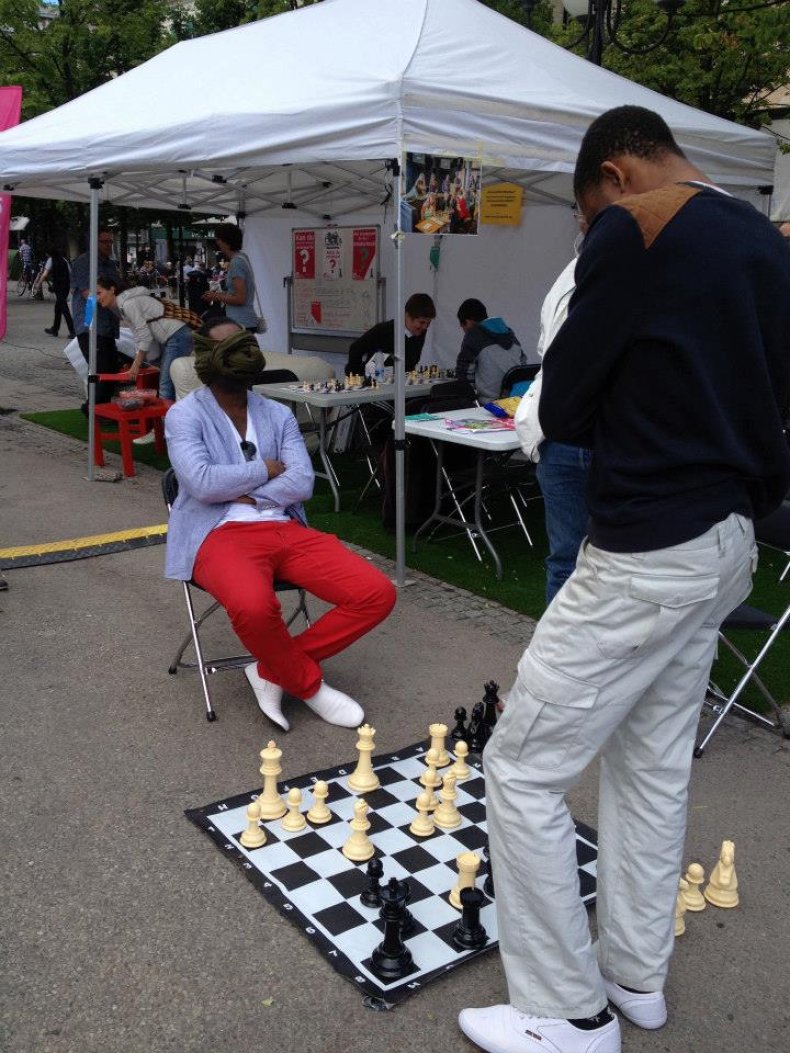 That level of fame can make some people cautious and afraid to lose their platforms. But in his interview with Chess.com, Carlsson described feeling a sense of responsibility to future generations, recalling a 2017 tournament in the Czech Republic where spectators started making monkey sounds at him and a younger black player.
"This was his first encounter with the real world," Carlsson said. "What am I supposed to say? Should I tell him to prepare for this; that this is how it's going to be for the rest of his life? Or should I have him keep his young, naive brain with his positive attitude?"
Carlsson now urges other members of the chess community to speak up, citing a 1989 PBS interview with novelist, essayist and activist James Baldwin to make the case for outspoken and immediate action.
"What is it you want me to reconcile myself to?" Baldwin says in the documentary James Baldwin: The Price of the Ticket. "I was born here almost 60 years ago. I'm not going to live another 60 years. You always told me it takes time. It's taken my father's time, my mother's time, my uncle's time, my brothers' and my sisters' time, my nieces' and my nephews' time. How much time do you want for your 'progress?'"
Speaking to Newsweek, Carlsson said, "I'm not shying away. I think it's extremely important for people to speak about this. Some people are, unfortunately, big cowards. They don't dare to speak up on their experiences because they are afraid. But I think it's nothing to be afraid of—we don't want to live another 500 years like this."
He continued, saying, "The protests now, people got to the point where they don't care if they die anymore. We are there. It's not normal to stand in front of a military, or police officers with loaded guns and to be prepared to take a bullet. It's not normal."
While Carlsson's outspokenness has drawn support from chess organizations and other chess players, there has also been a vocal backlash. Comments under the Chess.com interview had to be disabled shortly after publication, due to a flood of responses decrying Carlsson for "shaming all white people." Other commenters invoked familiar critiques of the Black Lives Matter movement, such as the false accusation that activists don't care about black-on-black crime.
Carlsson has also butted heads, at least rhetorically, with other prominent chess players, such as Grandmaster Boris Avrukh, who challenged Carlsson on Facebook to come up with "one example of systematic racism," without citing "CNN trash." Avrukh also claimed that "Black people have equal rights and even more than equal rights."
"I'm quite used to this kind of guy," Carlsson said to Newsweek. "How can you say that black people are more than equal? You can listen to what he's saying—that black people are more than equal—but it's total bulls**t. Black people want equality. People just want equality and a decent life. To be able to go out without being arrested, or shot or yelled at with slurs and n-words. We just want a normal life, without people hating us and attacking us. There's nothing else."
Newsweek reached out to Avrukh via email for further comment, but did not hear back by time of this article's publication.
While toxic comment fields and other forms of pushback have manifested from within the chess community, Carlsson most cautioned against people's reticence and discomfort, which can lead to hollow gestures instead of concrete reforms.
"This is very uncomfortable for white people usually to talk about and therefore most people shy away from it. But if there's going to be any kind of exchange, you have to have the discussion. Not monologues—discussion. Where people meet, engage and talk. Let's arrive at the whole world having to do that," Carlsson said. "Everyone needs to speak about it and speak out. And don't say, 'Oh, this is terrible, we've got to improve,' and then never improve. It's important: Don't run away."