After Chester Bennington's Death, Suicide Experts Fear a Contagion Effect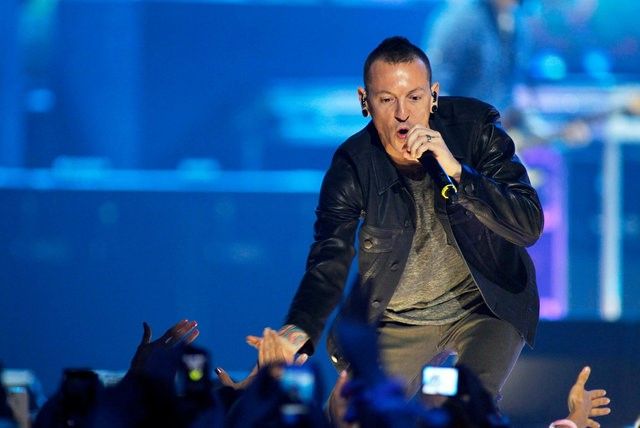 Depression can affect anybody.
That's the lesson suicide prevention experts hope the public will grasp in the wake of two high-profile celebrity suicides: first Chris Cornell, and now Chester Bennington. "Your mental health is health," says Jill Harkavy-Friedman, the vice-president of research at the American Foundation for Suicide Prevention. "If you have a nice car and a lot of money, that doesn't protect you from mental health conditions."
Bennington, the longtime frontman of nu-metal megaband Linkin Park, was found dead on Thursday at his home in Los Angeles County. The death is reported to have been a suicide. The late singer's bandmate, Mike Shinoda, confirmed the upsetting news on Twitter.
Though musicians are particularly likely to experience depression, celebrity suicides remain fairly unusual occurrences. Now, in a span of just a few months, two high-profile rockers have died from apparent suicides, as did Aaron Hernandez, the NFL tight end who was found dead in prison in April.
The most pervasive—and often damaging—misconception is that wealthy or successful people don't (or shouldn't) struggle with depression and anxiety. Like cancer, depression is a disease that can affect anyone, regardless of status or wealth. "When people see someone and they think, 'They have it all,' it's hard for them to imagine that [the person] might be struggling in terms of their mental health, either with depression or substance abuse or anxiety or any number of things," says Harkavy-Friedman. "They assume, 'Well, if I had that, I would feel great.' But mental health doesn't work like that."
When Robin Williams died as a result of suicide in 2014, Theresa Buhse, the associate executive director of the Long Island Crisis Center, heard a radio host express incredulity that Williams couldn't get help, considering how much money he had. She became livid.
Related: Two months after Robin Williams' death, suicide hotlines still see a spike in calls
"Just because somebody is rich and famous does not necessarily mean that they're happy at all," Buhse says. "The truth is, we never know what is going on in somebody's mind. People struggle with mental illness. People struggle with depression. It doesn't matter how rich they are. It doesn't matter how famous they are. We don't know what's going on. Maybe [Williams] was getting help. He had been in therapy for years! But help doesn't come overnight. Depression and suicidal feelings come and go."
Curiously, Bennington's death occurred on what would have been Cornell's 53rd birthday. That's likely by coincidence, though Buhse says that "sometimes when people die by suicide, they pick an anniversary date. The date they lost a loved one. Some sort of significant date. [It] could be a coincidence, or could be something he had planned out."
The concern among experts is that celebrity suicides might have a contagion effect, inspiring other depressed individuals to take their own lives. After Marilyn Monroe died from a suspected suicide in 1962, one study found that the national suicide rate spiked by more than 10 percent.
"If somebody is contemplating suicide and they see that someone else has done it, it can encourage them to take that action," says Harkavy-Friedman. "It can also trigger suicidal feelings in someone who maybe was suicidal in the past." Irresponsible reporting on the part of journalists—glorifying the death, for instance, or fixating on graphic details—can contribute to that risk. "This kind of media reporting is a risk for people who already have a potential for suicide. Most people will be fine. But the few people who may be struggling now—those are the people that we worry about."
Mental health groups pay close attention to how media coverage around suicide is framed. Buhse was disturbed by the TMZ headline about Bennington's death, which prominently highlights the method of his suicide: "That's terrible reporting," she says.
Thankfully, the conversation around suicide has improved dramatically since 1962. When Kurt Cobain took his own life in 1994, experts immediately feared a nationwide copycat effect. But media outlets were diligent in listing warning signs and providing hotline numbers, and the number of suicides in the Seattle region actually decreased in the weeks after Cobain's death. Meanwhile, there was a stark rise in calls to local crisis centers—suggesting that those tactics helped. (Suicide hotlines reported a similar spike in calls during the months after Williams died.)
After Bennington's death, mental health hotlines are bracing themselves and preparing to field calls from individuals in crisis, some of whom might be triggered by Bennington's death. Buhse hopes those people will seek out help.
"People will be affected by this," she says. "If they choose to reach out, they need to be accepted, they need to be heard, they need to be told that their feelings are valid... An important lesson is for everybody to realize that it can happen to anyone."
Please call the National Suicide Prevention Hotline if you or anyone you know is at risk: 1-800-273-8255. Suicide warning signs are listed here.