Chevrolet Touts 4-Wheel Steering, 24-Inch Wheels Options For Electric Silverado
On Wednesday, Chevrolet announced that its forthcoming Silverado electric pickup will have four-wheel steering and 24-inch wheels as options on select models and trims. The company says that the options would enable drivers to "drive circles around the competition."
In a car with four-wheel steering, all four wheels turn at the same time when the driver turns. Most modern four-wheel steering systems have a level of computerization. At high speeds, all four wheels turn in the same direction. At lower speeds, as seen in the video, the rear wheels move in the opposite direction of the front wheels, which contributes to the reduced turning radius.
In April of this year, the company, under the General Motors umbrella, announced that its first electric pickup truck would get an estimated range of 400 miles on a single charge.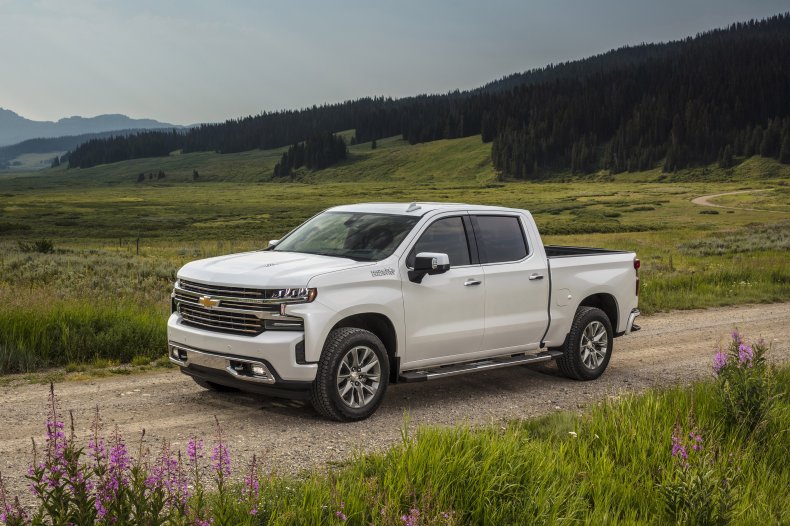 Last month, Ram Trucks, a division of Stellantis, announced that it would come to market with an all-electric 1500 pickup truck in 2024. Ram promises that a single charge will deliver about 500 miles of range.
Other producers of electric trucks are promising similar features, with some arriving on models later this year.
Automotive upstart Rivian, which expects to start delivering vehicles next month, has said that its R1T truck will come with all-wheel drive. Each tire will be equipped with a motor that enables the truck to execute a 0 degree turn, or what it calls a "Tank Turn."
Expected to go on sale in the fall, the GMC Hummer EV features a "Crab Walk" option on its Edition 1, EV3x and EV2x trims. The system allows the rear tires to move 10 degrees in either direction. At low speeds, the "Crab Walk" function allows the Hummer to make tighter turns to navigate in parking lots or off-road obstacles.
In July, Tesla confirmed that its Cybertruck will come with all-wheel steering. The truck can be preordered in three versions. A single-motor option has rear-wheel drive, while the two and three-motor options both come with all-wheel drive.
This week, after hinting at a delay in a July earnings call, Tesla delayed the release of the Cybertruck until sometime in 2022. On the website where customers can design and preorder their trucks, the company now says that "production nears in 2022."
In that earnings call, the company said that it had just completed "basic engineering of the architecture."
Chevrolet has yet to announce the availability of the electric Silverado.