Chevron Gives Residents Near Fracking Explosion Free Pizza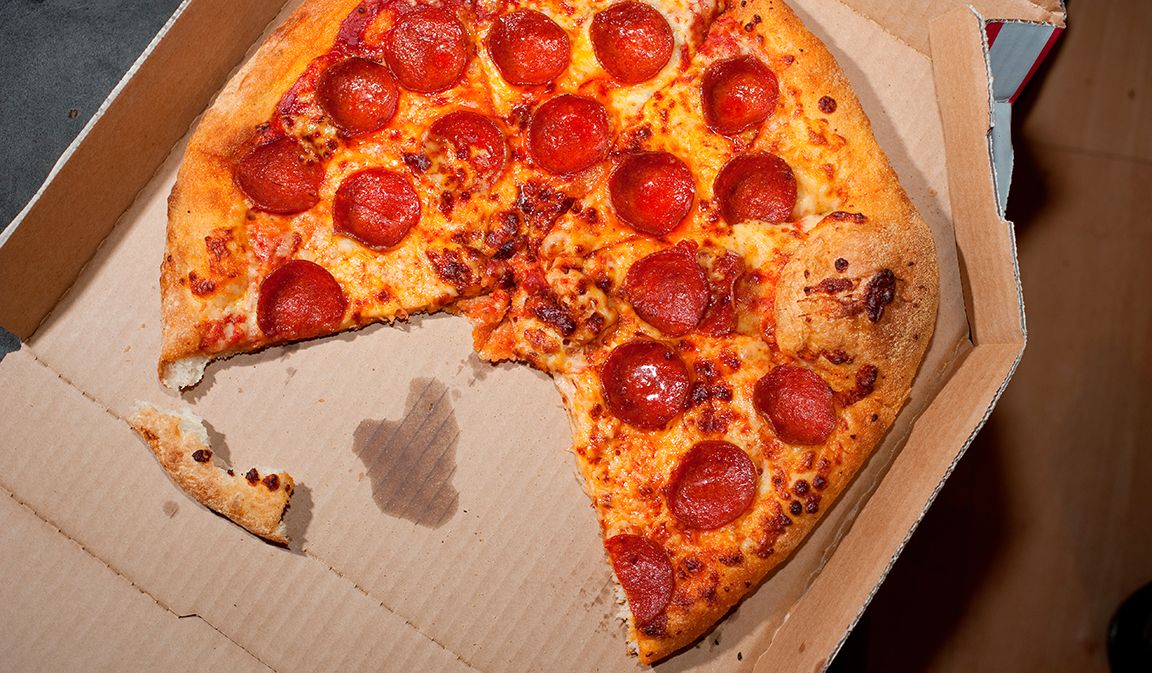 After a Chevron hydraulic fracturing well exploded in rural Dunkard Township, Pennsylvania, last Tuesday, and burned for four days straight, the energy company knew just the way to soothe nearby residents: free pizza.
The flames that billowed out of the Marcellus Shale natural gas well were so hot they caused a nearby propane truck to explode, and first responders were forced to retreat to avoid injury. The fire burned for four days, and Chevron currently has tanks of water standing by in case it reignites. Of the twenty contractors on the well site, one is still missing, and is presumed dead.
Seconds before the explosion, John Kuis, 57, who lives less than a half-mile away in Dilliner, said he felt rumbling.
"Then the house just sort of shook and there was a big loud bang," he told The Pittsburgh Post-Gazette. "It scared him, he thought he actually had an explosion in his home," William Kuis, John's cousin, told Newsweek.
But at least the residents of nearby Greene County will be enjoying a large pizza pie and two liters of soda on Chevron's tab.
The Chevron Community Outreach team sent $12 pizza coupons to Bobtown homes, along with this note:
Chevron recognizes the effect this has had on the community. We value being a responsible member of this community and will continue to strive to achieve incident-free operations. We are committed to taking action to safeguard our neighbors, our employees, our contractors and the environment…
The pizza was "a token of appreciation for their patience during this time," Kent Robertson, a public affairs officer for Chevron, tells Newsweek, "and our commitment to the community goes far beyond this and our outreach is ongoing."
The gesture struck some as blatantly tone-deaf. One resident tells CNN he received a pizza certificate on Sunday, and hasn't heard from Chevron since.
"It felt like a huge slap in the face," the resident, who wished to remain anonymous due to Chevron's major presence in the area, says. "A pizza coupon? I mean come on!"
William Kuis, 61, is a retired coal miner who lives about three miles from the well that exploded. He did not receive a pizza coupon.
"But I suppose free pizza is always a good thing," he tells Newsweek, laughing.
As a retired coal miner, Kuis says he is well acquainted with the risks of energy industry work. Regardless, there is a natural gas well near his property, and says he is happy to see fracking in the Marcellus Shale-rich region. His community needs the economic boost, he says, and the wells are mostly safe. He notes that he does not drink water from the several natural water wells on his property, and uses municipal water instead.
"This area, we have dangerous occupations. You try to do everything right, but one little slip up can wreak real havoc," Kuis says. "But sometimes it's something you just have to put up with."
Correction: An earlier version of this article incorrectly stated that William Kuis has a natural gas well on his property. The gas well is located near his property, not on it.