Chevy Chase Trends After Politico Tweets Lookalike Bernie Sanders New Hampshire Victory Picture
Actor Chevy Chase made a surprise appearance in the trending section of Twitter in the early hours of Wednesday morning after Bernie Sanders won the New Hampshire primary.
The trend was sparked when Politico tweeted a graphic of the 2020 presidential hopeful following his victory. Noticing the similarity between the politician and comedian, thousands of people made the same joke, or described their mock shock and confusion.
"Breaking: Bernie Sanders has won the New Hampshire primary, scoring a big shot of momentum in the Democratic presidential race after last week's messy Iowa results," Politico tweeted alongside an image which many believed to be a better representation of the National Lampoon and Saturday Night Live star.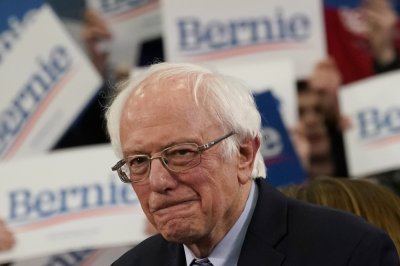 Politico have been contacted for comment on the graphic.
With 274 of the 300 precincts reported, Sanders tops the New Hampshire primary with 25.9 percent of the vote, narrowly ahead of second place Pete Buttigieg on 24.4 percent, according Edison Research data cited by Reuters.
Amy Klobuchar made a surprise surge into third place with 19.8 percent, ahead of Elizabeth Warren on 9.3 percent.
New Hampshire proved to be a bad night for former Vice President Joe Biden, who finished in fifth place with 8.4 percent. Despite yet another setback, having finished fourth in Iowa, Biden said that he still hasn't given up hope of winning the Democratic nomination.
"I want you all to think of a number, 99.9 percent," Biden told his supporters in South Carolina on Tuesday night. "That's the percentage of African American voters who have not yet had a chance to vote in America. One more number, 99.8. That's the percent of Latino voters who haven't had the chance to vote."
"So, when you hear all these pundits and experts, cable TV talkers talking about the race, tell them it ain't over, man, we're just getting started," Biden said.
Sanders' campaign responded to questions noting that his vote share dropped from 60 percent in 2016 to 26 percent this year. Sanders campaign senior adviser Jeff Weaver noted that there were 11 candidates in this year's primary, compared to two in 2016, Reuters reported.
"I think the people of New Hampshire spoke and they picked Bernie Sanders over everybody else," said Weaver.
"Obviously at some point, we don't know when, the race will start to consolidate. And he is well poised to put together the kind of coalition that one need to not only win the nomination but to win the general election as well."
In a tweet, Sanders declared his victory in New Hampshire as the "beginning of the end for Donald Trump."