'The Chi' on Showtime is Changing the Perception of Both the Black Experience and the City of Chicago, Says Jacob Latimore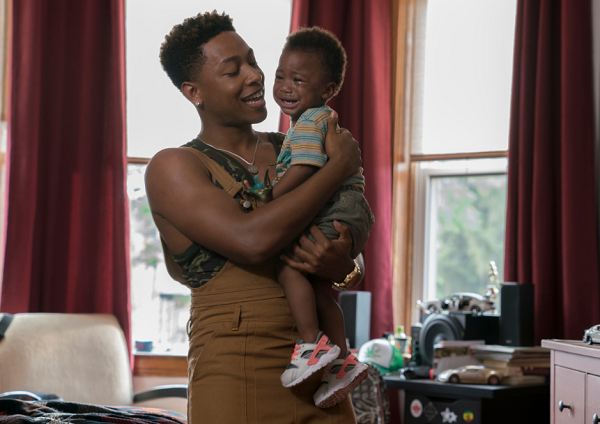 Nearly three years ago, Lena Waithe started writing a show about her hometown of Chicago. Showtime's The Chi place in the neighborhood where she grew up, the South Side, which is mostly known, via the media, for its poverty and violence. And yet it's a community like any other—full of good as well as troubled people (sometimes both at the same time), of enriching as well as terrible experiences. As Waithe told The Cut in a recent profile, "I have a vested interest in the black men, black women, poor community—I care about us and trying my best to show who we are, through my lens. How can I paint an accurate picture of what black life is? I know my people and I want to write for them. I want to write to them."
Waithe's show got a lot of attention before it aired because she won an Emmy in June for the episode "Thanksgiving," which she wrote for Aziz Ansari's Master of None. Her win made history: Waithe was the first black woman to recieve the award. But the critically-acclaimed The Chi is now getting attention on its own merits, for the writing (one reviewer called it a "dazzling drama" devoid of typical racial stereotypes) and for its terrific ensemble of young stars, like Jacob Latimore, who plays Emmett, the single father of a baby boy, Emmett, Jr. (The baby's mother, Tiffany, played by Hannah Hall, left abruptly in episode one.)
Latimore, arguably the breakout star of the show, has appeared in several films, including Collateral Beauty and Detroit. He's also a musician, with two albums and numerous singles to his credit, including a 2014 collaboration with T-pain, "Heartbreak Heard Around the World."
Newsweek spoke with the actor about his role, and about how Waithe is changing perceptions—about the black experience and the city of Chicago.
The Chi debuted at the same time as the Golden Globes, and your show was trending on Twitter. That must have felt good.
Oprah just stole the Globes, and for us to be trending during that, it was crazy and nice. Obviously, we're gonna see people question the show—I knew people would be hard on it because it's a tough sale—but the majority are really liking it so far. A show like this hasn't been done before, from the perspective of Chicago. While we were filming people would drive by the set and ask, "Man what ya'll filming?" We'd tell them and they'd go, "The Chi? What ya'll know about the chi?" They're really prideful about their city, as they should be. Respect to them. We wanna do right by Chicago.
Some are compaing The Chi to The Wire, because of its large ensemble cast and its presentation of one poor, black neighborhood—in The Wire's case it was in Baltimore—in a similarly nuanced way.
I understand why people feel like The Chi is similar—there is a similar rawness and authenticity—but Chicago is a very specific place.
You're originally from Milwaukee, which isn't far from Chicago. Did you know the city before working on the show?
I wasn't extremely familiar with it. I did visit a few times as a teenager, for shows and music performances, but I couldn't explore it at night. I turned 21 last year [while filming] and Chicago is a 21-and-up city. Some restaurants won't allow people under that age to even come in and eat. But Chicago is the Midwest, and that mentality and energy is just in me.
What do you like most about Chicago?
People show a lot of love there, you know? You go out on the street, out on the block and people are like, "What's up, how you doing?" It's a lot of good energy.
Do you feel like the media gives Chicago a bad rap, by focusing on the crime and violence?
Bad news, bad press and bad violence...it just seems to be more entertaining for the media for some reason. They never wanna talk about the great things that are also happening in these communities. Don't get me wrong, it's good to address the violence, but it seems like we never get both.
How would you describe Emmett?
He's the fun playboy kid who tries to be the bad boy but he's really a good guy. Because of his circumstances, I think he feels he has to be more firm than he needs to be. I relate to Emmett's determination, but as far as his lifestyle goes, that's new for me. The whole wearing Jordans and sneaker obsession? I've never even owned a pair of Jays! I have a lot of dress shoes in my closet. So stepping into Emmett made me step up my shoe game. I gotta be more fly. [Laughs]
The Chi is my first [starring role] on a TV series; I've done more in film. It's fun to keep the story going, to watch it unfold. You don't know what the writers are up to in that room! You can make suggestions like, "Can my character do this?" Shout it out and hope the writers are hearing you.
Can you relate to Emmett's parenting struggles? Do you have any children?
No, no, no! [Laughs] I don't have any kids.
I almost was like, "Man should I have a kid?" Not saying I should actually have a kid—more like, "Am I gonna be able to embody this role if I don't have a kid?" But then I thought, maybe it's dope that this is something new to me, because I want people to see that on camera. Like, the baby's always crying and Emmett hasn't figured out how to stop him from crying. I wanted people to see and feel that. I mean, the baby would not stop crying! Jesus Christ. I was like "Man, please." [Laughs] I was sweating.
Eventually [the baby and I] got more comfortable with each other. You saw that on the first episode, that moment when he looked at a pair of Emmett's shoes and was like, "Nah, I don't like those shoes. I like the other shoes." The line I say, "Maybe you is my son," wasn't scripted. That was coming from the heart.
Will parenting get any easier for Emmett?
I hope so. Maybe by season two. Right now the baby is just, "Where are my parents at?" My character has no choice but to grow and mature—he has no choice but to be there for his son. That moment [in episode two] when Emmet's with his mother Jada [played by Yolanda Ross] are in the living room? She tells him, "It's not all about you anymore. It's about the future and your kids. What are you going to leave them with?"
There will still be moments where Emmett wants to buy some Jordans, to get fresh for himself, but being a father means you have to make those sacrifices. That's what I'm learning.
The male characters on the show express their vulnerabilities, even cry. It's unusual to see black men emoting this way on TV.
It's extremely important to see this side of men. Single mothers are often the backbone for young men and women. Emmett's stressed out about life, and he's used to having his mom handle a lot of things for him. She's always gonna be there to take care of him, but she's also saying, "I'm not gonna keep doing this for you." That's stressful for a young man, who is used to being able to lay his head down on his mother, relax and talk about everything he needs to talk about with her. It's a good thing to show that on TV—I think a lot of young men can relate to it.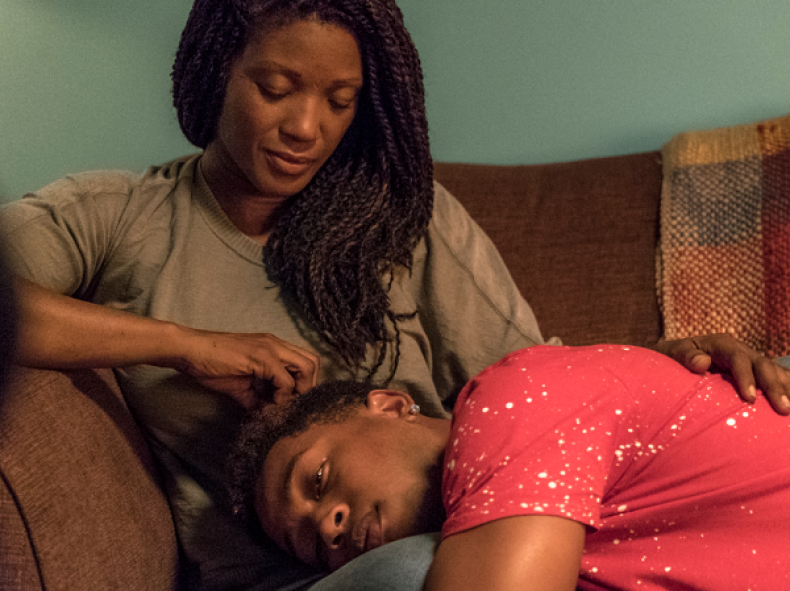 What's the one thing you hope people take away from watching this show?
I want Chicago to be humanized. And not only Chicago but urban cities in general. When a city is recognized for the most killings, more murders than Iraq and all that stfuf, it's important that we also humanize the people that live in it. Yes, there are messed up situations and really tough circumstances, but there's still caring families and real people in those neighborhoods. It's important to dig deeper.