Chicago-Area Zoo Locked Down Due to Threat One Day After Parade Massacre
Authorities have arrested a woman for allegedly telling a crisis-intervention line she was going to harm herself and others at a zoo just outside of Chicago, spurring a large police response a day after a massacre in a nearby suburb.
The Brookfield Zoo said on Twitter Tuesday evening that it directed visitors to take shelter in response to the unspecified danger. The zoo's extraordinary actions and the arrest come as the area is still reeling after a gunman opened fire on a Fourth of July parade in the Chicago suburb of Highland Park, about 30 miles from Brookfield, killing seven and wounding over 30.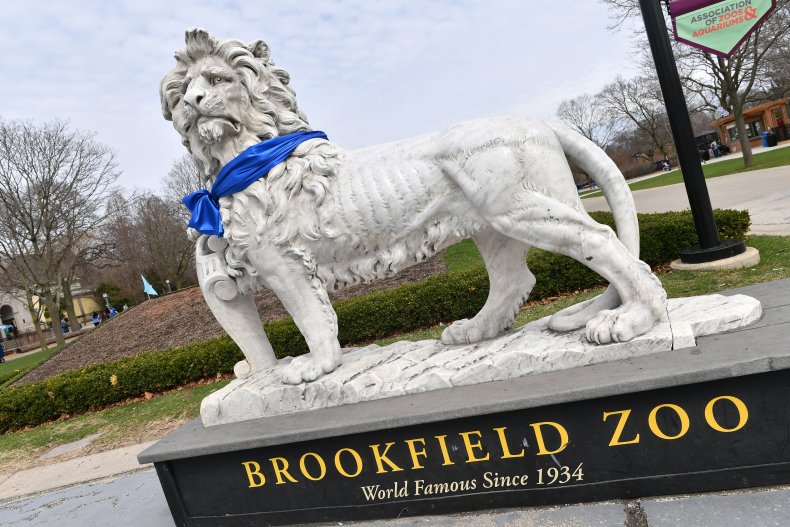 The unnamed woman suspected of making the threat was located at her home in Chicago and agreed to be escorted to the Brookfield Police Department for further questioning, the Chicago Zoological Society, which operates the zoo, said in a statement Wednesday.
Police confirmed the suspect was never at the Brookfield Zoo or the surrounding area, according to the statement.
The woman has been charged with one count of disorderly conduct, with more charges possibly on the way, according to the statement. She's also been evaluated by a crisis worker and was sent to an area hospital for mental health treatment.
"We are thankful that this unfortunate situation has been quickly resolved, an arrest has been made, and there is no longer any threat to Brookfield Zoo," Mike Pendola, the zoo's police chief said in the statement.
Timeline
5 p.m.
Pendola told NBC affiliate WMAQ-TV that emergency dispatchers received a call from a crisis-intervention line around 5:15 p.m. from someone threatening to harm guests and themselves at the zoo.
While information from the call was "vague," it was enough for authorities to order a lockdown of the zoo as police cleared the park over the next several hours with help from Riverside and Brookfield police, the station reported.
6 p.m.
The zoo sounded the alarm over the potential threat Tuesday, saying on Twitter after 6 p.m. local time that "out of an abundance of caution," it was asking visitors to "shelter in place and follow guidance by emergency responders and police on site."
7 p.m.
An hour later, the zoo said on Twitter it had closed its doors and it was working with the Brookfield Police Department to "actively investigate the situation throughout the park and surrounding area," asking visitors to remain sheltered.
Brookfield's official public safety Twitter account tweeted shortly before 7 p.m. that the "police presence at the Zoo is out of an abundance of caution for attendees and the surrounding community."
"Brookfield Police and Brookfield Zoo Police continue to sweep the premises and are releasing zoo-goers, building by building," the zoo said around 7:30 p.m. "If you are on site, please remain patient until law enforcement release you. We will share more information as soon as we receive it."
8 p.m.
The Brookfield Zoo and city police tweeted after 8 p.m. that the zoo had been cleared.
Evacuating the Zoo
It wasn't until later that authorities later determined the person who made the call was not in the park when the call was made and that there was no active threat, according to the WMAQ-TV.
Riverside Director of Public Safety Matthew Buckley told reporters at a press conference Tuesday evening that more than 50 officers responded to the zoo from neighboring jurisdictions.
After the zoo went into lockdown, police worked methodically to check every building was safe and escorted visitors out, he said.
"The zoo was not an easy place to handle an incident like this," he said. "Obviously, they have a lot of animals in here. Some of those animals are very dangerous."
Buckley said police worked closely with zoo staff to ensure the safety of officers, people taking shelter and the animals.
With the Highland Park shooting still in the back of their minds, Pendola said, "we had a tremendous response of resources" to the call, adding that it was possibly an "overabundance of caution."
"We know right now the zoo is safe; it's a safe place to come," he said. "We hope that guests are not concerned."
Twitter user @shashankramuk said in a tweet he was at the zoo with his family as the incident unfolded, beginning around 5:15 p.m.
"We noticed armed police officers inside the zoo and they asked us to get out asap," he wrote. "We came out of the south entrance were lost searching for our car parked elsewhere. Kudos to officers for escorting us to safety."
As he left, he said, there were already about 10 police cars at the zoo and he saw another 10 or so rushing while he and his family were driving away in their car, he said in a follow-up tweet.
Newsweek has reached out to the Brookfield Police Department and the Chicago Zoological Society, which operates the zoo, for comment.
Update 7/5/2022, 10:30 p.m.: This article has been updated to include additional information about the police response and zoo's clearance, and social media reaction.
Update 7/6/2022, 5:42 p.m.: This article has been updated to include additional information about the arrested suspect.