Chicago Becomes First Major U.S. City to Reissue COVID Lockdown As Cases Spike 36 Percent
Chicago Mayor Lori Lightfoot issued a stay-at-home advisory on Thursday after a 36 percent spike in coronavirus cases in the past two weeks, making Chicago the first major U.S. city to reissue a lockdown order.
"Chicago has reached a critical point in the second surge of COVID-19, demanding that we undertake this multifaceted and comprehensive effort to stop the virus in its tracks," Lightfoot said at a press briefing.
Chicago has seen a massive rise in coronavirus cases over the past month. As of Wednesday, the city had recorded more than 122,000 confirmed cases, according to the Chicago Department of Public Health. The city has also reported over 10,000 new cases this week alone, and it has a positivity rate of 14.1 percent.
"If changes are not made by Chicago residents, businesses and visitors to mitigate the spread of COVID-19, the city is on track to lose 1,000 more Chicagoans by the end of the year or even more," Lightfoot said.
Effective Monday, the 30-day order urges residents to leave their homes only to go to work or school or for essential needs, to practice social distancing and mask wearing at all times, and to avoid all nonessential travel.
Nonessential businesses will be required to close at 11 p.m., and the mayor has ordered Chicagoans not to host gatherings with anyone outside of their household, including "trusted family or friends."
The city will also impose new restrictions on social gatherings, limiting both indoor and outdoor events to no more than 10 people. These limits will also apply to events like weddings, funerals and birthday parties.
Lightfoot also said over Twitter that the city would increase its coronavirus response team and deploy approximately 2,000 city workers, including up to 550 contact tracers, and hundreds of community-based organizations to reach at least half of Chicago's households.
Lightfoot also targeted Thanksgiving celebrations. She asked residents to "cancel traditional Thanksgiving gatherings" to help curb the virus's spread.
"While this is tough—and of course this whole year has been tough—we must tell you: You must cancel the normal Thanksgiving plans, particularly if they include guests that do not live in your immediate household," she said.
"I know that many people are tired, exhausted. The fatigue is real," Lightfoot added. "All of our lives have been upended by this terrible virus, and even as we put these restrictions into place, I know that our success is fundamentally rested on our ability to work together to find solutions to educate people into compliance."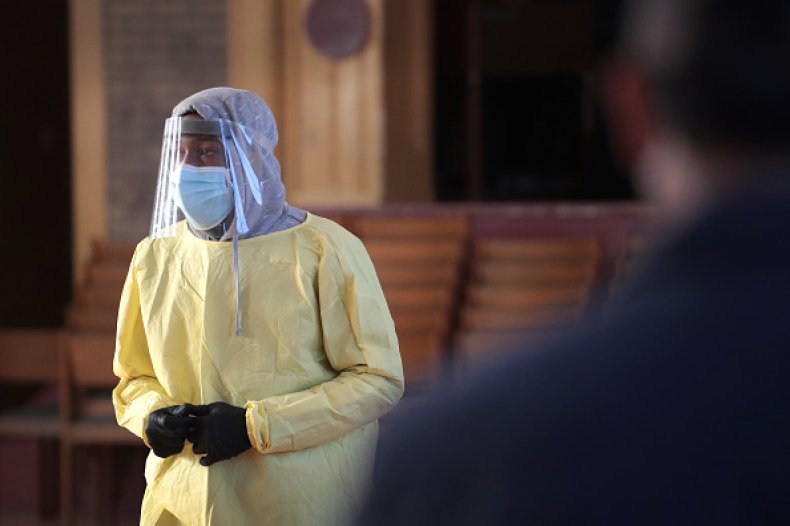 With the state's virus numbers reaching new highs, Illinois Governor J.B. Pritzker has also hinted at the possibility of a statewide stay-at-home order.
On Wednesday, Illinois health officials reported 5,042 hospitalizations—the most the state has seen since the beginning of the pandemic. On Thursday, the Illinois Department of Public Health reported 12,702 new and probable coronavirus cases, marking the third day in a row the state has seen a new daily record for cases.
"I'm very concerned as we approach Thanksgiving," Pritzker said earlier this week. "I'm very concerned as these numbers rise. And as a result, as I've told you, for days, you know, we are looking at really all the possibilities—the possibility that we would have to go back a phase, the possibility that we would have to ultimately have a stay-at-home order. Those are not things that I prefer to do."
Illinois hospitals are also beginning to feel the pressure of the rapid surge in virus cases.
One health care provider, NorthShore University HealthSystem, has converted its Glenbrook Hospital back into a COVID-19 hospital, meaning non-COVID-19 patients will be sent to the system's other facilities. The five-hospital system has also begun re-evaluating elective surgeries on a case-by-case basis.
"The overall number of hospitalized patients with COVID in Illinois has increased in the last week, with an increase in COVID patients in the ICU and an increase in the number requiring mechanical ventilation," Dr. Neil Freedman, head of the division of pulmonary and critical care at NorthShore, told Newsweek.
"Hopefully, the stay-at-home advisory will help to relieve some of the pressure that our hospital system and all health care organizations are dealing with," he said.