Chicago Blackhawks Captain Jonathan Toews Reveals Ongoing Health Issues
Jonathan Toews, captain of the National Hockey League's Chicago Blackhawks, revealed that the ongoing health issues that caused him to sit out the 2020-2021 season were related to what doctors have diagnosed as Chronic Immune Response Syndrome.
On Wednesday morning, Toews released a video on his social media providing new details about his medical conditions and apologized to fans for not being "too vocal about the things I went through."
"I just think there's a lot of things that just kind of piled up where my body just fell apart," Toews said. "So what they're calling it was Chronic Immune Response Syndrome where I just couldn't quite recover and my immune system was reacting to everything that I did—any kind of stress, anything that I would do throughout the day—just, there was always kind of a stress response so it took some time."
He said he hasn't taken this much time off from the sport since he was a kid.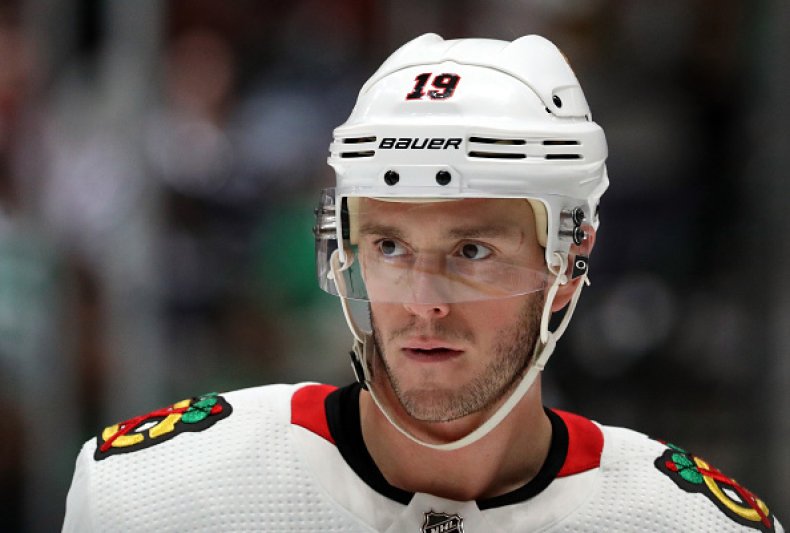 In December, Toews said he was "experiencing symptoms" that left him "feeling drained and lethargic."
At the time, the star center released a statement saying that he would be taking time off the ice to work with doctors to understand his condition. Chronic Inflammatory Response Syndrome is a multi-symptom illness that causes ongoing inflammation to virtually any organ system and can be debilitating if left untreated.
Toews was unsure when he would rejoin the team and said that while he was "extremely disappointed," he said it would be unfair to him and his teammates "to attempt to play in my current condition."
However, he said that he has since returned to Chicago and is training again in preparation for the fall start of the 2021-2022 season.
"I think the number one thing is that so many people across the hockey world and fans and people that have shown their support and I think that's the biggest thing is you realize there's more to life than hockey," Toews said in the video.
"But, I'm excited to get back to the United Center to play and just go out there and have fun and I think my best is going to come through and excited to back in front of the fans."
He also thanked Blackhawks owner Rocky Wirtz, General Manager Stan Bowman, coach Jeremy Colliton and his teammates for their support.
The Blackhawks finished sixth in the pandemic-modified Central Division last season. In the 2019-2020 season, Toews scored 18 goals and 60 points in 70 games.