The Chicago Blackhawks fired head coach Jeremy Colliton, along with assistant coaches Tomas Mitell and Sheldon Brookbank, after recording its worst start in team history, creating further chaos for an organization that has already been reeling from a sexual assault scandal.
The National Hockey League team announced Saturday that Rockford IceHogs head coach Derek King will now serve as interim head coach, effective immediately. Other assistant coaches will remain in their positions.
"It has been an extremely difficult couple of weeks for our organization, and we have had to come to terms with a number of necessary changes. As we look to move forward, we know we must earn back the trust of our fans, and we are grateful for the support of our entire community as we work to do just that," the Blackhawks leadership said in a statement Saturday.
"We appreciate all that Jeremy has brought to the Blackhawks, and we look forward to working with Derek as our interim head coach while we work to rebuild our permanent hockey operations leadership."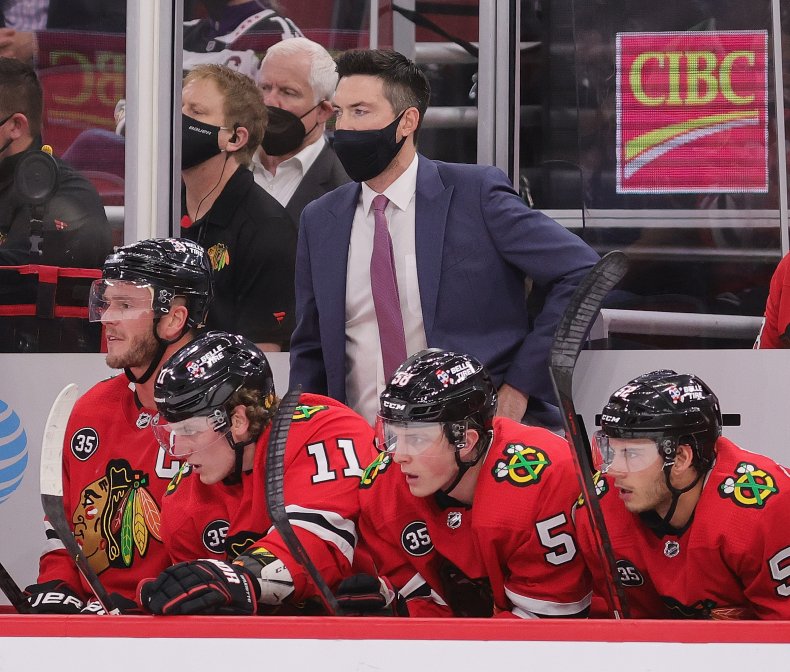 The coaching changes come as the Blackhawks are off to their worst start in franchise history, at 1-9-2, only notching their first win in the 10th game of the season. The team fired Colliton three years to the date of his hiring, when he replaced former head coach Joel Quenneville.
Saturday's announcement also comes just weeks after an independent investigation revealed that the Blackhawks grossly mishandled sexual assault allegations that were made in 2010 against former video coach Brad Aldrich before the Stanley Cup championship. Last month, ex-player Kyle Beach identified himself as the "John Doe" in the lawsuit concerning the assault.
The investigation, conducted by the law firm of Jenner and Block and led by former federal prosecutor Reid Schar, found that instead of immediately reporting the incident, a group of Blackhawks executives waited three weeks until after the playoffs—violating its own policy on sexual harassment—"so as not to disturb team chemistry."
The report also found that numerous Blackhawks players and staff members knew about the allegations but did not come to Beach's defense. Instead, teammates would reportedly tease him with homophobic slurs.
"The comments were made in the locker room, they were made on the ice, they were made around the arena with all different people of all different backgrounds; players, staff, media in the presence," Beach said during an interview with TSN, adding that the "word spread pretty quick."
The scathing report prompted long-time Blackhawks general manager Stan Bowman to retire in late October, while the NHL fined the team $2 million for its mishandling of the allegations.
In a letter to fans, the Blackhawks acknowledged last month that "the organization and its executives at that time did not live up to our own standards or values in handling those disturbing incidents."
It continued: "Our ownership and leadership teams are committed to ensuring that the Blackhawks adhere to the highest ethical, professional, and athletic standards. We will not tolerate behavior that is antithetical to our values from any member of the organization, nor will we accept the type of inaction that allows such issues to continue unchecked."
The team also issued a statement lauding Beach for coming forward, while issuing its "deepest apologies for what he has gone through."
Newsweek contacted the Blackhawks for additional comment, but did not hear back in time for publication.