Classes were canceled in Chicago for a second day on Thursday after school leaders failed to reach an agreement with the teachers union over remote learning and COVID-19 safety protocols.
Chicago Public Schools has rejected a return to remote learning, with officials arguing that it exacerbates racial inequities and that schools can stay open safely with protocols in place.
But the Chicago Teachers Union argued that safety measures in the nation's third-largest school district are lacking and voted to go to remote instruction.
The union told teachers to stay home on Wednesday, prompting district officials to cancel classes for the district's roughly 350,000 students two days after they returned from winter break.
The union tweeted on Wednesday that it was "being inundated with calls and emails this morning from educators who attempted to log into their platforms to connect with their students and teach remotely, and safely, but are being locked out" by Mayor Lori Lightfoot.
District and union officials negotiated behind closed doors on Wednesday afternoon, but failed to reach an agreement.
At a news conference on Wednesday evening, Chicago Public Schools CEO Pedro Martinez said the situation with the union left the district with "no choice but to cancel" classes on Thursday.
Calling the union's action an "illegal strike," he noted that school leaders backed remote learning at the school or classroom level if necessary due to outbreaks, but not districtwide. "We know that our schools are safe. Yes. Do we have challenges across individual schools? Absolutely. Do we respond? Absolutely," he said.
Martinez said a return to in-person instruction on Friday will be determined on a school-by-school basis. "Some schools have enough staff reporting to work to return to in-person instruction as soon as Friday," he said in a letter released on Wednesday. "Other schools have more limited capacity, and may provide learning packets and other materials for students to use during this illegal work stoppage."
At the news conference, Lightfoot blasted what she called the union's "unlawful, unilateral strike."
She maintained that schools are the safest place for students despite coronavirus cases soaring in the city, and expressed her opposition to any plan that closes all schools.
"As I stand before you tonight, I have to ask myself again, why are we here in this moment? Why are we here again, when we know that the safest place for our children is in school?" Lightfoot said, citing the $100 million spent about on the district's school safety plan.
"What we know from our own experience, from our data, from studies that have been done of our system over and over again, and other systems operating within the city of Chicago, across the country and across the world that the safest place for kids to be in the pandemic is in person in our schools. That has not changed," she said.
"So if you care about our students, if you care about our families, as we do, we will not relent. Enough is enough. We are standing firm and we are going to fight to get our kids back to in-person learning. Period. Full stop. We owe that to our children who suffered learning losses."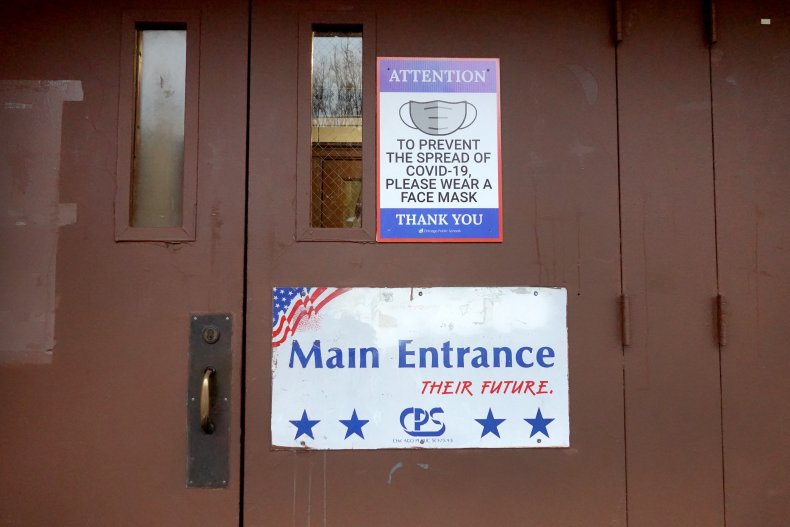 But Jesse Sharkey, the union's president, said teachers don't want to return to in-person instruction until the current COVID-19 surge fueled by the Omicron variant subsides. Union leaders have set a target date of January 18 for a return to in-person instruction
"We've been failed by the mayor, we've been failed by the public health office, and teachers and the school staff have decided the only thing we get control [of] is whether we go into the buildings," Sharkey said during an online news conference on Wednesday.
"We're saying we want to teach and we want to do what's right for our students and we are prepared to do that remotely starting today.
"If you want to get us into the schools quicker, provide testing. Do what D.C. has done, do what New York has done, do what Los Angeles has done, do what Cleveland has done. Do what the private school the mayor sends her own child to. Provide a test so people are negative when they come back into the school and then set up a meaningful screening program."
The union has called for a negative test result to return to school buildings and for the in-school weekly testing program—currently mandatory for unvaccinated employees and voluntary for students—to be expanded.
Lightfoot on Wednesday said she opposes the plan because it's "morally repugnant" to take the decision out of parents' hands, calling COVID testing a "quasi-medical procedure."
The ongoing battle prompted White House press secretary Jen Psaki to tell reporters at Wednesday's briefing that the country is "more than equipped" to ensure schools remain open, echoing President Joe Biden's remarks from the day before. "This includes schools everywhere, including in Chicago," she said.