Chicago Community Organizer Works to Reduce Population at America's Single Largest Jail Site Amid Coronavirus Outbreak
Newsweek's "Heroes of the Pandemic" series features everyday heroes showing service, sacrifice or kindness in the time of COVID-19.
Sharlyn Grace knew coronavirus was going to be a problem.
So on March 6—well before most of the nation was aware of the havoc the virus would wreak—Grace and her team at the Chicago Community Bond Fund (CCBF) put out their first statement calling for the decarceration of the city's Cook County Jail, the largest single jail site in the U.S.
"We shouldn't be giving people death sentences by carelessly exposing them to this incredibly dangerous illness," Grace told Newsweek.
The CCBF is a largely volunteer organization that helps cover bond costs for those who can't afford it. Grace helped found the group in 2014 during the Black Lives Matter movement and serves as its executive director.
Now, all hands are on deck to get as many people out of the jail during the pandemic. Edward Vogel, a volunteer with the group, said Grace has been working nonstop to avert a crisis that could "destabilize the health care system in Chicago."
Jails and prisons are like a petri dish for COVID-19 and other diseases like it. Jails in particular have an extremely high turnover rate, with people coming and going nearly every day. Access to cleaning and hygiene supplies are limited, and hand sanitizer is often considered contraband.
In addition, social distancing in jails is nearly impossible, which is why they have some of the highest infection rates in the world. Rikers Island in New York City, for example, has an estimated 3.6 percent infection rate, while New York state as a whole has a 0.44 percent rate. On March 23, one person had been infected in Cook County Jail. Four days later, that number spiked to 89, and over 123 more inmates were waiting for test results.
In a matter of weeks, the CCBF has written an open letter with a list of demands for government officials; created an extensive call-in campaign urging the sheriff's office and the state attorney's office to take action; and held a "socially distanced" vigil with community members outside the jail.
The number of people being held in the jail has dropped by roughly 1,000 since the group began its effort. The CCBF worked with other partners to raise $120,000 to directly free 20 people being held in the jail ahead of their trial, just by paying their bonds. It also prioritized bailing out people who are older and have underlying health conditions that make them particularly vulnerable to COVID-19, the disease caused by the virus.
"It's a delicate balance because we want to celebrate the progress that has been made and we also want to recognize that it is inadequate and it's not enough yet," Grace said.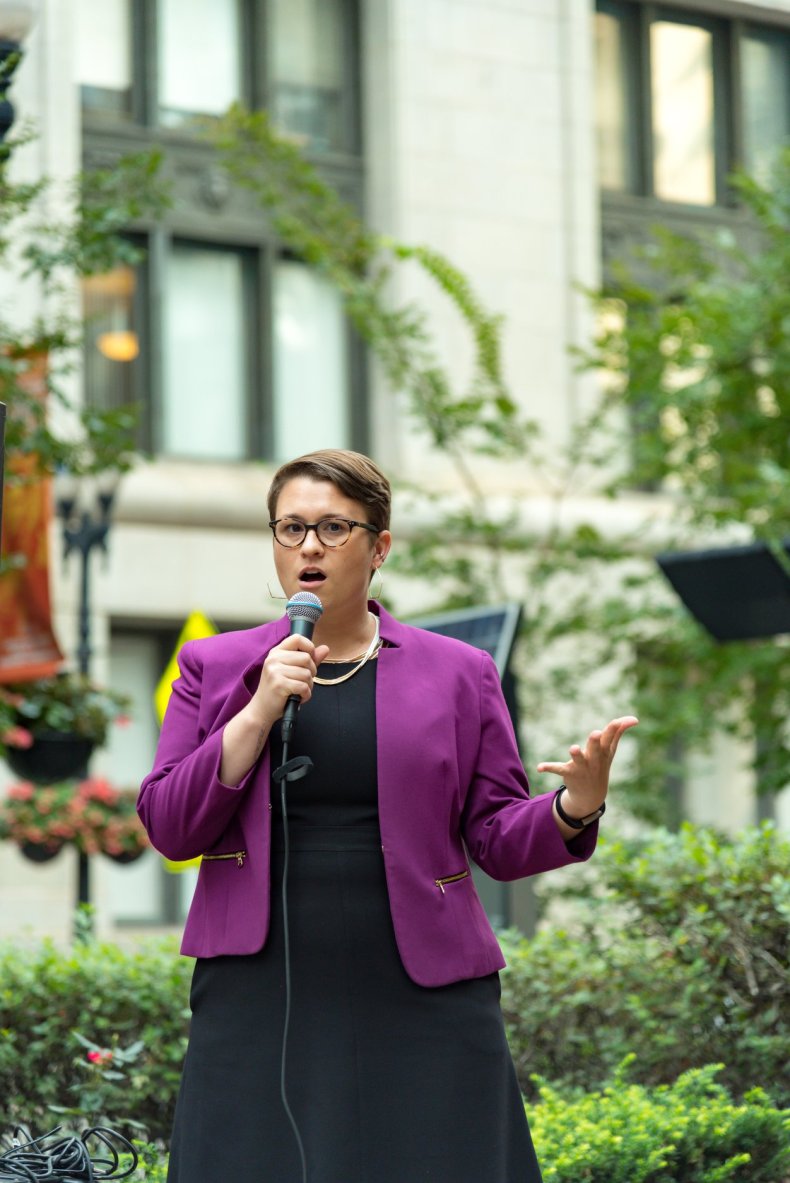 "There is no ability to create safety from coronavirus in jails and prisons. Being returned to the community is the safest place," Grace said.
According to the CCBF, roughly 70 percent of people who leave the jail come straight back to the community. Most of the people now detained in Cook County Jail are still waiting to have their day in court.
"People inside the jail are not a separate group," Grace said. "They are part of our community, and their well-being and our well-being are tied up together in this public health crisis."
Know a hero you want to nominate to be featured in our series? Drop us a line at heroes@newsweek.com.
Update: This story has been updated to include photo credit to Sarah-Ji/Love & Struggle Photos.