Chicago Cop Accidentally Shoots Two Other Police Officers
A Chicago police officer accidentally shot two other officers during a struggle with a suspect, authorities said.
The officers had spotted a car that was wanted in connection with a murder in the 1200 block of South Lake Shore Drive at around 9.15 p.m. on Wednesday, Chicago police Superintendent David Brown said during a media briefing.
The officers and a police helicopter followed the car to a Citgo at 8050 W. Ogden Avenue in Lyons.
Brown said the pursuit was not an "active" one, but described it as "pretty textbook."
"We actually lost sight of the car for a moment but the helicopter did not," he said, adding that the helicopter directed the officers to the gas station.
"The offender's car stopped into the gas station for gas," Brown said.
Officers surrounded one suspect outside the station and a struggle ensured, he added.
Brown said: "One of our officers who has his handgun out during this struggle has an accidental discharge of his weapon, lightly striking two of our officers."
The officer fired his weapon once, according to Brown. One of the officers was struck in the arm and the other in the shoulder.
Brown said it was likely that the bullet tore through one officer before hitting the other officer.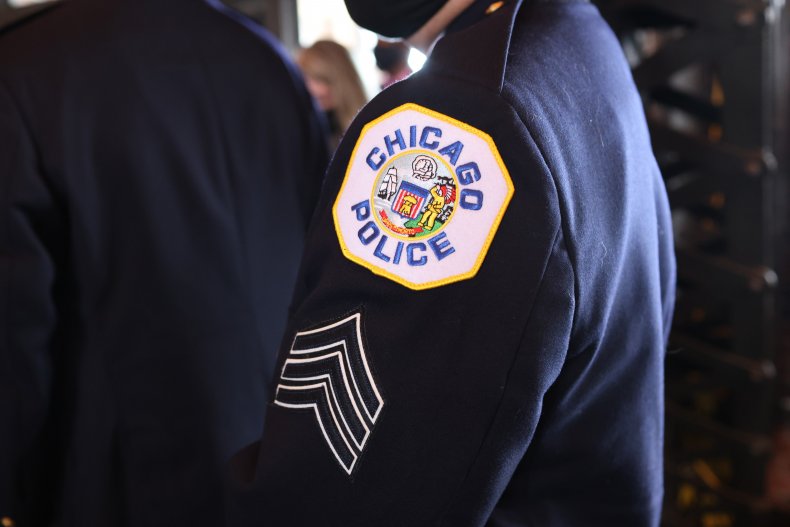 The officers who were shot were transported to hospital with injuries that are not life-threatening, Brown said, and appeared to be in "decent, good condition."
The two officers were released from MacNeal Hospital in Berwyn shortly after midnight on Thursday in order to be transferred to another hospital, the Chicago Tribune reported.
Other Chicago officers who had gathered outside the hospital's emergency room broke out in cheers for them.
Brown told reporters that the officer who fired his weapon is not injured. "But obviously, it's very traumatic to have accidentally have this happened," he added.
The shooting will be investigated by the Civilian Office of Police Accountability and the officer who fired his weapon will be placed on desk duty for at least 30 days as is protocol, Brown said.
The two suspects were taken into custody and a gun was recovered from the vehicle, Brown said. A large amount of narcotics were also recovered from the vehicle, Lyons police chief Tom Herion said, according to ABC7 Chicago.
The suspects are a man and a woman, but no further details were immediately released.
The Chicago Police Department and the Lyons Police Department have been contacted for additional comment.
Update 10/21/21, 3:35 a.m. ET: This article was updated with additional information.