Chicago Cubs Affiliate Trolls Colin Kaepernick with Betsy Ross Flag Drawn On Infield
A team affiliate of the Chicago Cubs has drawn criticism after posting a tweet that referenced former NFL quarterback Colin Kaepernick and his request that Nike not sell a pair of sneakers with a Revolutionary War-era flag on the heel.
The tweet was published on Wednesday evening by the Tenneesee Smokies, a Double-A Cubs affiliate based in Kodak, Tennessee.
"Hey @Kaepernick7 after a lot of thought, we have decided it's best to just do it. #America," the tweet said and included photos of the flag, more commonly called the Betsy Ross flag, drawn in the infield dirt behind second base.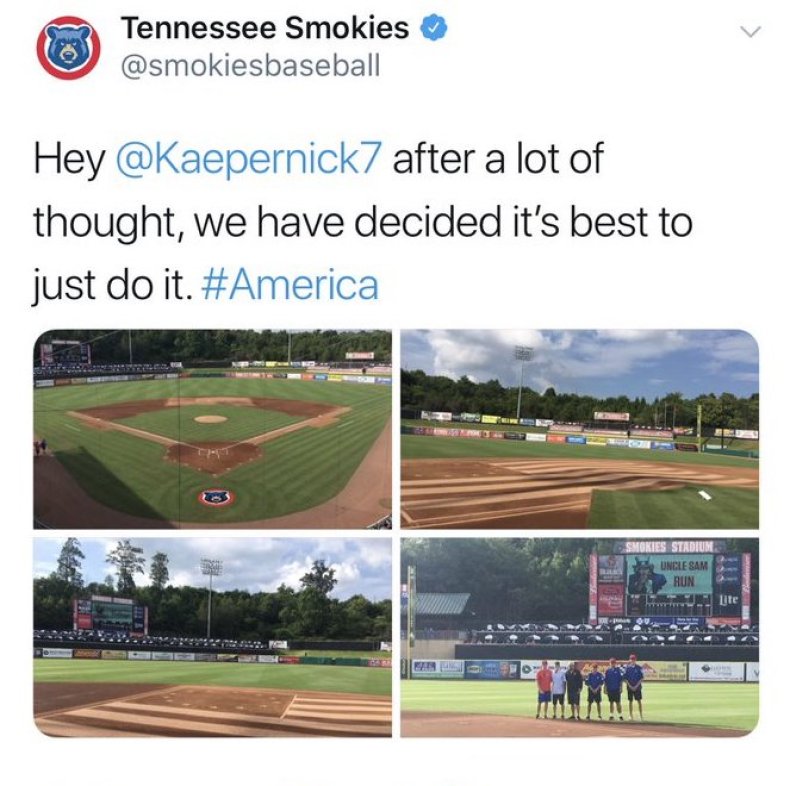 The tweet quickly gained attention on Twitter, gaining over 700 retweets and 2,000 likes in the two hours where it was live on the team's account.
However, the tweet was later deleted and replaced with an apology which reads, "Regarding one of our recent tweets regarding @Kaepernick7 and our field design for tonight's game, it was meant to be a light-hearted take on a current situation. We did not mean to offend anyone by it. If it did, we certainly apologize."
Still, many slammed the Smokies' statement as a non-apology and felt that the team did not regret the tweet, but rather the controversy it stirred up. Others replied to tell the organization that they had done nothing wrong and shouldn't be apologizing at all.
The tweet is the latest in an ongoing controversy involving Kaepernick and Nike, who planned to release a pair of Air Max 1 USA sneakers featuring the Betsy Ross flag ahead of Independence Day. However, Kaepernick reportedly told the athletic apparel company that the flag was offensive because it was flown at a time of slavery in the United States.
While many believe that Ross created the flag sometime in the 1770s, historians have said that the actual origin of the design is murky and Ross could have been just one of the individuals responsible for its creation.
The report has drawn national headlines, and prompted politicians and celebrities alike to comment on the matter, including Senate Majority Leader Mitch McConnell who urged Nike to sell the shoes.
"If we're in a political environment where the American flag has become controversial to Americans, I think we've got a problem. I hope Nike either releases these shoes or some other shoe maker picks up the flag, puts it on a pair of shoes and starts selling it. I'll make the first order," McConnell said.
2020 Democratic presidential candidates Julian Castro applauded Nike's decision, saying that the Betsy Ross flag is painful for some Americans.
"Yeah. Well, you know, I was glad to see that and my hope is that that they didn't just do it to do it, that they understand the significance there. And look there are a lot of things in our history that are still very painful," Castro said in an interview with CBS News. "The Confederate flag that still flies in some places and is used as a symbol, and I believe that we need to move toward an inclusive America that understands that pain, that doesn't wipe it away from history in the sense that still belongs in a museum or we need to read about it and understand the significance because that's how you learn and make sure that we don't make the same mistakes in the future, but does not glorify it, does not celebrated it,"
Chicago Cubs Affiliate Trolls Colin Kaepernick with Betsy Ross Flag Drawn On Infield | U.S.