Who Suffers More: Mets Fans or Cubs Fans?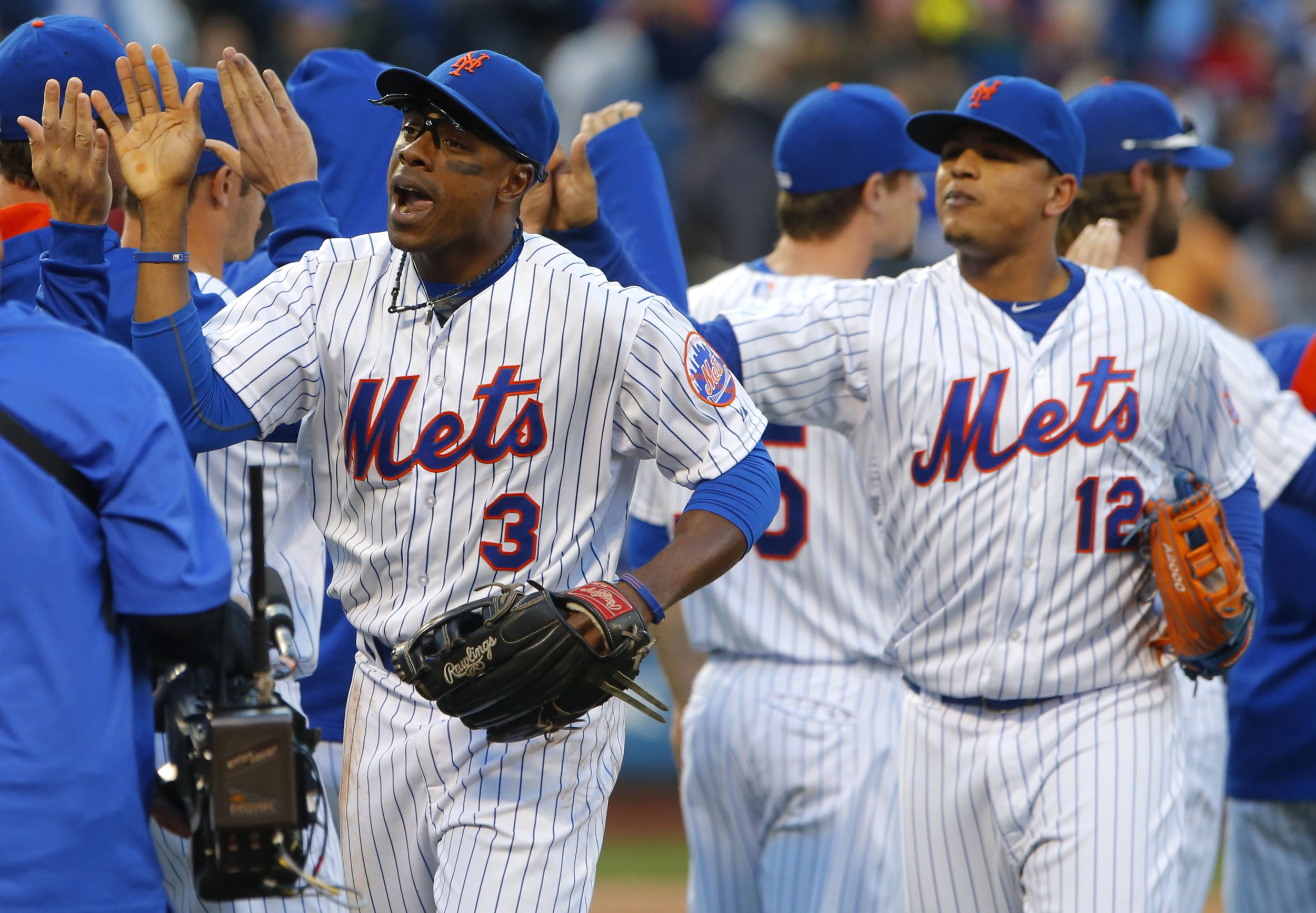 The Mets haven't won a World Series since 1986, and even then it came about by accident. If not for Mookie Wilson's grounder slipping through Bill Buckner's legs—probably the biggest gaffe in the history of professional sports—the Mets would be entering the 2015 playoffs shouldering the burden of a 46-year title drought. Thanks to Bucker, the dry spell is a more psychologically manageable 29 years, but there's no doubt about it: Mets fans are tortured. Or, as has become the default term to distinguish beleaguered fan bases, they are "long-suffering."
Sharing a place in the postseason with the Mets for the first time ever are the Cubs. They haven't won a World Series since 1908, and their only real postseason memory of the past 25 years involves a fan reaching into the field of play and effectively snatching away a 2003 National League pennant the team felt was rightly theirs. Outside of 2003, the Cubs haven't won a playoff game since 1989, although they have been swept in the NLDS three times. Cubs fans, too, suffer.
On Friday, the Cubs and the Mets will take the the field in a postseason series for the first time in seven and nine years, respectively. If the Cubs, red-hot with momentum after dominating the also-long-suffering Pirates in Wednesday's play-in game, can take three out of five from the rival Cardinals, and if the Mets, surging after an uncharacteristically clutch September, can best the Dodgers, these two tortured franchises will meet in the National League Championship Series. That means one of them, against all odds, would go on to play in the World Series. But which fan base needs this to happen now, in 2015? Which fan base is currently suffering the most?
If fan base suffering is based on the number of years since a team has won a title, the Cubs are of course the clear winners. The team's fans have been suffering for so long that they must invoke the otherworldly to rationalize their pain: The team is cursed. But the Mets, lucky enough to have won two titles in the last century, are merely incompetent choke artists—which actually might be worse.
If we want to continue the attempt to quantify each fan base's suffering, a Google search for "long-suffering Cubs fans" yields 1.12 million results, to only 698,000 for the Mets. In fact, three separate Cubs pieces with "long-suffering" in the headline were posted within eight hours of when I conducted the search.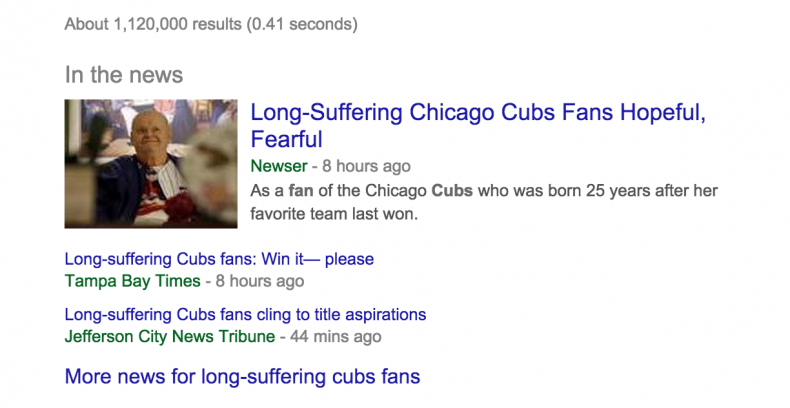 The Cubs also bested the Mets in search results with keywords of "tortured," "disgruntled," "disgraced" and "embarrassed" by similar margins. Although a search for "mets fans anguish" somehow registered 6.46 million results to only 40,500 for the Cubs. Parse that how you will.
Of course, the degree to which a fan base suffers can't really be quantified. The Cubs have suffered longer, sure, but eventually the pain of coming up short loses its acuteness and simply becomes the way of things. While Mets fans rip their hair out season after season, Cubs fans are more at peace with their team's incompetence, which has basically become endearing (hence "lovable losers"). Instead of frothing rage and existential self-loathing, most modern storylines of Cubs-based suffering boil down to something along the lines of whether [insert local octogenarian] is going to be able to see the Cubbies win at all before they die. This is deeply sad, but also kind of quaint.
For Mets fans, at least in recent years, the suffering has been more visceral and psychologically urgent. Losing to the Yankees in the 2000 World Series was its own kind of torment. In 2006, in the bottom of the ninth of Game 7 of the NLCS, their best hitter was up with two out and the bases loaded and the Mets down by two. He struck out on three pitches, and didn't even swing at the final dagger of a breaking ball.
This was followed by unconscionable September collapses in 2007 and 2008, which were followed by six years of total ineptitude, accented nicely by the team's ownership getting tangled up with Bernie Madoff.
Hanging over it all is that dream-like 1986 World Series. A 50-year-old Mets fan remembers how it felt, and thus knows what the incompetence of these current teams is depriving fans of. A 40-year-old Mets fan remembers it happening, but wasn't old enough to truly appreciate its significance. A 30-year-old Mets fan has probably heard stories from their parents about where they were when it happened, but was tragically born too late to have any recollection of the greatest moment in the franchise's history. All 20-year-old Mets fans know is the pain of coming so close and falling so far in the last 10 years.
In one way or another, Mets fans have tasted what they're striving for, which makes their nearly comic inability to attain it all the more maddening. Cubs fans, conversely, have not, and as a result have almost embraced their losing ways. They know that when their team does win a title, the celebration will be so sweet and emotional and purging that it will, for the fans that are still alive, have made the wait worth it. Just ask any Red Sox fan how they felt after the team broke their own curse in 2004, relative to how they felt when, say, the Celtics broke their 22-year title drought in 2008.
Cubs fans can also sense that the Baseball Gods are ready to finally shine their light on Wrigley. Their team has the most promising young lineup the game has seen in years, yes, but maybe even more important is how they landed the game's best manager in Joe Maddon, who led them to 97 wins in his first year—well before anyone thought the team was ready for such success. No fan base in baseball is as excited for the future as Cubs fans are.
The Mets' future is bright, too—between Matt Harvey, Noah Syndergaard, Jacob deGrom and Steven Matz they have the most promising young rotation in the game—but a promising pitcher's future is far more volatile than that of a promising hitter, and as a result the long-term optimism of Mets fans seems far less unbridled than that of Cubs fans. Because the misery and pain of the past 10 year is still fresh, no Mets fan would truly be surprised if everything promptly went to hell. All it would take is an injury or two, or even Matt Harvey continuing to alienate himself and winding up on the Yankees somehow.
For this reason, we'll go ahead and say that, in 2015, the Mets fans suffer the most. In the end, though, both fan bases can be thankful of one thing: At least they're not from Cleveland.