One Chicago (that is, Chicago Fire, Chicago PD and Chicago Med) is returning as part of the NBC fall line-up. As ever, they are sharing a night (Wednesday), and the start date of all three seasons is the same. This year, however, there will be a change to the three series' streaming homes, with One Chicago available to watch online on a new service.
When do Chicago Fire, Med and PD start?
All of the One Chicago shows have a start date of Wednesday, November 11 on NBC. The shows are airing in the following time slots:
Chicago Med Season 6: 8 p.m. ET / 7 p.m. CT
Chicago Fire Season 9: 9 p.m. ET / 8 p.m. CT
Chicago PD Season 8: 10 p.m. ET / 9 p.m. CT
The synopsis for the first episodes read:
Chicago Med: "In the season 6 premiere, the entire staff at Chicago Med adjusts to the new normal of the pandemic."
Chicago Fire: "In the season 9 premiere, Firehouse 51 welcomes a new member to the team, whose presence could provide some complications."
Chicago PD: "The team responds to the shooting of a 5-year-old girl and they must work the case while facing new obstacles that come from the heightened attention on police reform. Season 8 premiere."
Though previous seasons have had anything from 20 to 24 episodes, this year's set of episodes is expected to be shorter. Production documents shared by SpoilerTV revealed that the shows are set to have 15 episodes this year, meaning that despite the late start the seasons should end in spring 2021 as normal.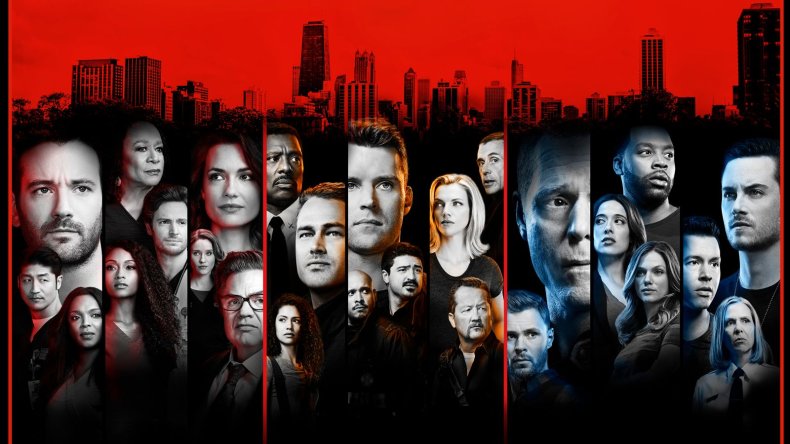 How to watch Chicago Med, Fire and PD online
Currently, the previous seasons of Chicago Med and Chicago Fire are streaming on IMDbTV, while PD is on Amazon Prime Video. Hulu also has the last season of all three shows.
In July, it was announced that all three One Chicago shows are coming to Peacock, the streaming service from NBC Universal. Currently, the streamer has the last season of all three of the shows, and new episodes are also expected to join the service as well as Hulu.
Currently, the previous seasons are all available on Peacock's free tier, but when the show adds all the additional episodes from earlier seasons, they are expected to be available as part of the streamer's premium tier.
Access to the Peacock premium tier costs $4.99 a month for a version with commercials and $9.99 a month without ads. The service also offers a seven-day free trial, allowing viewers to watch episodes of Chicago Fire, PD and Med when they come to Peacock.
The One Chicago series air Wednesdays from 8 p.m. ET / 7 p.m. CT on Peacock.