'Chicago Fire' Spoilers: Jesse Spencer on Casey and Dawson's Relationship Status and Firehouse Politics
The firefighters on Chicago Fire put themselves in harm's way all the time to save people—it's the job—but Matt Casey's behavior can only be described as reckless in the Season 7 premiere. But give the man a break; his wife left him on an extended mission and he was in the dark about when she'd be back.
"It almost feels like on an impulse, Dawson decides to take this relief job in Puerto Rico, and he's literally left hanging," Jesse Spencer told Newsweek. They hadn't been on good terms before that, with Gabriela Dawson (Monica Raymund) wanting to have a baby even though it would put her life at risk because she had an aneurysm that could rupture during pregnancy.
"She was being very strong-headed and almost cutting him out of the decision-making process in the relationship, and it really flared up," to the point that she went to Puerto Rico, he continued, and that leads to the Casey you see at the beginning of Season 7.
"He does make some more risky, irrational decisions, in terms of going out on a call and being a captain, that puts everybody at risk, not only himself, so it's a precarious situation to be in," he said.
A victim was trapped in an elevator shaft, with the elevator still descending in the Season 7 premiere. Though he risked getting crushed as well, Casey went down the shaft. Both he and the victim survived, but it was reckless.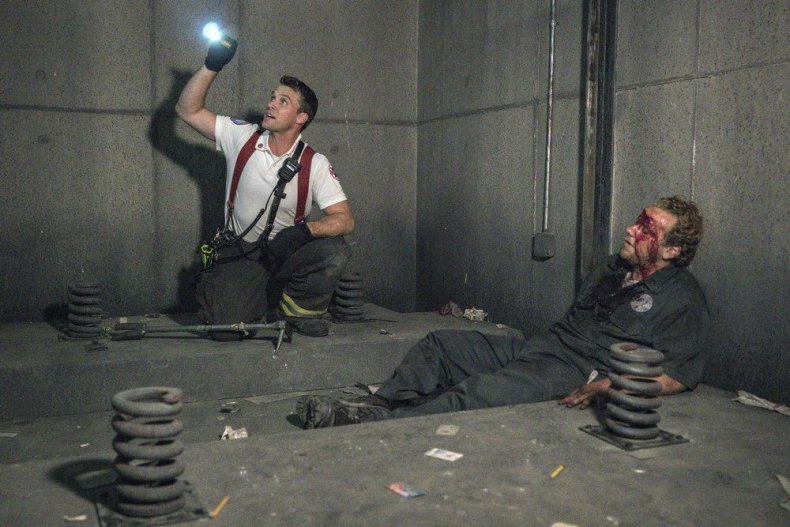 In the last scene of the finale, Casey arrived home, ready to take a trip to Puerto Rico, only to find Dawson there packing "leaving bags," as he called them. She'd taken a permanent position leading a unit in Puerto Rico, and while she asked him to join her, he couldn't leave Chicago. She was meant to do this, and he was proud of her, he told her.
"I was just impressed he was able to let her go graciously and not just slam the door in her face," Spencer said. "He makes a point that if this is something she wants to do, he's not going to stop her and to really love someone, you have to let them go is the catchphrase for Casey. He's able to let her go, and then we have to see him pick up the pieces, go back to being a firefighter, seeing him try to move on." He needed the "closure" he got in that scene to leave his reckless behavior in the past.
While Dawson left permanently, their relationship status is still up in the air. "Technically, they're separated, they're not divorced," the actor explained. "But the relationship's over. I guess we'll see going down the line what's really going to happen. Are they going to get divorced or is this going to be a long separation? Will she come back? I don't know."
There may be just as much turmoil in Casey's professional life as his personal one. The Assistant Deputy Fire Commissioner, Jerry Gorsch (Steven Boyer), already clashed with Chief Boden (Eamonn Walker) and Kelly Severide (Taylor Kinney) in the premiere, and his presence could mean trouble for Firehouse 51. "He's sent in as a mole to trap Boden into politics and to bring down the firehouse," Spencer told Newsweek. "Boden is just trying to be patient and fight him, but it's a constant threat over the house."
"[Gorsch] is worming his way around the fire house, and we're all just trying to keep it together and stay out of his way as much as we can because we know he's just looking for problems," he continued. "He's looking for a fight, and he's looking for a bone to pick. It's certainly a big problem, but I hope Boden will come up with some sort of a plan to get this guy out because it's not good for the group."
The firehouse is going to have more pressing matters in next week's episode, which leads off the One Chicago crossover with Chicago Med and Chicago P.D. "We've been looking to do a big apartment fire for a long time, so we're finally able to bring it out," Spencer previewed. "It's such a great intro into the three-way crossover because there are people who live in the apartment building who are relatives of other people in the other shows, so it becomes not just a professional mission, but a personal mission to save them as well."
"Then it turns out there's been nefarious activity in how the fire started, so that leads into a P.D. investigation," he added.
The One Chicago shows also have mini-crossovers, and the actor would like to see more of that with Fire and P.D. "It's really natural because cops and firefighters tend to work together a lot," he said, and in particularly, he'd like to see Casey with his wife's brother, Antonio. "Since Gabby Dawson left, I think it might be a good time for me and Jon Seda to have some storylines there," he explained.
Chicago Fire airs Wednesdays at 9 p.m. ET on NBC.