Chicago Has Seen 217 More Shooting Victims in 2021 So Far, Compared to 2020
In Chicago, 956 people were shot in the first four months of 2021—217 more than the same point in 2020, which was a record-setting year for shootings in the Illinois city.
The Chicago Tribune, which tracks all of the area's shooting victims, recorded that 956 people were shot between January 1 and April 26. It should be noted that the weekly data set provided by the newspaper reports the number of victims, not the amount of shootings.
At this point last year, 739 people were hit by gunfire in Chicago. A total of more than 4,130 people were shot in Chicago last year, the most in a single year since 2016, when more than 4,300 individuals were shot, and the second-highest since the Tribune began tracking the data back in 2012.
The number of shooting victims is likely to rise after another weekend of violence in Chicago. Forty-five people were shot, five fatally, in incidents across the city. In one attack, the victim was a 17-year-old boy who was shot Sunday while driving in West Garfield Park.
According to the Tribune, homicides are also up this year compared to 2020. So far, 185 people have been killed—27 more than at this point last year. The majority of homicides are the result of gun violence, the newspaper found.
Last month, Chicago Mayor Lori Lightfoot called for federal gun control legislation after a 7-year-old girl was shot and killed at a McDonald's drive-thru.
"Folks, we are living in madness if we don't step up and deal with this problem," Lightfoot said at a news conference. She added that she was "very satisfied" with what the police department has been able to do in "an impossible environment where we got to have help."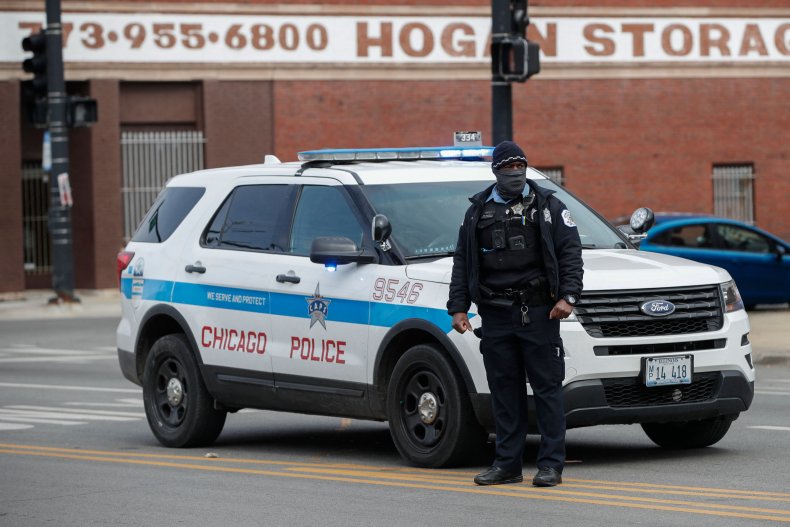 A series of mass shootings in recent months have renewed a gun control debate in Congress and across the country. President Joe Biden in March called on lawmakers to pass two House bills dealing with gun access. One would implement a ban on assault weapons, while the other would close background check loopholes.
The president also signed several executive orders on guns. The orders will stop the sales of so-called "ghost guns," place new regulations on pistol-stabilizing braces, charge federal agencies with conducting studies on gun trafficking and invest in community violence intervention programs.
"The idea that we have so many people dying every single day from gun violence in America is a blemish on our character as nation," Biden said as he signed the executive actions, adding that they were "just the start."
Newsweek reached out to Mayor Lightfoot's office for comment on gun violence but did not receive a response before publication.