Chicago Heat Wave Shootings: 10 Dead in Weekend Violence
Police in Chicago are dealing with a spike in shootings which killed at least 10 people over the weekend.
Despite the murder rate in America's third most populous city falling in the first half of 2018, the uptick in gun violence has coincided with hotter temperatures this month which reached as high as 95 degrees on Sunday, KIITV.com reported.
In 2012, CBS reported how a triple-digit heat wave coincided with more than 20 people being shot and three killed over three days in Chicago. An article published in the journal Current Directions in Psychological Science addressed the link between heat and a rise in violent behavior.
Investigators say that the violence, which also left 55 other people wounded, was mostly gang-related. Among the dead was a 12-year-old girl who was shot in the neck on Friday after two unknown gunmen opened fire at a gathering on the city's West Side.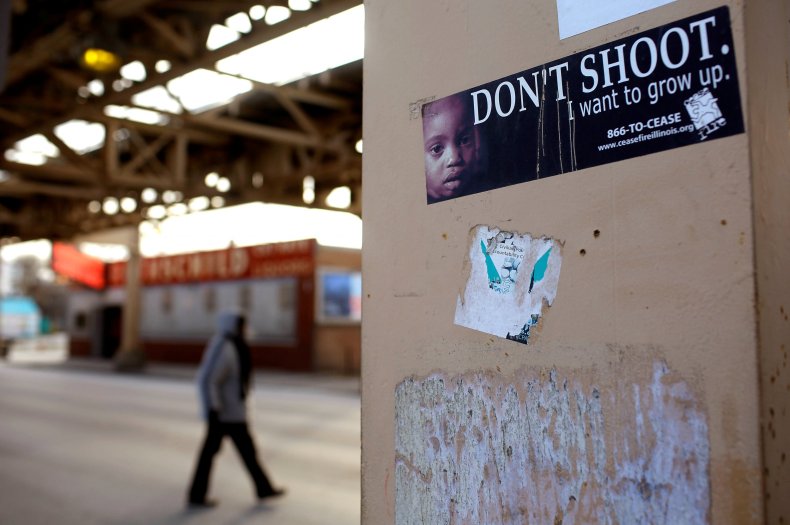 In a separate incident on Saturday, also on the West Side, a 17-year-old boy, thought to be a gang member, was shot dead.
On Sunday, at least 19 people were shot, three of them fatally, in a 24-hour period, the Chicago Sun-Times reported.
On Monday, one man was killed and another five wounded in shootings across the city, the Chicago Tribune reported. Anthony Perry, 30, died after he was was shot in the chest and stomach in the West Side's South Austin neighborhood.
Earlier in June, Chicago police said that in the first quarter of 2018, there had been a 22.3 percent reduction in murders and 26.5 percent decrease in shootings.
And so with shootings and murders down by almost a quarter this year, the city's First Deputy Superintendent Anthony Riccio told reporters on Monday the latest increase in violence is "frustrating."
"We continue to make progress despite what some of these numbers look like, some very good progress, but we're not happy at all about this.
"We're not saying our progress is a success by any means. But we are continuing to move in the right direction," Riccio said, according to KIITV.com.
At least 1,238 people have been shot in the city this year and there have been at least 230 homicides, the Chicago Tribune reported.
However, this statistic follows a downward trend after the city recorded 650 murders in 2017 and 762 murders in 2016.