Chicago and Houston have a bean to pick with one another.
The two cities are locked in a humorous feud over public sculptures that look too similar for Chicagoans' comfort.
After a new sculpture was installed in the Texas city this week, an outcry erupted over its resemblance to the iconic "Bean" in Illinois' biggest city—with diehard Chicago and Houston residents sparring with one another through social media.
"I'm here for the Chicago/Houston Bean War," one person wrote on Twitter.
The cities are already pitted against each other as America's No. 3 and No. 4 seeds, with only a small margin between them at the top of the population rankings.
According to the U.S. Census Bureau, New York City has a comfortable lead for the most populated city in the country, with an estimated 8.5 million people in 2016, followed by Los Angeles with just shy of four million residents. Behind L.A. is Chicago in third place and Houston in fourth, but only a few hundred thousand residents separate the pair—their 2016 population estimates were 2.7 million and 2.3 million, respectively.
An existing rivalry already firmly in place, it appears the Windy City and the Bayou City were primed to pop. When Houston started installing a silver sculpture that closely resembled Chicago's beloved "Bean" on Monday, the feud bubbled over.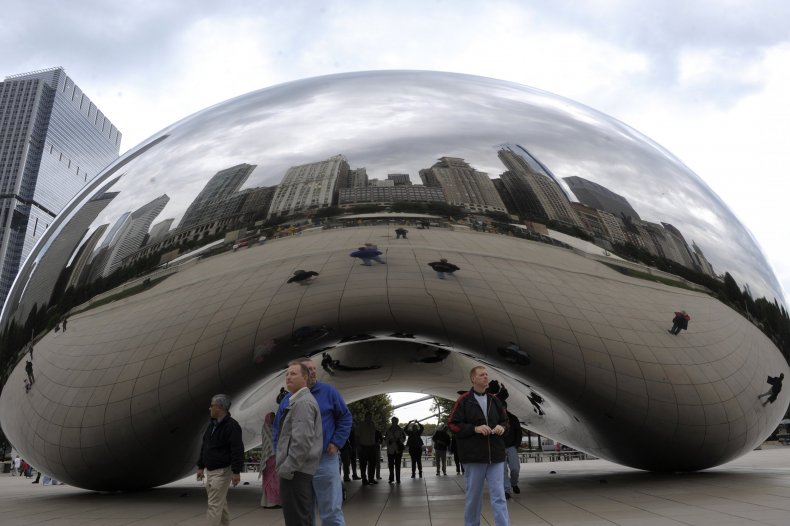 Chicago's sculpture, formally called "Cloud Gate," was designed in 2004 by British artist Anish Kapoor and is located in Millennium Park, where it draws many visitors to stare into its shiny steel's reflective surface. Houston's new addition, "Cloud Column," is also by Kapoor and its surface resembles "Cloud Gate," except its reflective steel covers a more vertical shape that some have compared to an upright pill—as opposed to the bean shape that earned the Chicago piece its nickname.
Houston's is on a plaza near the Glassell School of Art and, while it is unclear when exactly it was designed, it was reportedly made before the Chicago "Bean" even though it has not been on display.
The artist's studio did not immediately respond to Newsweek's request for comment.
"I don't know about you, but the Chicago Bean looks like a bean," one Twitter user wrote. "The Houston 'Bean' looks like a suppository or an intimate toy of some sort."
As NPR noted, even the editorial pages of the cities' newspapers are getting in on the action.
"It's a leftover bean, a second-rate bean that's been lying around in storage for the better part of 20 years, because nobody else wanted it. Nobody except Houston wants a leftover, second-rate bean," the Chicago Tribune's Kim Janssen wrote, in a funny email exchange with the Houston Chronicle's Lisa Gray. "Your bean … your bean is wack."
"Sorry Chicago," The Dallas Morning News responded. "Making fun of Houston's 'bean' sculpture is our job."