Chicago Inmate Chokes Guard and Steals Keys, Freeing Other Prisoners
One guard has been left in hospital and two more injured after an attack by an inmate at the maximum-security wing of a jail.
The attack took place early Tuesday at the Cook County Jail in Chicago when a guard handing out breakfast let the detainee out to get a glass of water.
When the detainee returned, he allegedly grabbed the guard by the neck and dragged him into his cell, according to the Cook County Sheriff's Office.
The guard got out of the cell but the altercation continued outside, where the detainee allegedly choked him until he was unconscious.
A sock filled with bars of soap may have also been involved, the Chicago Sun-Times reported.
The detainee is accused of taking the officer's keys and giving them to his cellmate, who opened at least one other cell door to let a third detainee out, according to the office. The situation was brought under control by a sergeant with a taser. One of the three guards attacked remains in hospital as of Tuesday afternoon.
The Cook County Sheriff's Office said it is seeking charges against two detainees. Newsweek has contacted the sheriff's office for further comment.
One detainee is currently awaiting trial on charges he shot a Chicago police officer who responded to a store robbery in Back of the Yards in 2017.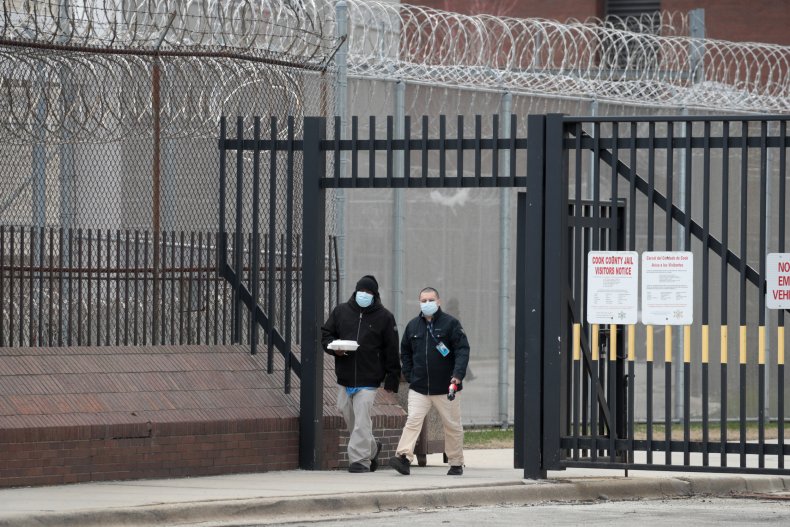 Cook County Sheriff Thomas J. Dart announced that a mobile COVID-19 testing site opened last week at the jail for Sheriff's Office staff, in partnership with The New Roseland Community Hospital.
The effort is aimed at helping to reduce the spread of the virus among staff and detainees at the jail.
"Our brave staff are on the front lines of this global pandemic," Dart said. "This testing site provides answers for them."
As of Tuesday evening, 326 detainees and 196 correctional officers at the jail have tested positive for coronavirus, including 21 detainees who are being treated at hospitals. Three detainees have died of COVID-19, while another 144 have recovered.
Cases of coronavirus in the U.S. are approaching nearly 600,000, with over 23,000 fatalities, as of Tuesday, according to the latest figures from Johns Hopkins University.
The U.S. death toll appears to be continuing on a steep curve compared with other nations in Europe and Asia, while New York has shown signs of reaching its peak daily death toll, according to the latest projections.