Chicago Man Steals $5,400 of Cigarettes While on Bail for Stealing Cigarettes, Police Say
Chicago police have arrested Kendrick Archibald for allegedly stealing over $5,400 in cigarettes while he was already on bail for stealing over $1,400 in cigarettes.
Police charged the 33-year-old man on Wednesday with three counts of felony retail theft. On October 14, police said, Archibald and a male accomplice, Lance Harris, also 33, stole over $5,400 worth of cigarettes from two Walgreens drug store locations.
At the time of the theft, Archibald was already on bail, charged with stealing $1,467 worth of cigarettes from Walgreens on June 26, police said. A customer captured the incident on his cell phone's video camera.
The video shows two men behind the counter of the drugstore, clearing out the cigarettes from the shelves into black trash bags.
Archibald was out on $2,000 bail in the June 26 theft and was wearing an electronic monitor at the time of the October 14 incident, according to Chicago news outlet CWB.
Police arrested Archibald about 12:45 p.m. November 2. Witnesses were able to give police information about the suspect's vehicle, leading to the arrests.
Less than two months ago, Archibald was arrested in the theft of a charity fundraising jar from the restaurant counter of a Jimmy John's sandwich shop, police said. The store's employees had been raising money to donate to a sick co-worker, a local government press release reported. Police charged him with a Class A misdemeanor.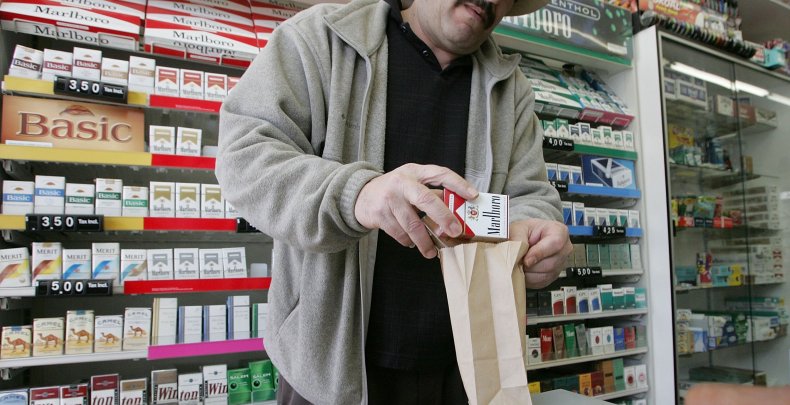 Archibald has previous felony convictions for forgery in 2019 and 2005, theft in 2018, unlawful use of a weapon by a felon in 2017 and retail theft in 2012, the aforementioned publication reported.
While it's unclear what the suspects intended to do with the cigarettes, it's highly likely that they sought to resell them. The illegal selling of cigarettes without a license to avoid taxes is referred to as "buttlegging." The word is a combination of "bootlegging," which refers to the illegal sale of goods, and cigarette butts, the unsmoked and usually filtered end of a cigarette.
Taxes on cigarettes vary by state, so some buttleggers will obtain cigarettes and smuggle them across state lines to sell them at a profit for lower than their retail price.
"[There's a] direct relationship between the increase in a state's tax and an increase in illegal trafficking," the U.S. Bureau of Alcohol, Tobacco and Firearms said.
Illinois has some of the most expensive cigarette prices in the U.S., retailing at about $11.50 per pack, according to the nonpartisan statistics site World Population Review. The states surrounding Illinois all sell cigarettes for 50 to 25 percent less.