Chicago Marathon 2018 Livestream: Runner Tracker, Start Time, Route, How to Watch Online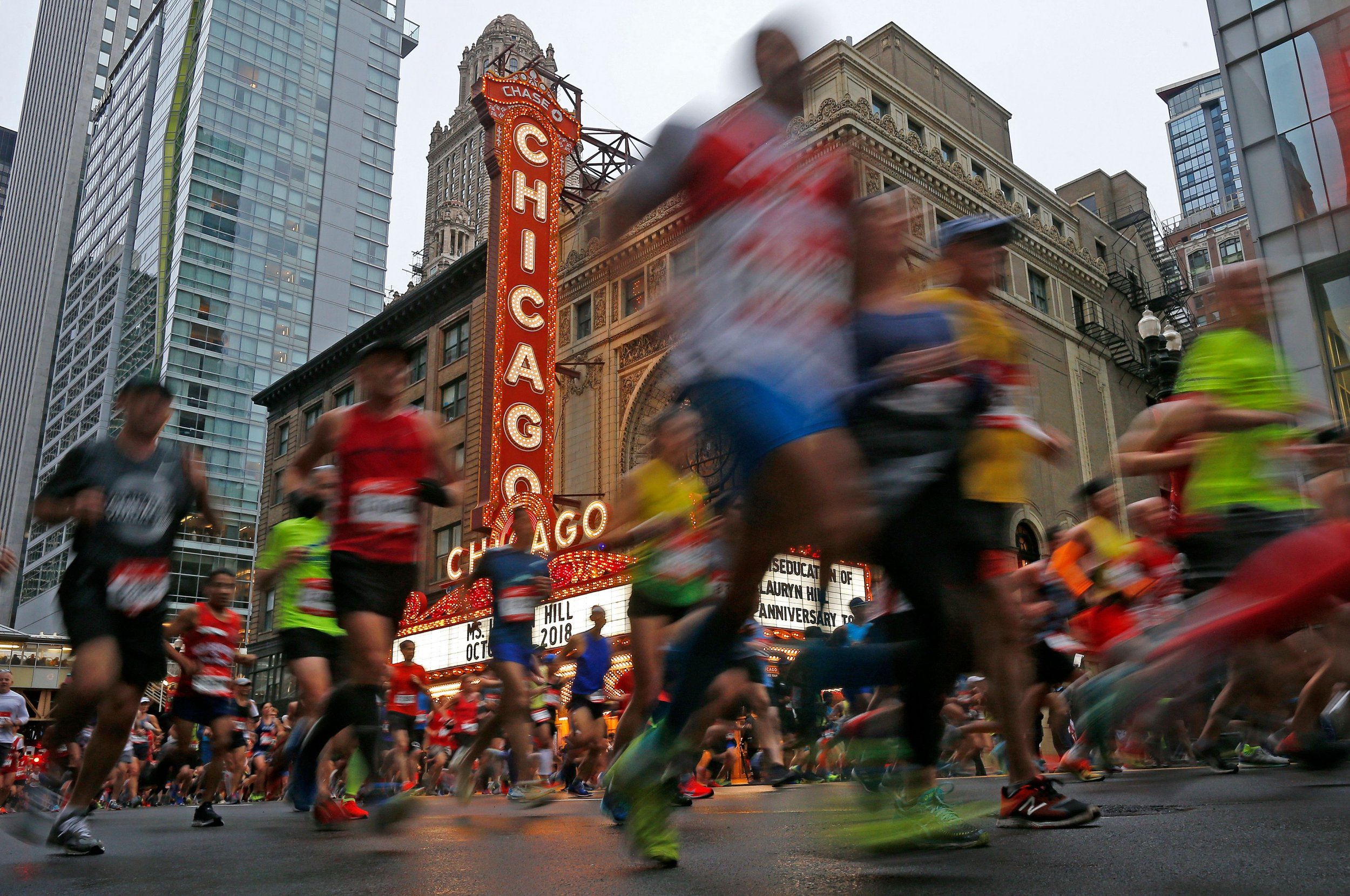 The first wave of runners in the 2018 Bank of America Chicago Marathon started running at 7:30 a.m. central time on Sunday.
About 45,000 people are participating in the marathon, including two-time Olympic medalist Galen Rupp. Two more waves of runners are scheduled at 8 a.m. and 8:35 a.m. In addition, runners in wheelchairs started at 7:20 a.m. and racers with disabilities began at 7:23 a.m.
The marathon can be livestreamed through several sites.
NBC Chicago is offering a live stream and complete coverage of the marathon through 11 a.m. on-air and online, and the finish line camera until 3 p.m. on its website and mobile app.
Spanish-language viewers can watch the marathon live on Telemundo Chicago on-air from 7 a.m. to 9 a.m. and online at TeleXSitos from 7 a.m. to-11 a.m. The Telemundo Chicago website and app will stream the finish line camera from 11 a.m. to 3 p.m.
The Olympic Channel is providing a live stream from 7 a.m. to 11 a.m.
NBC Gold is broadcasting the marathon free of advertisements to its subscribers.
The 26.2-mile race starts and ends at opposite sides of Grant Park. It goes north all the way up to Sheridan Road, west to Damen Avenue and as far south as 35th Street before taking runners up Michigan Avenue and to the south end of Grant Park. It takes runners through 29 neighborhoods of Chicago. Runners are expected to finish the race in 6 hours and 30 minutes or less.
This year's route is similar to that of previous years, with just a couple of minor alterations. Racers cross the south part of the Chicago River on Cermak Avenue instead of Halsted Avenue as in past years, and cut south on Loomis Avenue rather than Ashland Avenue.
Spectators are not allowed in the starting and finish line areas. Among the best places to view the race are Grand Avenue from Columbus Drive to State Street, as well as big, designated spot at Michigan Avenue and Roosevelt Road.
Racers to watch include Rupp, who is after the American record of 2 hours, 5 minutes and 38 seconds, and Mo Farah, a four-time Olympic gold medalist from the U.K. who is after the European record of 2 hours, 5 minutes and 48 seconds. Geoffrey Kirui of Kenya, who was last year's world champion and won the Boston Marathon, will also compete.