Chicago May Go Beyond Mask Mandates, Implement Past Restrictions if COVID Cases Rise
Chicago is approaching a COVID-19 case level that could prompt Mayor Lori Lightfoot to reinstate a mask mandate and potentially other restrictions.
City officials lifted the mask requirement for fully vaccinated individuals in May, following revised guidance from the Centers for Disease Control and Prevention (CDC). However, with cases rising and the release of new CDC advice, the city could follow in the footsteps of several other areas and reimplement mitigation measures to slow the spread of the Delta variant.
On Monday, Lightfoot told The New York Times she was "concerned" about the uptick in the city's cases and noted the southern part of Illinois is "starting to really catch fire with new COVID infections." While the city isn't in a place where a mask mandate is necessary, Lightfoot said if the city sees more than 200 cases per day on a consistent basis, restrictions will be put in place.
"We're not only going to look at a mask mandate, but we're going to look back at other tools that we've been compelled to use," Lightfoot said. "I hope we don't get there."
Chicago was averaging 192 cases per day, according to the city's COVID-19 dashboard, and is up 64 percent from the prior week. Hospitalizations are up 106 percent from the previous week and Lightfoot acknowledged that the death toll will lag a bit.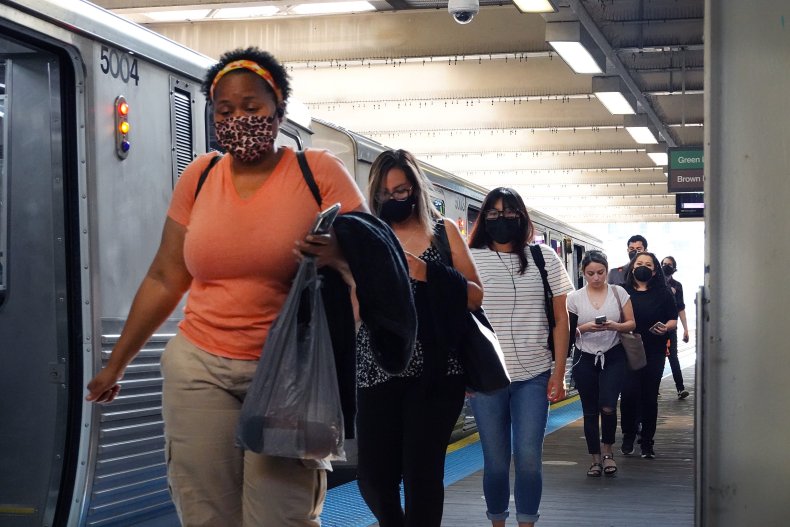 Officials in Los Angeles were first to reinstate mask requirements regardless of vaccination states and a number of cities have followed. Las Vegas quickly followed suit, followed by Kansas City and St. Louis in Missouri and Provincetown in Massachusetts.
San Francisco Mayor London Breed said on Thursday that she was considering a universal mask requirement because she anticipated at least 300 people could die in a "short time period" if nothing is done.
About 52 percent of people in Chicago are fully vaccinated, well below the 70 percent threshold that's expected to be the minimum needed to achieve herd immunity. As is the case across the country, vaccinations in Chicago have tapered off and the city faces challenges convincing people to get inoculated.
Lightfoot's seen better success with "smaller, concentrated efforts" to get people vaccinated rather than the mass vaccination sites that were vital in February, March and April when people were "scrambling to get it."
"People are afraid. They are concerned about the speed at which the vaccines came into fruition," Lightfoot said. "And we're just trying to get people to engage in an honest conversation around what their fears are, trying to answer them with the data in the science, and really using people within their networks who have been vaccinated as a kind of proof point for them that the vaccine is safe."
Cook County, where Chicago is located, is considered to have a "substantial" level of community transmission, according to the CDC. With that rate of transmission, the CDC recommends that everyone wear a mask when indoors in public regardless of their vaccination status.
Chicago Department of Public Health Commissioner Allison Arwady said in a Facebook live video that the city could make an announcement about additional precautions next week.