Chicago Mayor Calls Violence by Protesters, Police 'Unacceptable' After Rocks, Fireworks Thrown at Officers
The day after protests in Chicago near the Christopher Columbus statue in Arrigo Park, Mayor Lori Lightfoot criticized both demonstrators accused of attacking police and the police who allegedly responded with excessive force.
Protesters marched to Arrigo Park in the Little Italy neighborhood from the Black and Indigenous Solidarity Rally Protests at the Buckingham Fountain three miles east. Around 6:30 p.m. local time, the demonstrators surrounded the statue of the Italian explorer, chanting "Columbus was a murderer. Columbus was a thief," and threw ropes over the statue.
Police arrived to guard the statue, and some demonstrators threw rocks and fired fireworks at them, according to authorities. Police then dispersed protesters with batons and tear gas, establishing a perimeter around the hill the statue rests atop.
At least 18 officers were injured during the clash, as were at least four protesters, according to WMAQ. About 12 people were arrested.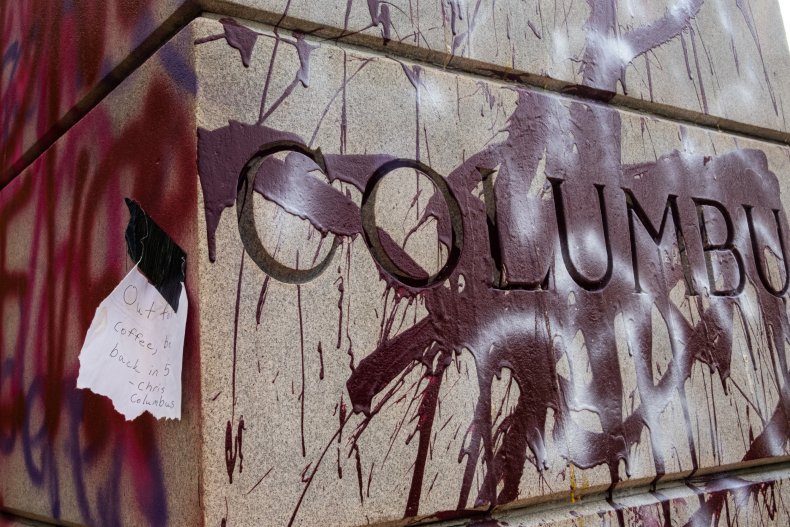 Lightfoot said the violence that broke out at the demonstration was "unacceptable."
"Unfortunately, last night, a portion of the protesters turned violent," she said. "A number of individuals came with frozen water bottles, rocks, bottles, cans and other gear to throw at officers. People in the crowd also threw fireworks and other incendiary devices at police, causing injury in several cases. These violent acts are unacceptable and put everyone at risk.
"There have also been several reports of excessive force by the police. These are also unacceptable. I have spoken to the director of the Civilian Office of Police Accountability, and she has assured me that COPA stands ready to address these complaints and will ensure that each of these is dealt with and investigated," she continued, urging anyone who believes they were mistreated by police to file a complaint.
Newsweek reached out to the Chicago Police Department for comment.
Lightfoot also said that her team had been working on a plan to address monuments of controversial figures like Columbus. Chicago is also home to Confederate Mound, a monument in the Oak Woods Cemetery honoring the Confederate soldiers buried there. The Confederate Mound monument was erected in 1893.
"For several weeks, my team has been working to develop a plan to pursue that public conversation, and to engage in a comprehensive review of our public icons to identify which should change, and where we need new monuments and icons to be erected to ensure the full, robust history of our city is told. The details of that plan are forthcoming, but please know that we hear and take seriously these questions," the mayor said.
"This is a difficult moment in our history. I know Chicagoans are frustrated and impatient for change. It is my sincere hope that we can strike the right balance to ensure people can rightfully express themselves and their First Amendment rights, but to do so in a way that does not put anyone's physical safety at risk," she added.
Statues of Christopher Columbus around the country have been torn down or vandalized. On June 9, a Columbus statue in Richmond, Virginia was set on fire, toppled and thrown into a lake. That same month, another Columbus statue, this time in Boston, was beheaded. On July 5, a similar statue was dumped into Baltimore Harbor.
Not all Columbus statues have been taken down by protesters. In June, two statues in Newark, New Jersey were removed by city officials, who cited an effort to remove symbols of oppression.
The Chicago statue at the center of Friday night's protests remains standing.