Lori Lightfoot's Chances vs. Paul Vallas in Chicago Mayoral Election
On the eve of Chicago's fiercely-fought mayoral election, the chances of incumbent Lori Lightfoot retaking her job look decidedly shaky.
In fact, the likelihood of her sweeping to outright victory on Tuesday seems to be doomed, if recent polls are to be believed. Instead, most voter surveys suggest that her opponent, Paul Vallas is on course to take the top spot.
Nevertheless, Lightfoot could still be in with a shot if she can squeeze into second place, because the top two Democratic candidates may end up heading into a runoff on April 4 if the winner fails to achieve 50 percent plus one vote.
Lightfoot herself has openly admitted that a runoff is her best chance, with Politico reporting that she told business leaders last Thursday: "I'm very confident that we will be in a runoff, but we can't take anything for chance."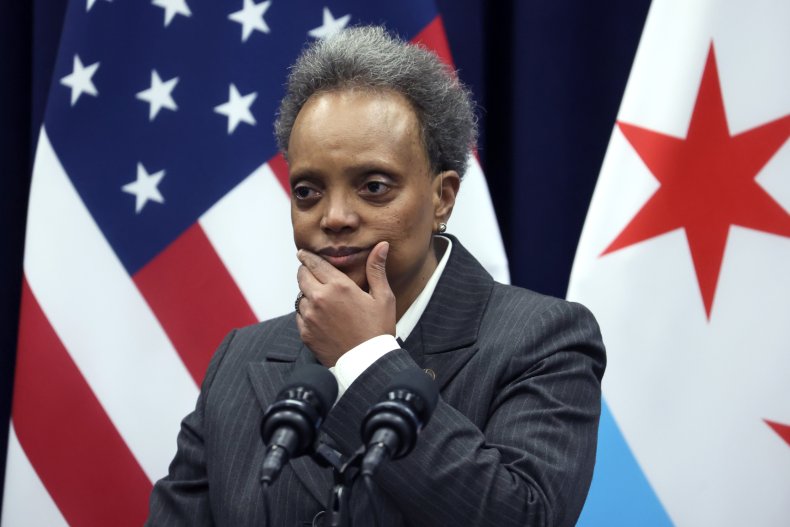 However, last week, a poll conducted by M3 consultants showed that Lightfoot's chances of success looked bleak with even the possibility of a runoff out of reach; two rivals placed ahead of her, pushing her back into third place.
When 416 voters were asked how they would cast their ballot for the nine candidates who are hoping to become the city's mayor, the results would not have made happy reading for the serving politician.
Former Chicago Public Schools CEO Vallas enjoyed 32 percent of voters' support, while Brandon Johnson, a former union organizer, polled at 18 percent. Lightfoot had just 14 percent of the votes.
A poll conducted by 1983 LABS last week may give Lightfoot hope that she has managed to regain some ground, though.
The voter opinion survey, Fox 32 Chicago reported on Sunday, showed that Vallas now stands at 24 percent, with Lightfoot in second place at 18 percent. A new entry for third place shows Democratic Representative Chuy Garcia at 16 percent. Johnson slipped down into fourth place at just under 14.5 percent, the poll showed.
Some 1,458 registered, likely voters in Chicago were asked who they would vote for, with the survey carried out between February 22 to February 25.
News of the latest survey came after a tumultuous week for some of the candidates as they all launched their final push for votes.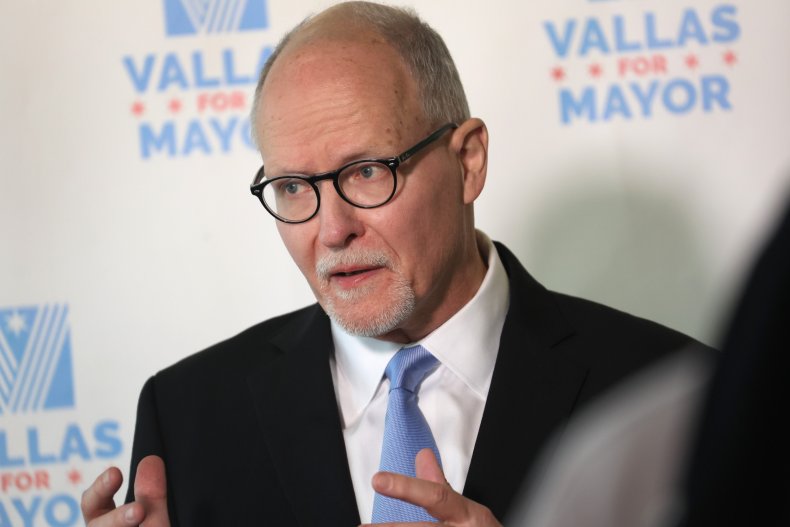 Frontrunner Vallas has been dogged by various controversies in recent days. The man tipped to be the next mayor of Chicago was blasted over offensive tweets liked by his Twitter account, and declaring a house in Palos Heights to be his legal residence in 2009 while being registered to vote from a different property.
Lightfoot has also been forced to defend her record on crime after footage of her during a January parade went viral when it was shared online by a Twitter user claiming it was inappropriate. The person wrote: "Since [her] term began, Chicago has suffered 2,278 homicides and over 9,000 shot...Yet here Lightfoot is blissfully dancing and asking voters to return her to office. Lightfoot is detached from reality."
The contest has been fought almost entirely on the issue of law and order, with all candidates claiming they are the only ones who can solve the city's spiraling crime rate.
Newsweek reached out to Lightfoot and Vallas for comment.