Chicago Mayor Lori Lightfoot Caught Calling Police Union Leader a 'Clown'
Chicago Mayor Lori Lightfoot was caught on a live microphone apparently insulting a local police union leader, calling him a "clown," during a Wednesday city council meeting.
Lightfoot's remark could be heard on a live-stream of the meeting posted on Facebook. Fraternal Order of Police vice president Patrick Murray, who leads Chicago's nonprofit police organization, stood up to speak when the mayor began whispering from her seat.
"Oh, back again," Lightfoot said to her colleague. "This is this FOP clown."
After being made aware that the comments were caught on microphone, Lightfoot told reporters that "it was not appropriate for me to say that out loud." When asked if she planned to apologize further to the union, Lightfoot said: "I think I just did. I think I said I shouldn't have said that out loud."
According to the Chicago Sun Times, the union leader was there to defend four Chicago police officers fired for covering up for Jason Van Dyke who was convicted of second-degree murder for shooting black teenager Laquan McDonald 16 times. The Chicago Police Board had found the officers exaggerated the threat McDonald posed to justify the fatal shooting.
The Fraternal Order of Police Chicago chapter posted a statement on Facebook following Lightfoot's offhand comment, calling it "dangerous."
"Mayor Lightfoot's contemptuous remark is a misguided and dangerous thing to say to a 30-year veteran police officer and FOP representative, particularly at a time when the city is facing such chronic violent crime," the statement reads.
The union went on to say that "it is also telling that the Mayor would not even apologize. The red noses, however, belong on the members of the Chicago Police Board, her former agency, for their despicable decision to fire three police officers and a sergeant last week for no good reason whatsoever."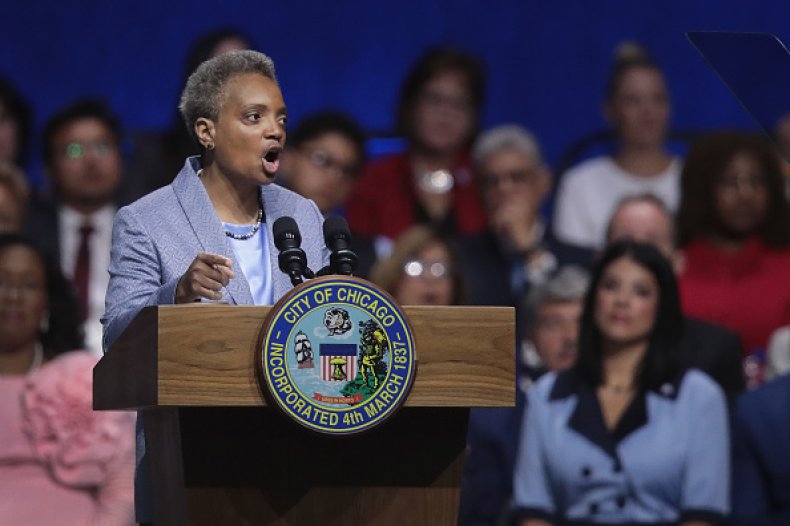 Lightfoot and Murray also reportedly sparred at the previous city council meeting. Murray had alleged the mayor of disregarding the union's input on public safety and police reform discussions. Lightfoot told Murray that "any time you're willing to move forward on reform and not block every single issue and criticize and say, 'No,' my door is open."
Lightfoot is currently serving her first term as mayor of Chicago after being elected in April. Chicago made history by becoming the largest American city to ever elect a black woman as its mayor and Lightfoot made history as the city's first openly gay mayor.
She had never held public office before but worked with the city as a prosecutor and lawyer. She gained political prominence as the chair of the Policy Accountability Task Force that was created after McDonald was shot in 2014. Lightfoot was also the president of the Chicago Police Board from 2015 to 2018.
In her inauguration speech, Lightfoot said that her administration would "continue the hard, but essential work of forging partnerships between police officers and the community premised on mutual respect, accountability, and a recognition that the destinies of police and community are inextricably intertwined. One simply cannot succeed without the other."