Chicago Mayor Says Shootings 'Happen Here Every Weekend,' Demands Trump Rally GOP for Gun Control
Chicago Mayor Lori Lightfoot said federal gun control legislation is desperately needed after the Texas and Ohio shootings as well as seven people killed and more than 50 people injured on the city's west side in incidents she said "happen here almost every weekend."
The Chicago mayor demanded Trump and federal lawmakers enact comprehensive background checks and sew up patchy legislation that lets potential mass shooters acquire and use firearms through interstate loopholes. Trump responded to the pair of weekend mass shootings in El Paso and Dayton by calling for bipartisan action requiring "strong background checks." The Democratic mayor of Chicago urged the president to throw around "his weight to move forward on common-sense gun reform."
In addition to the two mass shootings elsewhere, Lightfoot responded to criticisms of Chicago's shootings over the weekend, where at its most violent peak, 17 people were shot in just two hours in a two-mile area on the city's west side.
"Unfortunately it happens here almost every weekend," Lightfoot told the Chicago Tribune Monday, responding to critics who compared the seven killed and 55 wounded in the city's most violent weekend this year to the mass shooting incidents in Dayton and El Paso.
Lightfoot said she thinks Trump can give Republican congressional members the "courage" to push for universal background checks and stricter federal gun laws that would help the city of Chicago fight back against rampant shootings.
"If the president weighs in, if he shows these Republicans that they can actually have courage, we can get this done," Lightfoot said Monday at a news conference. "But if he stands back and continues to do what he's been doing and he just tweets and he demonizes and he skims the surface, it matters not."
The Chicago Police Department released audio to the public in which nearly a full minute of constant gunfire can be heard during the Sunday shootout at 18th & Kildare Avenue.
"Below is the sound that Chicago needs to change its ways on how we handle gun offenders. Audio from the tragic shooting at 18th & Kildare yesterday shows that criminals have no deterrent to carrying illegal guns in our city and this is what residents and police are up against," tweeted CPD Chief Communications Officer Anthony Gugliemi.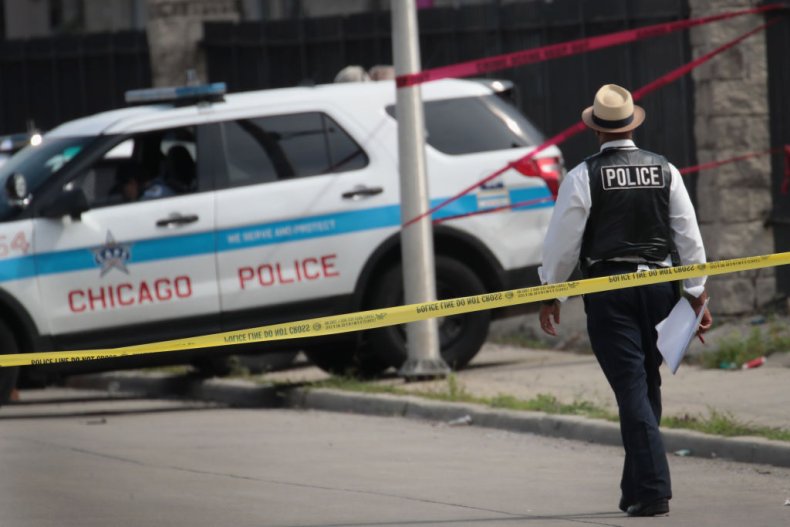 Nearly all of the city's weekend violence was isolated to Chicago's South and West sides. A shooting near Douglas Park on West Roosevelt Road saw seven people hit with bullets as a black Camaro sped by the group. Victims ranged from ages 5 to 56 years old.
Lightfoot said Trump's suggestion that "red flags" and dismissals of "some crazy person" won't matter much if there aren't federally enforced, uniform gun control laws. She said residents from neighboring states such as Indiana can easily bring firearms over state lines and into the hands of drug dealers and other criminals.
"How do you have a red flag if you don't have universal background checks?" Lightfoot said at a news conference on Monday. "How do you have a red flag if you have this patchwork of state regulations that are not uniform, that vary? We are very different in Illinois than we are in Indiana [and] we're neighbors. Same thing with Wisconsin and Michigan. That's why we need the federal government to step up and do its job to fill these voids."
Lightfoot said she was "devastated and heartbroken" over the weekend shootings across the country and in Chicago. She specifically noted parts of the Midwestern city's west side are so "desperate" that entire public spaces have been "taken over entirely by drug operations." She once again urged Trump and federal lawmakers to help the city fight gun violence.
"We've spent over the years probably hundreds of millions of dollars policing on the West Side — CPD, federal and state law enforcement — and we have barely moved the needle," she said.
Citywide, at least 1,600 people have been shot in the city of Chicago this year. There have been more than 300 homicides according to data collected by the Chicago Tribune. Shootings and gun-related violence for this year are still lower than 2018.