Chicago Mayor Lori Lightfoot Says She Will Not Cooperate With ICE Raids in Her City
The Chicago mayor who is still fairly new in her first term said Friday she would take "concrete steps" to support her immigrant communities over ICE raids that have been publicized to begin Sunday.
Lori Lightfoot has openly expressed that immigrants are welcome in the Windy City, and she vows to protect those from immigration raids.
Lightfoot tweeted a lengthy post Friday that states she has directed to Chicago Police Department to not comply with Immigration and Customs Enforcement (ICE) officials who may seek information to obtain orders to carry out raids.
"We are all aware of the threat from President Trump regarding raids by ICE, and in response, Chicago has taken concrete steps to support our immigrant communities," Lightfoot wrote in the first of a four-part tweet.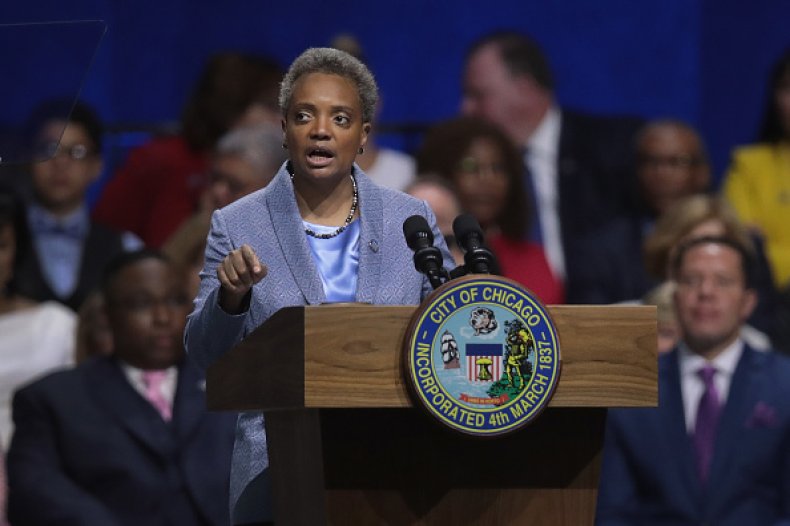 Lightfoot said Chicago PD has terminated ICE's access to CPD's databases, and that she has "personally spoken with ICE leadership and voiced my strong objection to any such raids." She further said her city would not cooperate with ICE.
"Chicago will always be a welcoming city and a champion for the rights of our immigrant and refugee communities, and I encourage any resident in need of legal aid to contact the National Immigrant Justice Center."
Here's her full tweet.
Chicago was one of the major cities targeted along with Houston, Los Angeles and Miami. The Washington Post reported that hotels will be used as staging areas to round up parents and their children.
Last week, Trump announced ICE would begin deportations of "millions" of illegal immigrants, and reports surfaced Friday that ICE raids to begin deporting 2,000 illegal immigrants would begin this Sunday.
"Next week ICE will begin the process of removing the millions of illegal aliens who have illicitly found their way into the United States. They will be removed as fast as they come in," Trump tweeted.
Matthew Bourke, a spokesman for ICE, told The Hill his agency wouldn't offer many details surrounding the pending operation.
"Due to law-enforcement sensitivities and the safety and security of U.S. Immigration and Customs Enforcement personnel, the agency will not offer specific details related to enforcement operations before the conclusion of those actions," Bourke said.
"As always, ICE prioritizes the arrest and removal of unlawfully present aliens who have received criminal convictions; have pending criminal charges; are determined to be a national security or public safety threat; or are an immigration fugitive."
Two months ago, when the president threatened to send illegal immigrants to the "sanctuary" cities around the country, Lightfoot welcomed the idea.
"We have people who are routinely coming to this city. We have a whole infrastructure that's built up to make sure that their rights are protected while the city of Chicago has, under the current administration, provided funding for various groups to help support asylum seekers and other people that are going through the immigration court system. I expect it will continue, if not expand upon, those kinds of resources," Lightfoot said.